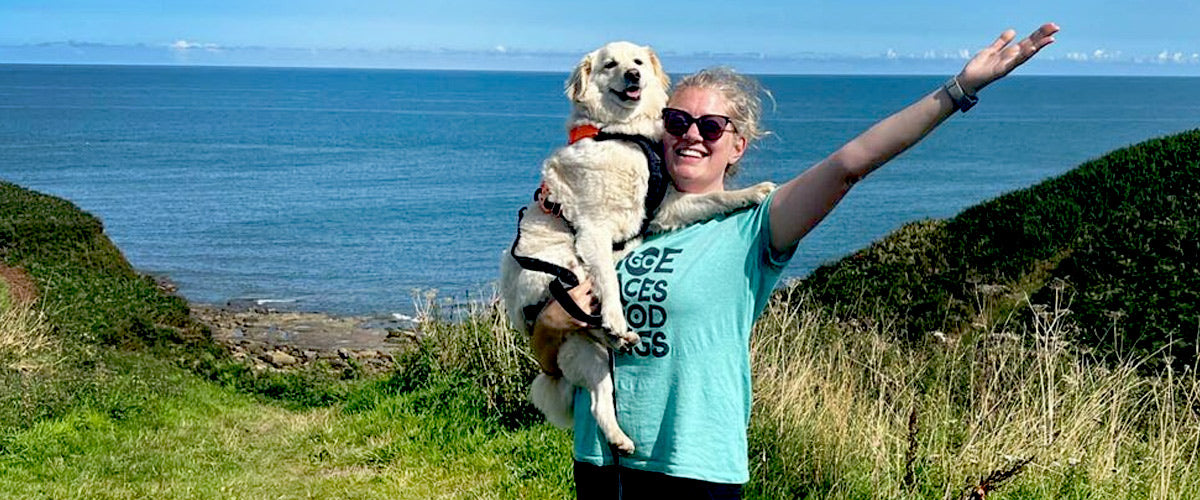 Jen completes walk to help projects in our national parks
A huge congratulations to Jen Lowthrop, who completed her 10 weeks, 10 national parks and 1000 mile challenge with faithful rescue dog Cookie. Also hitting her fundraising target of £10,000 for the Peak District Foundation too!

The reason for doing it? To bring attention to the National Parks and the importance of looking after them to help ensure they can be enjoyed by everyone.

"Alongside the hiking we wanted to meet with rangers, projects and community groups who were doing great things in national parks. Whether that's projects around accessibility or inclusiveness, climate change mitigation or biodiversity. We wanted to learn more about what makes our national parks special and how we can support them."

Now Jen has had time to rest up we'll be sure to be picking up some highlights along her journey. But in the meantime here at the Alpkit Foundation we are delighted to be matching that £10,000 and looking to support 20 projects, 2 from each of the 10 National Parks she visited. We'll be donating £500 to each project, those that are focused around the areas of accessibility and inclusivity, wellbeing and climate change within the national park.
Applications are invited through our application form on the Alpkit Foundation page. Or click straight here 
Please use Walk in the Parks as the project title.
If you want a quick highlight of Jen and Cookie's journey then check out her video!

It's a real privilege to be able to support the amazing work going on and linking in with the efforts of Jen is really special in helping target more of those projects making an impact.

"I want to do more for our national parks, especially around access. I am so privileged to have grown up within the Peak District and it's taken all this walking to make me realise how much it has made me the person I am today. I want more people, especially young people to experience the joys of connecting to nature, so we can grow the pioneers and custodians of the future."

Couldn't agree more Jen!