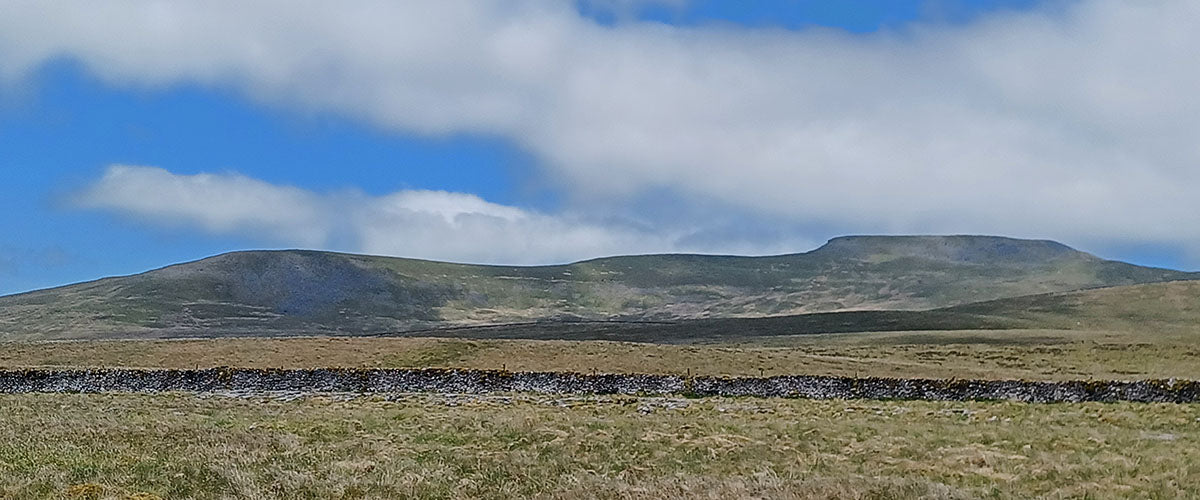 Behind the Scenes of writing a book- Yorkshire 3 Peaks
Kirsty, the Commissioning Editor at Vertebrate Publishing dropped me a message one day asking if I was free to discuss something that day. Now, the rule as a freelance writer when your commissioning editor writes something like that is to be all cool and collected, not overly giddy about unknown prospects, and wait at least 30 seconds before replying as casually as you can. Also, the correct response is not, 'Hell, yeah.' Just so you know if you're ever in a similar position.
So, very casually, I had a chat with Kirsty about an idea Vertebrate had for a book focussing on the Yorkshire Three Peaks – really concentrating on a small area and exploring some of the hidden depths (literally in that area) to be found, as well as good ways to do to obvious sights. As we chatted, I started to reminisce about places I'd like to go back to, places I'd been with my parents, then later hillwalking trips. I've been writing about cycling for the past few years and suddenly realised it was about 25 years since I'd last really spent time in the Dales walking.
The research for the book has therefore been a time of revisiting old friends, catching up with them, seeing how they've changed and aged, seeing how I have changed and aged. I've also discovered places new to me and got round to doing some of the things I meant to do years ago.
One of the things that utterly fascinates me about this area of the Dales is the geology, especially the play between water and limestone, carving landscapes unknown to most below the surface. There's caves and potholes, some still with water, some not, sinking streams, resurgence points and springs. Keep one eye on the ground as the bedrock will have changed again while you walked. Roughly speaking, the line of the A65 is the boundary fault line between the Craven flatlands and the visible limestone of the Three Peaks area. There's a coal field south of Ingleton that's older than the grit stone cap of Ingleborough, only 5km away but about 600m higher. There's a big, thick chunk of limestone at the bottom of the Three Peaks known as Great Scar limestone, and then bands of sandstones, shales and limestones as you ascend. The streams will give you a clue – limestone is permeable so the streams are mostly underground. If there is a stream you are on sandstone of some sort. Come off the top of Ingleborough towards Horton and keep an eye on the right hand side of the path. As the rock changes there's a handy spring – fresh water, straight from the hillside, perfect for filling a bottle.
That stream flows across the moor and eventually heads underground at Gaping Gill. That's well worth a visit. Head up from Clapham, past Ingleborough Show Cave and through Trow Gill. As you come out of Trow Gill you are bang on the change between limestone and sandstone – the rocks under your feet are mixed, as they are in the wall next to you. Over the wall and a short way across the moor you'll spot a fenced off area. It's fenced for the very good reason there is a shaft plunging 100m underground. Normally it's the realm of those equipped with the knowledge and gear for potholing but twice a year there are public winch days run by local caving clubs where, for a small charge, you can be lowered into the huge cavern of Gaping Gill. This year, inspired by my rediscovery of the Dales, I went down.
A classic example of getting round to doing things before it's too late and then wishing you'd bothered years earlier. It's both as big and bigger than all the descriptions I'd ever read. I spent about 90 minutes poking around, gaping at the scenery, occasionally remembering to close my mouth while doing so. It's potholing for those who don't want to squeeze through muddy holes but still fancy a glimpse of this subterranean world. It had been chilly and cloudy when I'd gone down but I reemerged into bright blue skies and sunshine. Of course, I continued up Ingleborough – that wasn't my original plan, but what are plans if they can't be changed, and it would have been rude not to make the most of the weather. Given the summer we've had, I'm so glad I turned uphill that day.
The round of Ingleborough from Clapham is, to my mind, the best round of Ingleborough. You get the full scale of the hill, views of the fort as you go up Little Ingleborough, and then views of the skyline you walked as you head back down. Many years ago, my mum and I did this walk mid-summer and in retrospect clearly got a bit heat addled. We made a navigational error on the way down, heading towards Crummack rather than Clapham, which resulted in one of those disheartening reascents that only seem to occur when you are so very tired already. It's easier these days – the Pennine Bridleway signs help immensely but that was only a glint in Mary Towneley's eye back then. We learnt a lot that day, and as long as you keep learning it can be classed as a good day overall.
So, no navigational hitches this time, although every time I travel Long Lane back into Clapham I realise how apt the name is. Turn right at the junction with Thwaite Lane and you descend to Clapham through two short tunnels under the Ingleborough Hall estate – a classic example of keeping the plebs on the road out of the view of the posh folk.
One change to Clapham since first I walked here is the addition of a cracking community village shop catering for locals and visitors alike. Well worth popping into, and a really useful addition to the village, pre- and post-walk or ride.
Overall it had been a great day – something new, something I'd meant to do for years, old and familiar places, plus memories of previous trips. A lot to smile about. Research for the new book was going to be good.