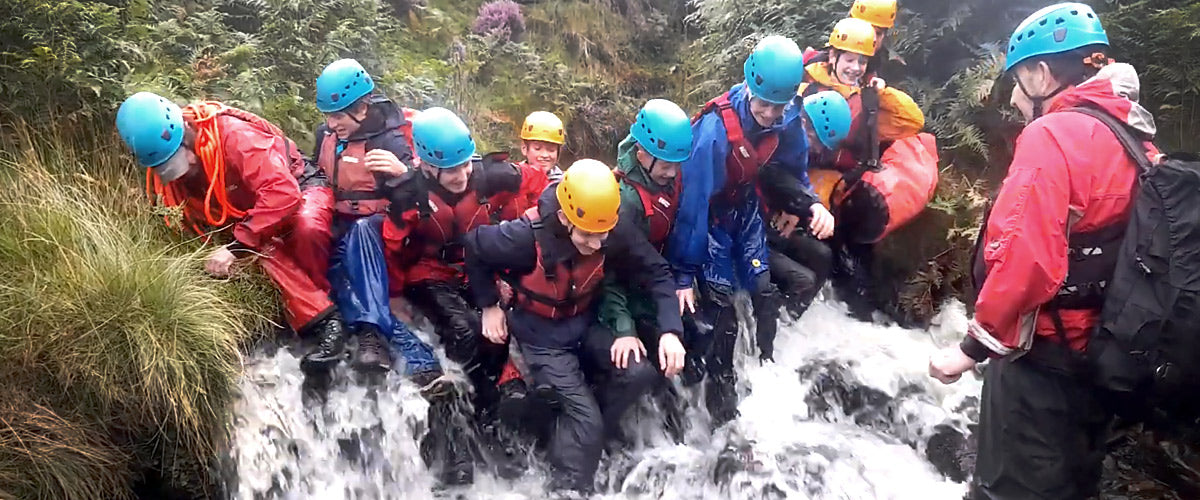 A Cracken Gorge Walk - giving Explorer Scouts a challenge.
Developing their own programme of activities is an important part of what the do at Cracken Explorer Scouts and when they identified that they would like to participate in a gorge walk their Scout leader, Debbie Rushworth applied for support towards enabling more of their explorers to take part in this activity that would help to build teamwork and push their safety zones. 
"We collaborated with local charity, The Hollowford Centre to provide the activity. As leaders, we see this as an opportunity develop confidence and resilience, stretch their comfort zones and expectations of themselves. This helps them to recognise that they can achieve, both at Scouts and their wider life.
Show the adventures available on their doorstep, whilst also develop an understanding of, and respect for, their local environment so they wish to use it, conserve it and to create lifelong adventures."
With the Alpkit Foundation award of £320 it allowed 10 Explorers to take part in the gorge walk. However, as a result of the Alpkit grant and to enable them to take the full 16 members, the Hollowford Centre also kindly supplemented the grant. This also meant that it gave 20 Explorer places in total and they were able to invite Explorers from different units across the High Peak to make full use of the spaces available.
It was great to hear the feedback and Debbie outlined the positives that came out of the activity.
"It was agreed that the gorge walking was the best thing we had ever done in the 15 months since we started! It showed the young people a different opportunity to get out and about in a new area of the Peak District; opportunities almost on their doorstep. The experience challenged them in individual ways, from resilience when starting to feel cold to the confidence to try something new and achieve more than they thought they could.
The Explorers bonded more as a team, having to help each other up waterfalls and generally look out for each other while having great fun! Involving Explorers from other units gave a rare opportunity for them to meet more widely, something that we will build on."