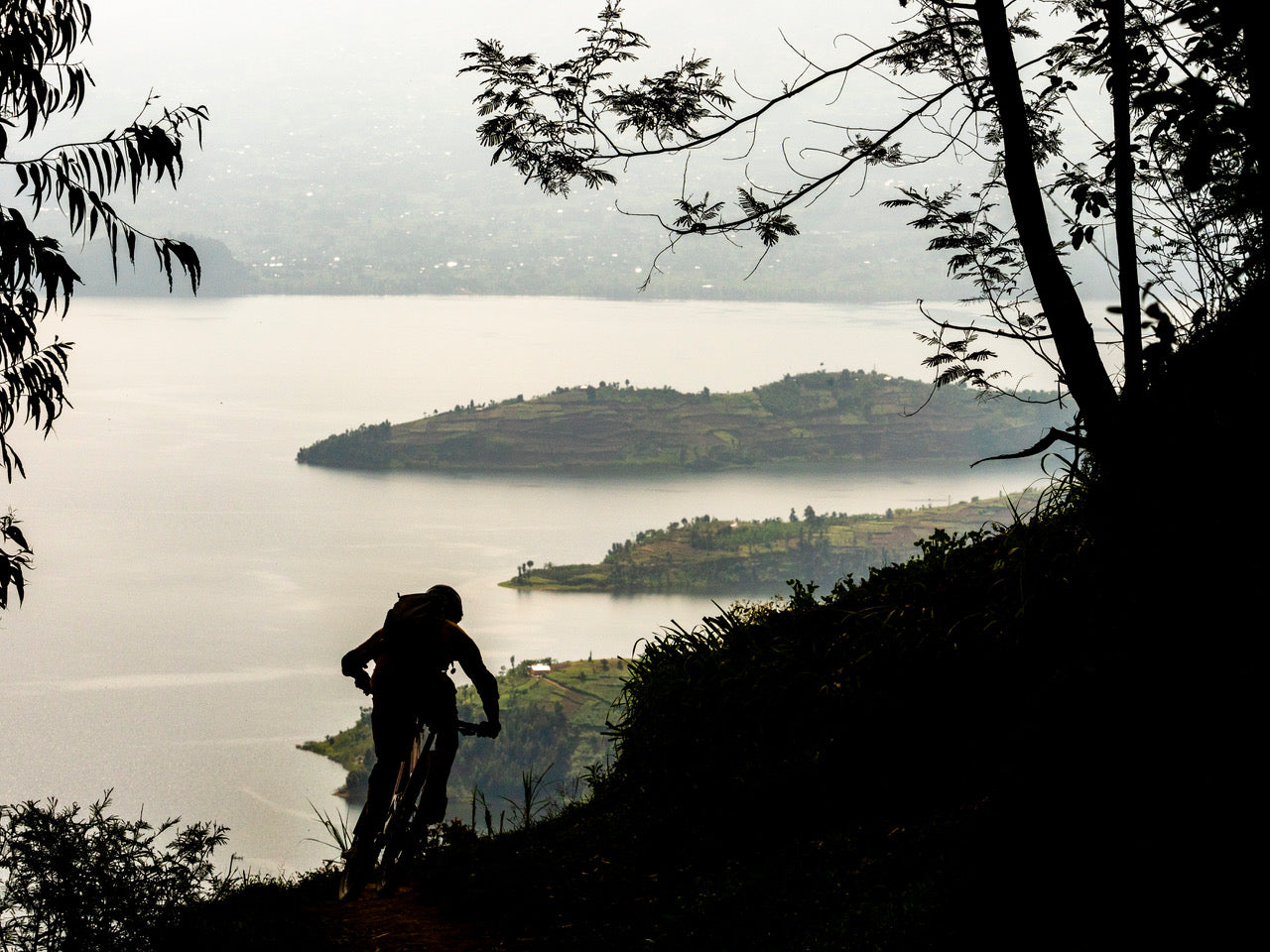 A thousand smiles —discovering Rwanda's singletrack
I'm lost in a swirl of excitement; a clammer of eager faces. Kids crowd me to get a glimpse of the back of my camera and the photo I just shot — a photo of them chasing one of my fellow mountain bikers pulling a long wheelie down a trail. That's the beauty of the digital age: the ability to immediately share a photo with its subjects. It's a priceless moment, two very different worlds colliding in smiles.
Few people —me included— know much about the small central African country of Rwanda, aside from its part in recent UK headline-grabbing immigration policy, and if you're of a certain age, the tragic 1994 genocide that erased a whole generation from Rwandan history —a million died in just a hundred days. Given these credentials you'd think a grey perma-cloud hangs over the country, but as with most places with a troubled image, on the ground there is laughter —lots of laughter— especially when a team of colourful clowns roll through town on bikes.
I'm drawn to visit places that sit uncomfortably with our perception of safety and comfort. Perhaps it's a desire to fathom human resilience, to understand what makes us tick, or perhaps its because such places, devoid as they yet are of the sterilising, plasticising influence of mass-tourism, often offer more authentic interactions. Either way I've long used the mountain bike as my excuse to do so. Recognised almost everywhere on the planet, bikes are the best tools I've found to cut through social and language barriers; and the kids of Rwanda's remote, northern Burera district appear to think so too.
Every village we roll through during a ten-day exploration of both Rwanda's singletrack and the potential it holds for growing mountain bike tourism, incites a caravan of attention that accompanies us through the village and beyond, often for a couple of miles across the terraced hillside. We pedal on, and the kids —most between 5 and 10, sporting battered crocs or time-weary flipflops— run with us. And when we pull up in the next village and pro riders Ludo and Fred throw bunnyhops or no-handed wheelies, the adults are drawn in to the affray too. Uproar ignited, laughter explodes.
I didn't know what to expect from Rwanda. Aware of its controversial Government's iron-fisted rule and told that its citizens are understandably camera shy, I went with few preconceptions or expectations —a tricky place to work as a photographer with a story commission in place. But such anxieties soon dissolved as the bikes worked their magic, and rapidly a country full of warm welcomes and magical bike trails opened up to us.
Rwanda's tourism is growing, fuelled by the possibility to track mountain gorillas in the Virunga volcanoes or safari through a National park elephants, lions and hippos, and if the quality of the riding is to go by, then mountain biking could soon add to that; but for me the real magic happens in the villages, surrounded by kids that want to laugh. Rwanda deserves that.
Read the full story about the mountain bike exploration of Rwanda's little known trails, out now in Cranked magazine issue 29. www.cranked.cc