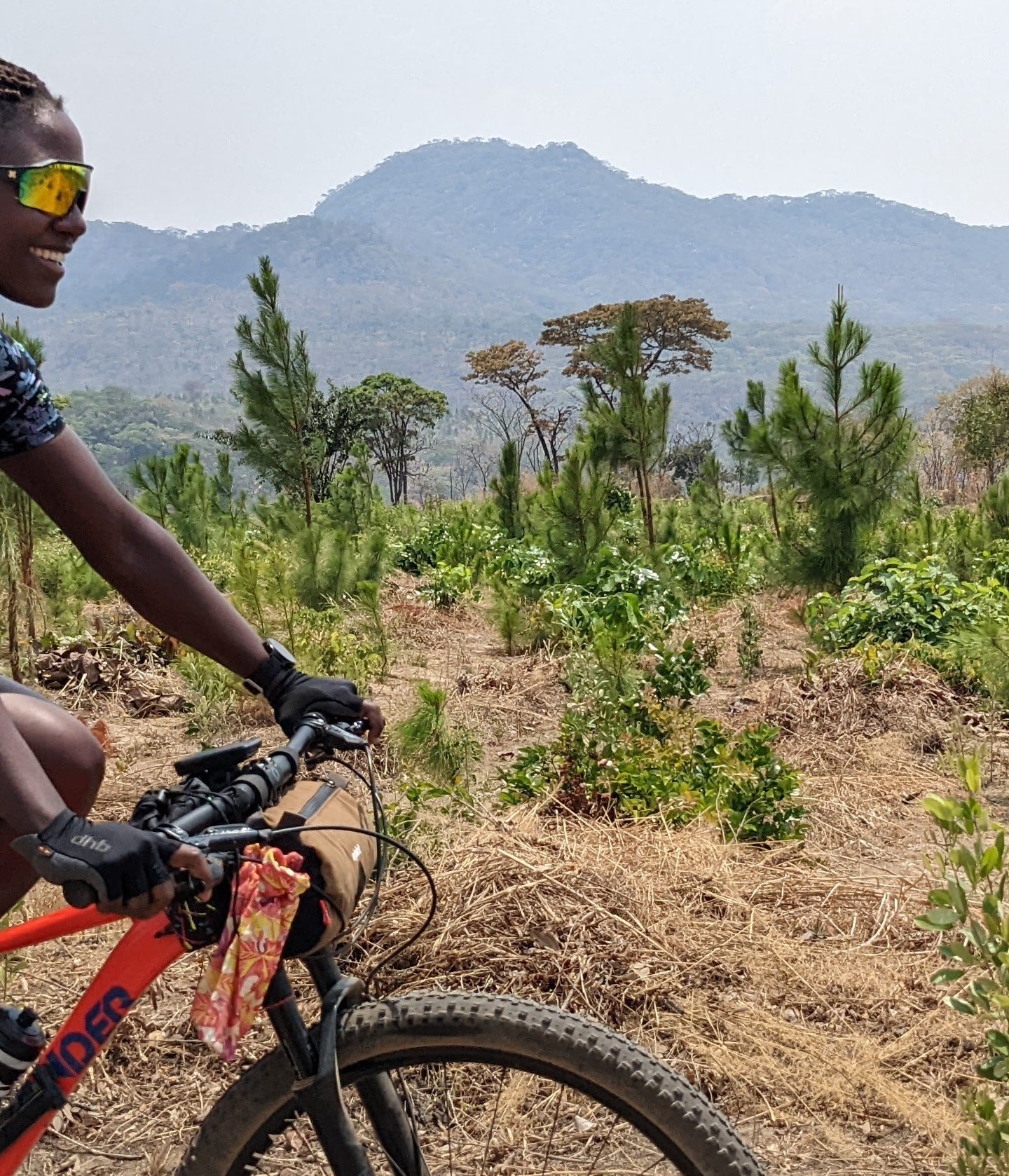 Sonder Rider Vera's been spending some time in her home country of Malawi these past few months. She's taken her Sonder Dial with her and they've been to some amazing places!
Dzalanyama is a forest reserve near the Malawi-Mozambique border. It covers nearly 1000 sq. km. and is one of the top locations in Malawi for bird lovers, with over 300 identified species. I'd visited the forest once on a hiking day-trip two years ago, but had been dreaming of returning to spend more time here. With so many trails to explore, I decided to take my Sonder Dial on her first overnight bikepacking adventure. I was filled with nervous excitement about fully loading her up, as most of the adventures I'd had her up until now were on days out at UK trail centres.
I plotted a 55km route setting off from the vibrant capital city of Lilongwe, through lots of little villages, markets and farms, to the forest. I chose to avoid tarmac roads and opted for the less busy and more exciting gravel and singletrack paths. It was the tail end of the hot and dry season, with temperatures peaking at 35 degrees, and so to avoid turning into a chorizo on my ride, I set off nice and early at 5am, and was shocked to find that the sun at this time looked and felt like midday already!
I cycled through small village markets that were already bustling with life by 6am. There were plenty of people laying out their produce for the day, cyclists on traditional bikes carrying a whole host of items; from huge bags of charcoal and firewood, to baskets full of tomatoes, cabbages, mangoes and all sorts. I was constantly in awe of how much they were able to carry on their bikes, and it made me re-evaluate whether I could truly call my bike 'fully loaded', with everyone else seeming to have 50-100 kgs more on their steed.
The first 40 km of the route was what I'd call 'princess gravel'; the dirt roads were smooth and wide, and I had a glorious tailwind that helped me cruise along at 25kph. The surface changed occasionally from smooth red dirt, to rocky singletrack through farms, and the occasional bumpy trail across a maize field. I was having a brilliant time, a smile beaming across my face, enjoying the warmth on my skin, and frequently wiping sweat off my brow.
Soon, I began to see a faint outline of the Dzalanyama hills in the distance. I knew I was now about 10km away from the forest lodge. This section of route started to get a lot more sandy, the sort of loose sand you get on a beach. It was a fun challenge to navigate whilst trying to remain vertical and watching other cyclists slip and slide their way across. I was definitely feeling glad for my MTB tyres!
As I arrived into the reserve, the landscape drastically changed from being open and barren to becoming completely covered in trees. The colours were stunning; a mixture of lime green leaves (reminiscent of spring in the UK), and rich gold and red colours (which reminded me of autumn in the UK). The most noticeable thing though, was the sound of nature. The noise produced by the cicadas was loud. The forest felt alive and I got so carried away listening to the jungle noises that it took me a while before I realised I had veered off-route. All of a sudden, those pleasant noises started sounding like a million rattlesnakes…
I had a few moments of panic, but thankfully using my cycling computer, I could see how far off the trail I had gotten and slowly worked my way back. Before long, I had made it to my destination, Dzalanyama Forest Lodge.
After offloading my luggage and refreshing with a cold drink, I perused their book of forest trails that included hiking and cycling routes. I spent the afternoon and the following day ticking off various routes through the forest. Each one had something special to offer; highlands and riverines, lofty peaks, birds, trees and flowers. I explored most of the routes on my Dial, but also mixed things up by strapping on my Alpkit Vora hip pack full of snacks and water and going on some hikes.
The forest lodge had a beautiful stream running alongside it with crystal clear waters and plenty of pools, rapids and waterfalls. I simply couldn't resist a cool dip at the end of each ride.
It was a truly magical couple of days spent in the forest. I returned feeling rejuvenated, but also very chuffed that I'd completed my first solo bikepacking trip in my home country. The Dial proved to be a reliable companion; a workhorse that carried all my kit and food for 2 days in the forest, but also shredded some pretty gnarly trails within the forest. I couldn't wait to explore more of the country on my steed.