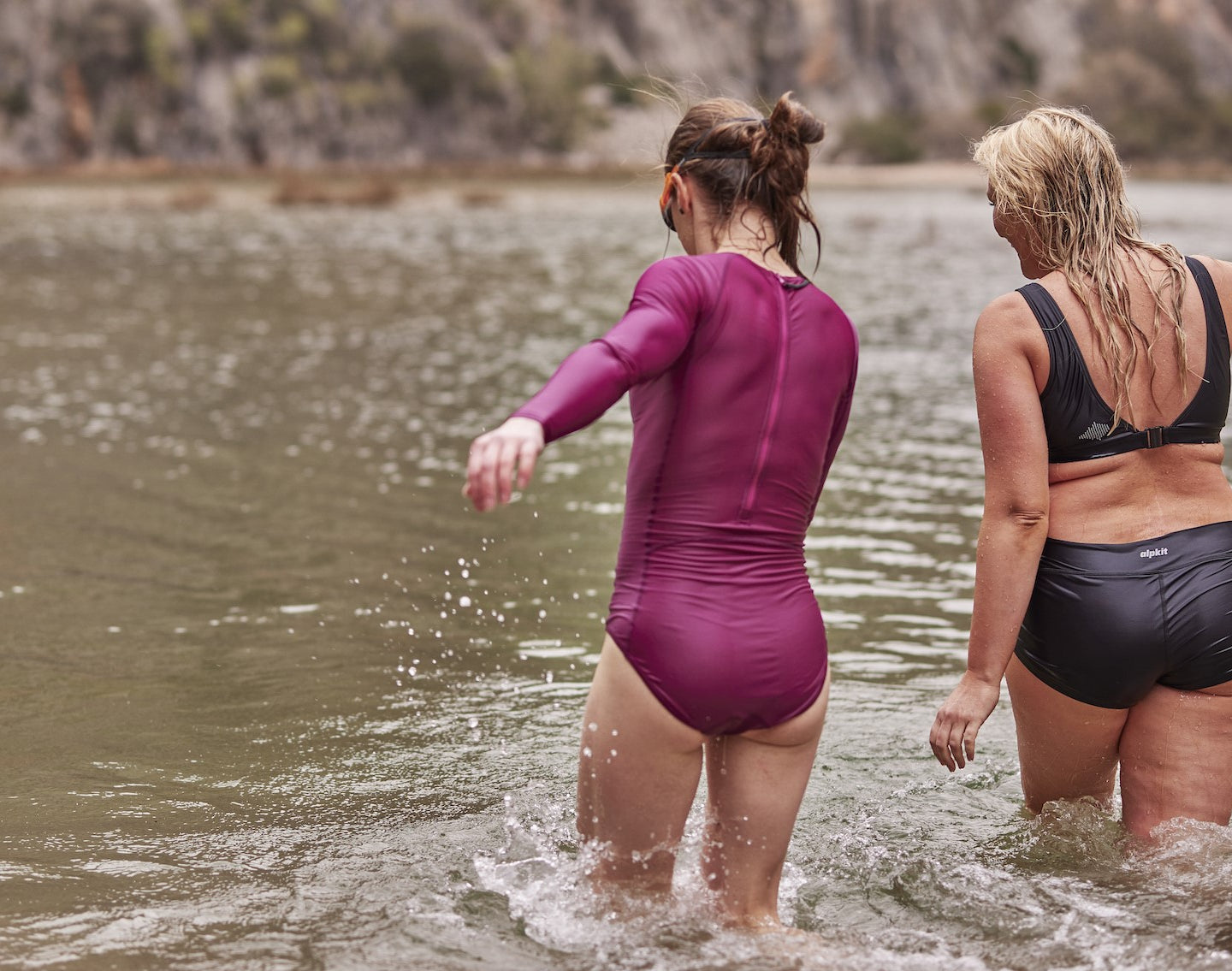 Wild Swimming Guide: everything you need to know
Wild swimming is one of our favourite ways to be brave, get in touch with nature and reset. If you haven't tried it yet, you really, really should. There's nothing quite like it.. Whether you just want to dip in a toe, or you are ready to take the plunge it is ok you are amongst friends here.
Our introduction to wild swimming
What is wild swimming?
Wild swimming is swimming in the great outdoors. It is also known as open water swimming or outdoor swimming but we especially like the sense of romanticism wild swimming enthuses. What ever you want to call it, we are referring to swimming in natural water sources like lakes, tarns, reservoirs, rivers, and seas, as opposed to man-made pools.
You can make your outdoor swim as wild as you want it; swimming in whirlpools, finding inspiration in cold waters, racing through mountains or finding your community amongst a group swim are just a few examples you will find listed on our site. Go ahead and explore, there are many more to uncover.
What are the benefits of swimming outdoors?
Health benefits include cold water's potential to boost mood, improve well-being, and stimulate blood flow. In short? There are so many. The Wild Swimming Brothers even list 50 reasons to start wild swimming! But we thought we'd give you just a few:
What it does for your head
It puts you at water level and allows you to experience the natural world on nature's terms
It causes a decrease in cortisol and other stress hormones
It removes the frustration of the dreaded swimming lane traffic
It's uninterrupted time to clear your head and be mindful
What it does for your body
It improves your ability to manage the cold
It boosts the immune system, increasing your white blood cell count. The cold water acts as a mild antagonist, activating and training your immune system
It soothes any vestigial muscualr aches
It's exciting! You're in an envrionment you're not used to, adding a bit of fun to your regular activities
What it does for your heart
It instils a sense of adventure in you
It enhances your awareness and knwoeldge of biodiversity
It's hard not to smile and laugh
It's a bonding social activity
Additionally, the wild swimming community emphasises respect for the environment, promoting practices like leaving no trace and ensuring the cleanliness of water sources.
Where can you go wild swimming?
We have many inland waterways in addition to our beautiful coastline, but unfortunately it is not always clear where you have the right to swim. We discuss this in more depth in Where can I go wild swimming?. The article delves into access, the right to roam and how you can get involved with communities of swimmers trying to make a difference.
In our Go Swimming. Open up water webinar we saw an incredible line up of activists such as Alistair Humphreys, Kate Rew and Nick Hayes discussing trespass, inland water access and the right to roam. In May 2023, 91 years on since the original Kinder Trespass helped give us rights of way over land, 500 swimmers gathered at Kinder Reservoir asking for the same right in water.
If you are just after a quick start we also list 10 of our customers favourite wild swimming spots.
What kit do I need to go wild swimming?
Top of most peoples concerns are how do I stay warm when wild swimming? The answer for most is a wetsuit. We have put together a guide to choosing a wetsuit for swimming in the outdoors. Some of the most memorable wild swims are those last-minute-skinny-dips. But if you fancy being more prepared, here's our checklist:
What to wear when swimming outdoors
For brain-freeze-inducing dips
Warm layers
Changing robes to stay warm and get changed after your dip.
Safety equipment
What time of year is best to go wild swimming?
Whenever you want to! You can swim all year round. But if it's your first foray into the world of wild swimming, easing yourself into a late summer is probably best. You need less kit and warming up after is less of a challenge.
The sea generally fluctuates less in temperature. It stays between 12°C and 17°C for most of the year. Water gets nice and toasty in September when it's had all summer to warm up. On the other end of the spectrum, some water can get really cold. Like, really, really cold. Below 5°C is officially considered ice swimming!
For some support to immersing yourself into colder waters read our guide to swimming in cold water.
Extending your outdoor swimming adventures with SwimRun
For some a cool relaxing dip is just fine. For others it is just the start of their aquarian adventures. SwimRun is one such offshoot which takes the concept of the long walk-in to combine fell running and wild swimming. Whether you engage competitively or use it as a way to deepen your closeness to nature as you traverse through the mountains there is no doubt that SwimRun has the potential to add another dimension to your wild swimming adventures. Find out more in our introduction to Swim-Run
Wild swimming safety
No lanes. No ropes. No supervision. Alongside its beauty, swimming in open water presents its own set of challenges and risks, such as cold water shock, currents, and underwater hazards. As a result, safety precautions, including understanding local conditions and hazards, are paramount. Get started with our 10 wild swimming safety tips.