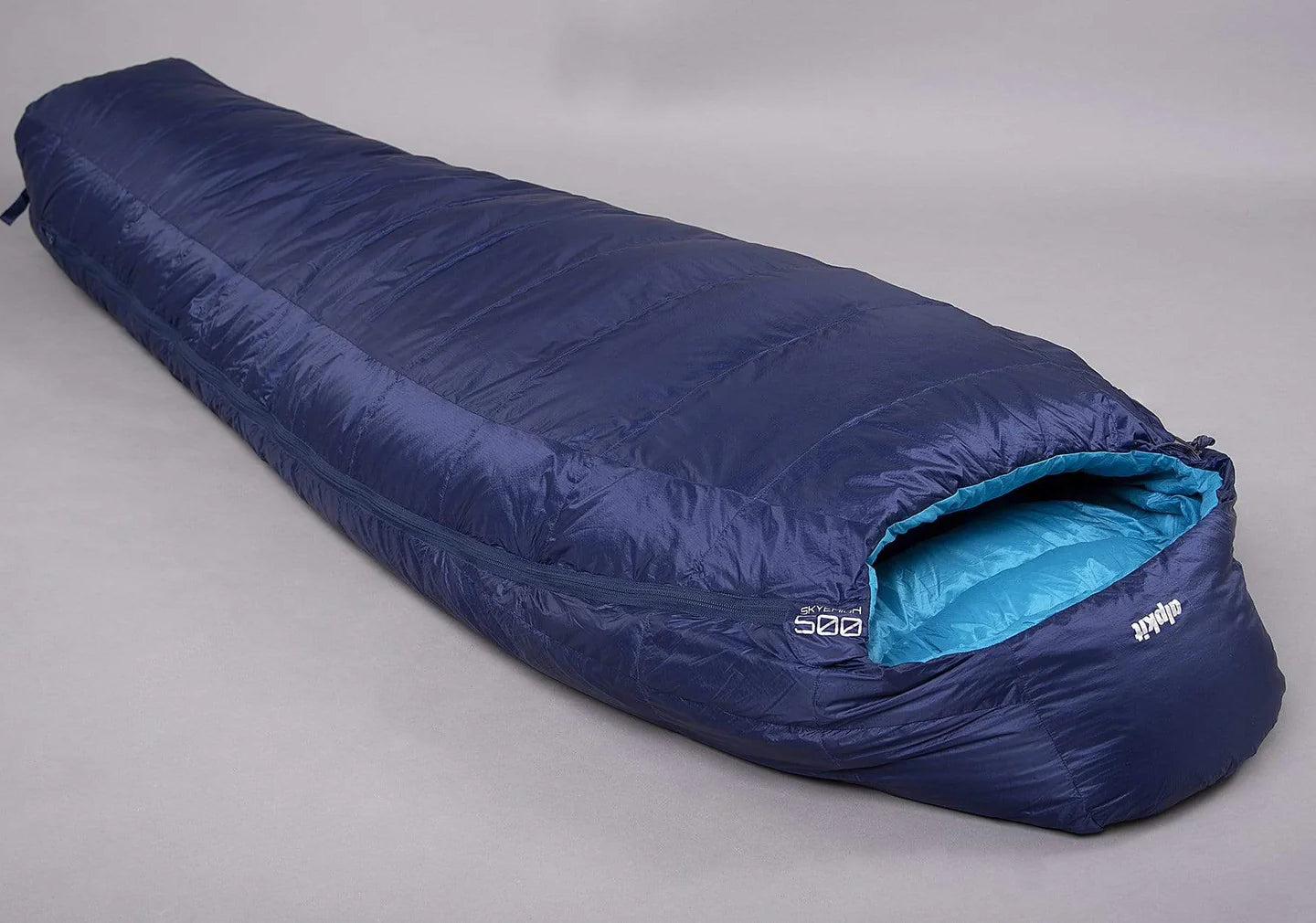 SkyeHigh 500 sleeping bag - affordable warmth with premium construction & features
In his in-depth review of the Best Lightweight Down Sleeping Bags 2023, Jon Doran highlights the Alpkit SkyeHigh 500 as an unexpectedly impressive contender. Even though it lacks the high-end light fabrics and has a slightly lower fill power duck down, the SkyeHigh 500 stands out for several reasons. The bag incorporates a box-wall construction that optimizes warmth from the top and also boasts a unique baffle design, characterized by shaped trapezoidal baffles at the sides and an internal neck baffle, ensuring effective heat retention. It lofts admirably and offers satisfactory warmth, hitting a 'useable limit' at around -3˚C.
While Jon notes that the SkyeHigh 500 has a more generous fit, which might slightly reduce efficiency by allowing more air around the user, it assures user comfort. The double-ended zip, ideal for foot ventilation, and its decent hood are notable, though he suggests it could benefit from additional down filling to maximize warmth. The provided nylon compression sack is not waterproof, but the bag compensates with its hydrophobic down and water repellent 40D fabric.
Compared to the early, original SkyeHigh, the bag is definitely a little more polished, but still has a reassuringly solid feel.
What's impressive is that, despite being slightly bulkier and heavier than some rivals, the SkyeHigh 500 emerges as an exceptional value, especially when considering it's a whopping £390 cheaper than the Rab Mythic Ultra 180. For those interested, Jon also mentions an upgrade option: the Pipedream 400, which, for a mere additional £40, provides enhanced features like 750 fill power goose down.
In Jon's eyes, while the Alpkit SkyeHigh 500 might have a weighty stuff sack and a roomier fit, it's a robust, warm, and well-featured bag, offering incredible value. He deems it a fantastic choice for most conditions, save for the depths of winter.
You can read Jon's Best Lightweight Down Sleeping Bags 2023 review on Trek and Mountain.