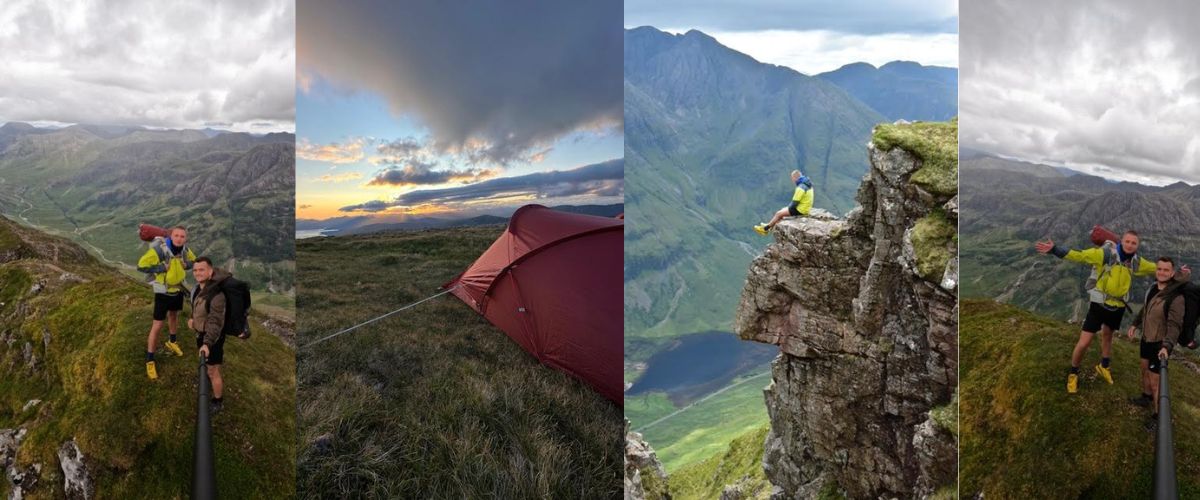 A story about two best friends and a perfect camp, written by one of our customers, Samuel.
Scotland or Lake District? Is a common question I always seem to find myself asking before I set out on an adventure. My friend being from the lakes and myself being from a small town in Scotland there is always a long discussion.
On one hand, Scotland offers plentiful sights with the stunning Glen Coe and the ability to complete the Munro's is a big achievement for Munro baggers but the weather never seems to be on our side.
The Lake District always seems to have better weather meaning better shots and generally a more enjoyable experience.
However, this time was different much different, with the tables being turned Scotland had better weather we never realised how much better it was going to be.
We decided that morning with our bags already packed that we would head north to the stunning Glen Coe to climb Aonach Eagach Ridge. My friend picked me up after work and we set off. Along the way, we sang songs together with Luke Combs and Ed Sheeran.
The climb itself wasn't my favourite it was long and it was steep from the start but we took it slow and steady as we weren't in a rush. We quickly summited the top and were faced with incredible views of Glen Coe it was some of the best views I've ever seen. We sat around at the top having lunch taking in the breathtaking scenery and we decided to set up camp for the night.
Everything was so peaceful we could see for miles, cars below looked like ants.
At the top, we chatted away and as my friend is a big rugby fan we watched one of the games as we still had service while we ate our dehydrated dinners. I had pasta, Bolognese.
We looked at the weather app before we climbed and it said "excellent" for visibility, now we did not believe just how amazing it was about to be…The clouds had all disappeared the sky was blue we knew we were in for a brilliant sunset.
The sun started to set over Ben Nevis slowly turning the sky orange.
Me and my friend both stopped what we were doing and just watched the world go by.
Once the sun was gone the temperature started to drop we knew it was time to get in our tents where it was warm and call it a night.
The morning came by and we packed away our tents leaving no trace behind us. We skipped breakfast as we both wanted to get some decent food at the bottom.
This camp will be forever in my heart the perfect camp with not just my best friend but my brother.