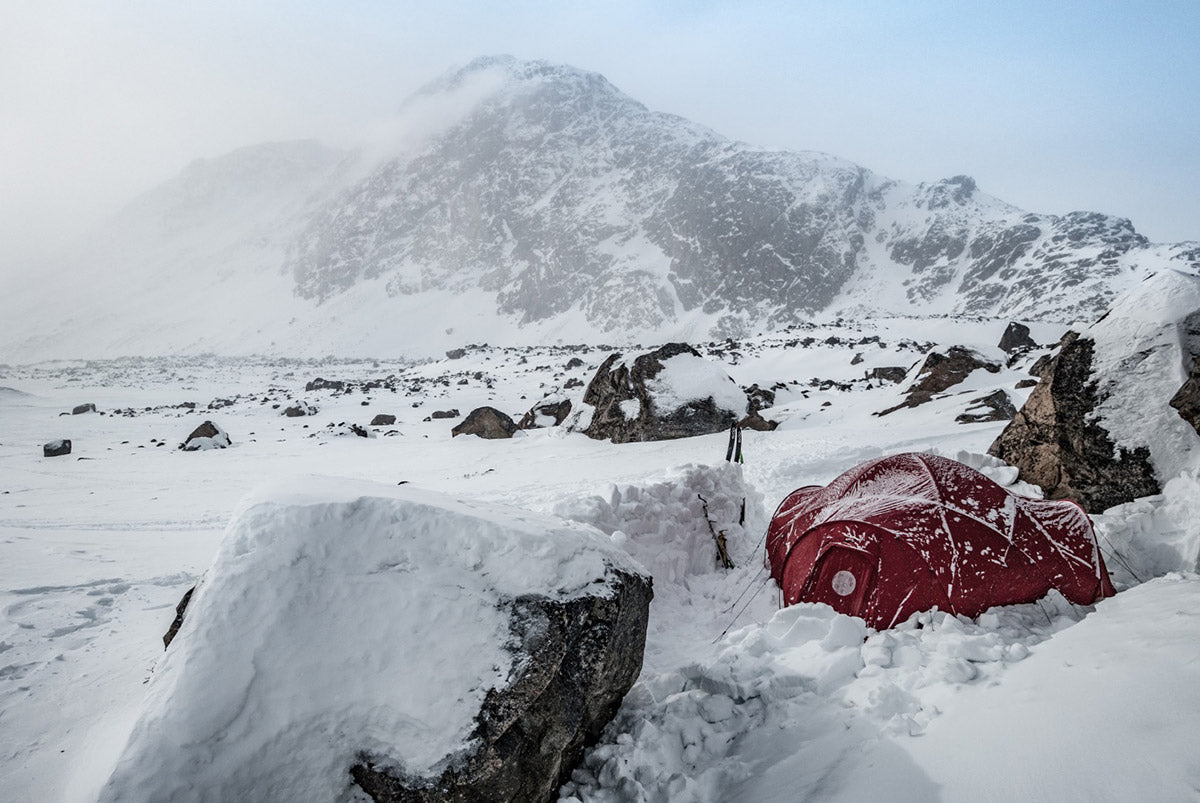 This year, Ned, Rob and I decided to break out of our old skiing habits and go somewhere slightly different. You'd normally find us heading to Whistler, Engelberg or Andermatt but 2015 took us to the pristine and virtually untouched mountains of the Aqutikitsoq massif in Western Greenland for two weeks of first descents.
Our plan was to have two bases. The first in the heart of the mountains with glacial ski-touring right outside the tent door. We'd spend half our time here before then heading 15km up the valley to a hunter's hut which gives us better access to the ice free and more rounded hills over there.
The tent we'd be calling home was to be my trusty Heska. We needed something big and strong and which wasn't going to bankrupt us. Luckily, I bought one of the early Heskas to use as a luxury camp-site tent for climbing trips to Lundy, Cornwall and Dorset and it's more than proved itself for survivability in wind and rain, but how would it fair in Arctic conditions?
We looked, briefly at the classic expedition choices of big tents from Terra Nova, Hilleberg and the North Face but nothing came close, especially when you factor in that the other options are often more than twice the price. What convinced us about the Heska was a combination of just how much room there is in it, plus oodles of storage, three separate entrances with decent sized vestibules and that it seemed pretty burly.
So in early April after three flight, several hours on snow mobiles and months of planning, we were dropped off in the middle of no-where, surrounded by an incredible landscape. Job number one was getting base camp sorted: we needed a platform for the tent, solid snow walls and to get a brew on. The Alpkit snow saws were awesome, classic Alpkit engineering – simple, no frills, light and effective.
Our valley. Basecamp was next to the biggest boulder in the bottom right of the picture. Our best day tour went up the glacier behind the camp and then looped around to the left under the big (and almost certainly unclimbed) face on the left.
It took us a couple of hours working pretty hard before the tent was up but pretty quickly we were able to settle in. We quickly learnt four things:
1. even the biggest tents feel small when you've got expedition sleeping bags and loads of kit in them
2. at minus twenty-odd, anything not in your sleeping bag will freeze
3. organisation is everything in a busy tent, you can't have too many storage options
4. there is nothing like hoar-frost falling off the inner tent in the morning in a mini-blizzard and then collecting in your collar to help wake you up.