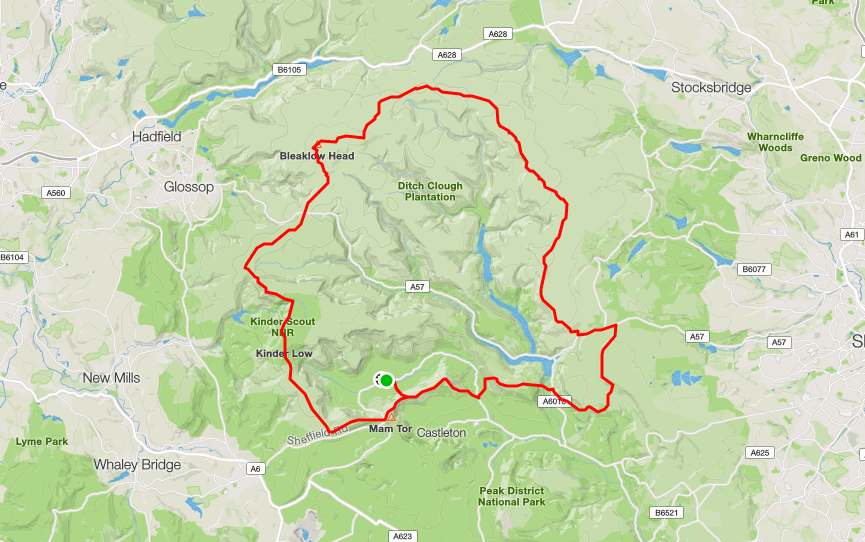 I started running properly when I moved to Sheffield 4 years ago. I fell in with the wrong crowd at Uni, the type of people who thought running at night, in winter, over Bleaklow was a great idea. This led to lots of muddy shoes and late night runs in preparation for the first time I ran the High Peak Marathon in 2013. When we finished I told myself never again, but 12 hours and many beers later, it started to seem like a good idea. I ran it again in 2014, 1 hour faster than in 2013, and again the niggling thought that I could run it faster began.
The High Peak Marathon is an over-night mountain marathon in the Peak District held every year at the beginning of March. It's a 42 mile circuit around the Derwent Watershed starting and finishing in Edale Village Hall. Being local and also checkpointed by my old Uni climbing club it's a great, fun event especially when combined with a night out in the Students Union afterwards. In 2016, we had a team all sorted and a target time set (10 hours), but the weather was bad enough for the event to be called off by the organisers - although friends in the team Beauties and the Bog still ran most of the route in deep powder. This year we had to try again.
I slept most of Friday, and while awake, I ate pizza and watched films as all high performing athletes do. All too quickly it was 23:28 and Matt, Ben, Rob and I left Edale village hall and began running up to Hollins Cross. I had to keep telling myself that by 9:30 we would be finished, or left for dead on the course. The weather had been terrible all day to make sure the bogs from Cutgate to Bleaklow Stones were suitably wet and cold, so we prepared for a grim night. It turns out we needn't have worried, all the rain cleared up and once we left the paved path on Derwent edge the visibility improved loads making the usually tricky route finding so much easier. We were following Matt's strict timings, running between checkpoints on an exact schedule and were so relieved when we hit a checkpoint even just 30 seconds early.
It's easy to think the Snake Pass checkpoint is the end. The hard running and navigation are over, head torches can go away and there's food. However, there's still a half marathon of Pennine Way between you and Edale. We started to flag just after Snake Pass the past 7 hours catching up on us. But daylight and marzipan kept us going to Edale, finishing in 9h 48minutes and 7th overall. Our team, "Just once more" has now decided that maybe we won't have another go next year. Although as usual that night, someone suggested that sub-9 hours might be possible.
If you want more information on the event you can find more here