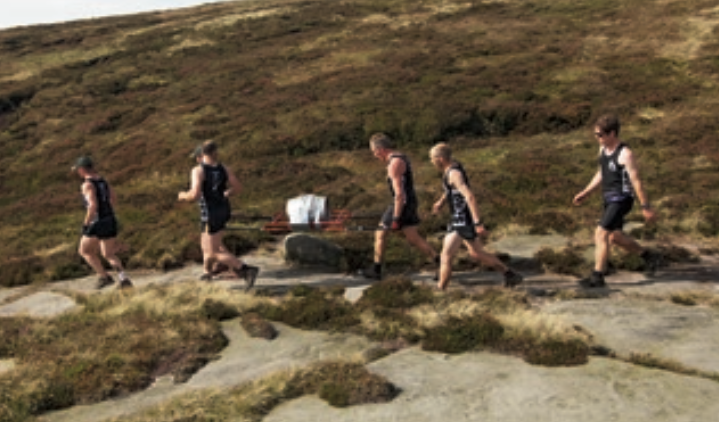 Have you ever wondered what the residents of one of England's busiest National Parks get up to as each summer draws to a close?
Some of them choose to haul a full seventy-two pint beer barrel up and across one of the toughest areas of high moorland in the Peak District National Park. Kinder Scout plays host to one of the most gruelling fell-running events to be run on the Dark Peak hills.
In mid to late September each year up to 11 teams of athletes gather in the car park of the Snake Pass Inn and various contraptions are unloaded from vehicles. What follows is reminiscent of the Krypton Factor as the 9 gallon beer barrels are strapped, taped and somehow secured to various (usually ladder based) carrying devices.
Although the route is short, only about 3 miles, there is a steep and loose 900 climb up to the punishing and boggy terrain of the Kinder plateau, and good navigation is needed to find the fastest line, followed by a very steep descent to the other side. The runners cross the finish line at the Old Nags Head Inn, in the beautiful Peak District village of Edale.
Whilst drinking in the hills is generally frowned upon, the nervous tension, and being inside a pub, planning to run to another pub whilst carrying a barrel of beer may draw the unwary into partaking of one or two 'performance enhancing' pints. The whole race is taken in good spirits with the athletes of the Dark Peak Fell Runners and Gladioli teams vying for top spots whilst those behind, such as the Fat Boys or Fieldhead Campsite race for bragging rights and village one-upmanship.
There are some loose rules and sportsmanship is assumed but there is some behaviour that could be described as cheating or at best unsporting where barrels disappear on the start line or where vital pieces of equipment go missing... other instances include tree trunks mysteriously finding their way wedged across bridges or large boulders rolled behind gates... presumably these are thoughtfully placed by preceding teams to reassure runners that they going in the right direction... how thoughtful.
The event is always run in good spirits and trophies are awarded at the end. The fastest team get to drink their barrel and the party goes on into the night (or at least the mid-afternoon). Sponsorship money is distributed amongst local Edale charities and non-profit making organisations.
Well we got so psyched about the Great Kinder Beer Barrel Challenge that we spent the afternoon discussing all the eccentric festivals and races we'd heard of in the UK... Go on be a bit different. A top ten of eccentric races