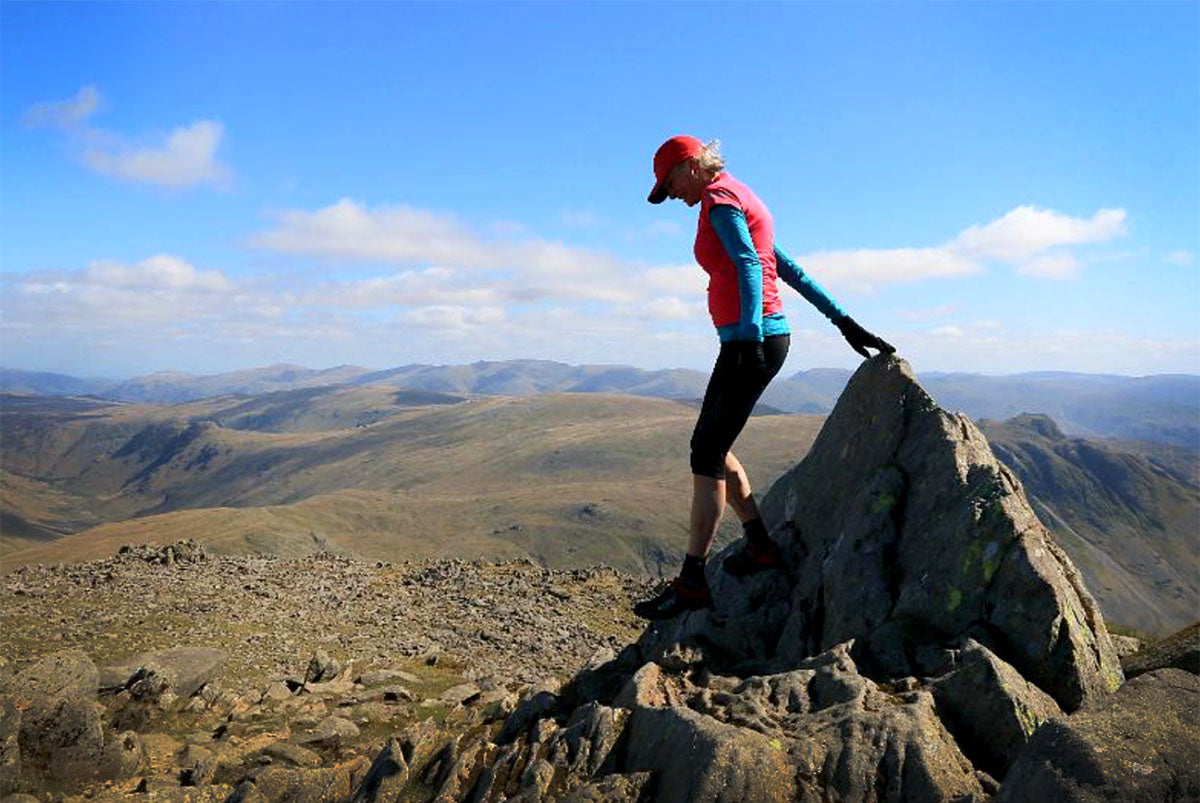 Bob Graham round; a circuit of 66 miles, 42 peaks and 28,000 feet ascent in the Lake District. Doing this twice, back to back in under 48 hours may seem downright bonkers.
The idea came to me that this might be possible for me back in 2013 when I was given a booklet titled "10 Years of D.P.F.R" (Dark Peak Fell Runners); the fell running club of which I'm a member. In the booklet was the full account of Roger Baumiester's BG Double back in 1979 when he completed it in 46.34 hours.

Me and Roger
Although a Double Bob Graham then seemed impossible the idea had been sown in my head and when I was looking for an extremely special challenge to do in 2016 as a celebration of my 10 years of life since being diagnosed with breast cancer back in 2006. I decided what better way than to spend a whole weekend running on the hills I love with friends that I enjoy being with. I was also keen to raise money for the cancer charity Odyssey I support.
I had two to three people on every leg, supporting me and Charmian Heaton driving round to the road support points providing me and my supporters with copious amounts of food and drinks! It was very special to me that Roger was 100% behind me and came to the Moot Hall on Saturday 14th May at 00.01am to see me off.
The weather was perfect for the whole weekend. It was cold overnight, then sunny and cloudy during the day so that the temperature was never too hot for me. Everything went so well; my supporters looked after me, we found all the short cut trods, the ground and the rocks were dry. I was eating very well; choosing an odd assortment at times but I just consider that anything is better than nothing. I was eating yoghurts, rice puddings, fruit salads, hula hoops and then at the road stops surprised myself but eating dishes such as cheese and onion pie, fried eggs with baked beans and even a whole fish with curry sauce (the cold chips weren't as appealing!).
Meeting the legendary Joss Naylor at Wasdale then again on Yewbarrow 24 hours later were a couple of the highlights of the weekend. Joss is an incredible runner and to think he thought so much of me and my running that he would come out onto the hills to cheer me on was fantastic to know and really spurred me onto the finish.
The lack of sleep didn't seem to affect me; I set off at 00.01 on Saturday morning so ran through the darkness to 5am on Saturday morning. Then I kept on running throughout Saturday and into another night of darkness. We were on Helvellyn at this time and the wind was bitterly cold making it hard to eat as I was cold. I just kept on running but knew I would suffer from lack of energy as a result.
What was that as I woke. realised where and happening. it had worked. minutes all jumped up ready to run again the next hours flew passed it an incredible feeling running moot hall at on sunday knowing done it. female have completed a double bob graham only person achieved magical sub hours. also beaten roger time finished in so now hold overall record extra know exactly how is felt when jasmin broke my record. means lot me he there.
After a few minutes I knew I needed to move. This is the uncertain bit; how will the body and mind react to stopping. Usually within 10 minutes I'm useless. I looked for Charmian and my support. We had hugs and congratulations. My wish was to spend the whole weekend in the company of my friends on the hills I love and I'd done that.