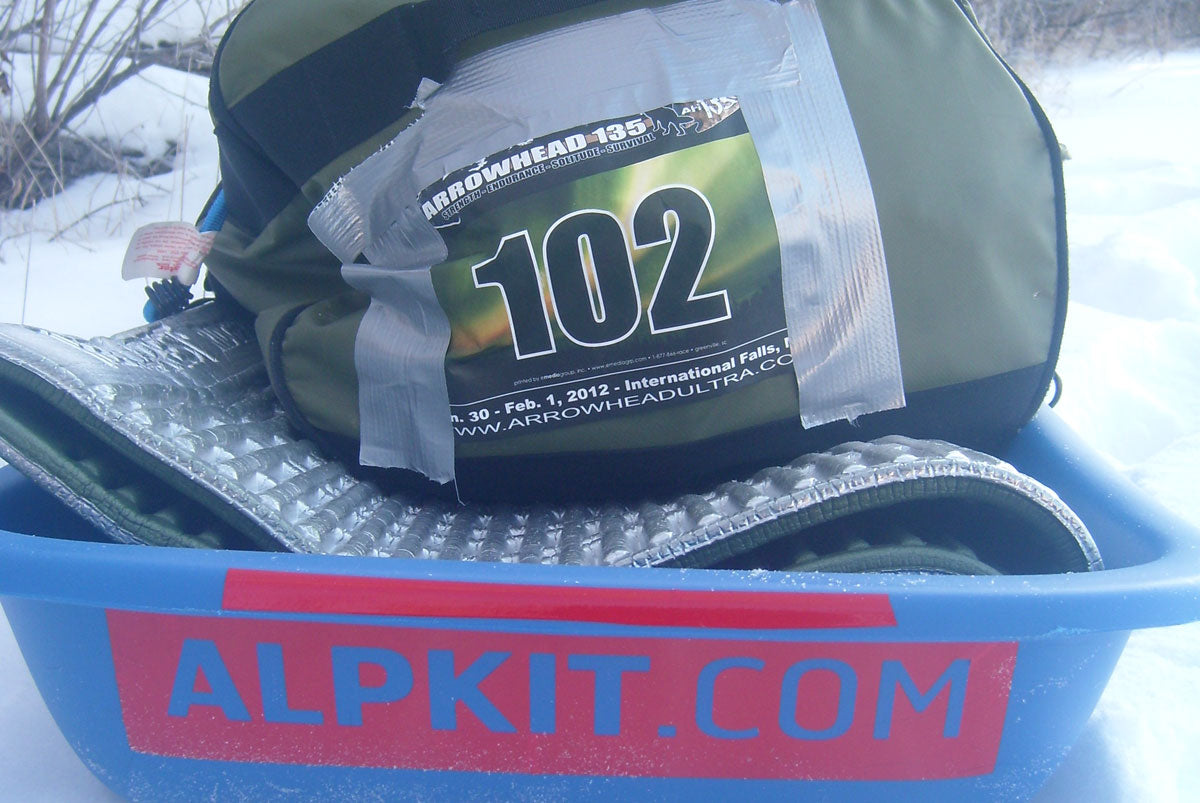 Arrowhead 135 - the 1st 24 hours
A couple of weeks have passed since the Arrowhead 135 ultra race in Minnesota ended. Enough time for me to grab some sleep and wear out the excuse that my feet were sore so here's my race report.
The Arrowhead 135 ultra race has been rated as one of the toughest races on earth by National Geographic. Having spoken to a few competitors at the race briefing the night before, I discovered that the calibre of runners was phenomenally high with several touting that they had completed most of the iconic ultra races in the US including Badwater and Leadville amongst others. Competitors have the choice of discipline: bike, ski or run. I can't ski, am mildly inefficient on two wheels on a good surface let alone whilst floundering through the snow, so yet again I'm slogging it out on foot.
0 hours: slightly terrified. There were a lot of scarily-efficient looking runners wearing lycra, although in those temperatures that was never going to be something to brag about. In terms of average seasonal temperatures it wasn't massively cold and I could foresee that being a problem. At the race briefing they talked of temperatures of mid –teens Fahrenheit (minus 9C) and all my gear was designed for far colder than that (during the Yukon Arctic Ultra in 2011 the temperatures dropped to minus 42C). In the flap to get ready I think I was actually slightly late across the start line.
I start the race with Steve Ansell, a Californian, who informed me that over the course of the past six years he has completed 20, 100 milers. To put this into perspective, I had completed one (the Yukon Arctic Ultra) and failed at one (the West Highland Way race, dropping out injured at 70 miles). I've done a couple of marathons and a dunter of a mixed bike, run and kayak up in the Outer Hebrides but I'm not a runner. I can plod with the best of them but amongst such vaunted competitors I felt a bit out of my depth. I end up running well over half the race with Steve, meeting up at various points over the 135 miles.
1 hour: the trail was soft underfoot after the snowfall overnight. Light snow falls for about half an hour giving me a taste of what is to come for large parts of the race. I become 'that guy' by cutting up another racer with my pulk to avoid being mown down by a passing snow mobile. Other racer justifiably annoyed so I put a boost on to avoid the road rage.
2 hours 24 mins: made the turn to head pretty much due east onto the Arrowhead Trail at 9 miles. Felt good after giving the legs a bit of a stretch.
5 hours: decided to alleviate the monotony of the race by running for 30 seconds every seven and a half minutes. Don't judge. Not until you've done one of these things.
6 hours: caught a local skier, Ken Kreuger, from International Falls. I was surprised to be anywhere near any of the skiers at this point in the race so knew I was moving well. Ken complained that the snow was sticky and rubbish.
6 hours 5 mins: Ken nowhere to be seen as he hit decent snow. I didn't see him again (he eventually finished in 49 ish hours).
7 hours: bored by the 30 seconds of running every seven and a half minutes so attempt to alleviate the utter brain-addling boredom by trudging step by step for an hour.
8 hours 30 mins: caught up with Roberto Aldovini from Milan and spent the next hour or so chatting with him. Roberto said that he took part in the Arrowhead in 2010 but had to pull out in freezing conditions after the sole of his trainer came off. His luck with footwear seemed to be continuing as the speed laces on his Salomons had snapped and were trailing behind him.
10 hours: Felt absolutely shattered. Started to experience pain from my lower left leg.
10 hours 27 mins: arrived at Checkpoint 1 (Gateway General Store) where I intended to take 15 minutes to resupply my Camelbak and thermos flasks. It was warm and there was food (I had some chicken noodle soup, smash down two Pepsis, a slice of pizza and a packet of chewy Jolly Ranchers) so I stayed just over an hour. I was ok with this as I was feeling pretty wrecked prior to going into the checkpoint.
11 hours 31 mins: exited from the warmth and I noticed that the temperatures had dropped fairly significantly. By the time I had left the checkpoint I was experiencing a very cold left index finger so I stopped to put on my Montane Resolute mitts. These had been a life-saver during the Yukon Arctic Ultra in 2011 where I had the same issue. Felt a little smug that I had the experience to recognise when the cold was affecting me and that I took early preventative action.
11 hours 45 mins: became aware that there was a snow mobile inching up the slope behind me with its full beam on which was really messing up my night vision. When I checked behind me I noticed that there was a camera man on the back of the snow mobile filming a runner dragging his pulk up the hill. The stubborn Scotsman in me kicked in, I was sure as hell not going to be the guy who this runner blasted past in full techni-colour so I leant into my harness, used my poles effectively and surged up the hill. The guy didn't pass me and the snow mobile turned and headed back to the checkpoint. I like to think it was because I fought him off but in reality they probably had the shot they wanted anyway.
It turns out that the runner was Reza Baluchi who is a bit of a running superstar. By all accounts he had moved to Badwater six months ago so that he could acclimatise and train in an effort to break the record for the 135 mile Badwater ultra (which currently stands at a mind-boggling 22 hours 51 minutes and 29 seconds). He has also set the record for running from LA to New York and again in 2007 he decided to run the perimeter of the United States. He ran over 11,720 miles in 202 consecutive days. As an indication of the horrendous attritional rate of the Arrowhead 135, Reza failed to finish the race, pulling out at Checkpoint 2.
21 hours 58 mins: after crossing Elephant Lake (despite hallucinating heavily through the night I can't recall any elephants but I did see a couple of giant lizards and an old woman with a young child on her shoulders – that was one I had to properly check with my head torch as I thought it was a bit inappropriate for a small child to be out in those temperatures) I made it to Checkpoint 2 MelGeorge's Cabin (72 miles).
My feet were in a state. I had blisters beneath both big toes creating a fair bit of pressure and pain. In addition to this I had redness and a lump on my left shin brought about by inflammation of the anterior tibialis. Thankfully Sabine Couteau, a nurse from Grenoble, France was on hand to sort me out. Using a scalpel, she was able to cut down the back of my toe nails to relieve the fluid which was causing the pain. She then taped up my toes using duct tape (it was the only tape that would stick to my horrible sweaty feet!) and then strapped my shin as best she could.