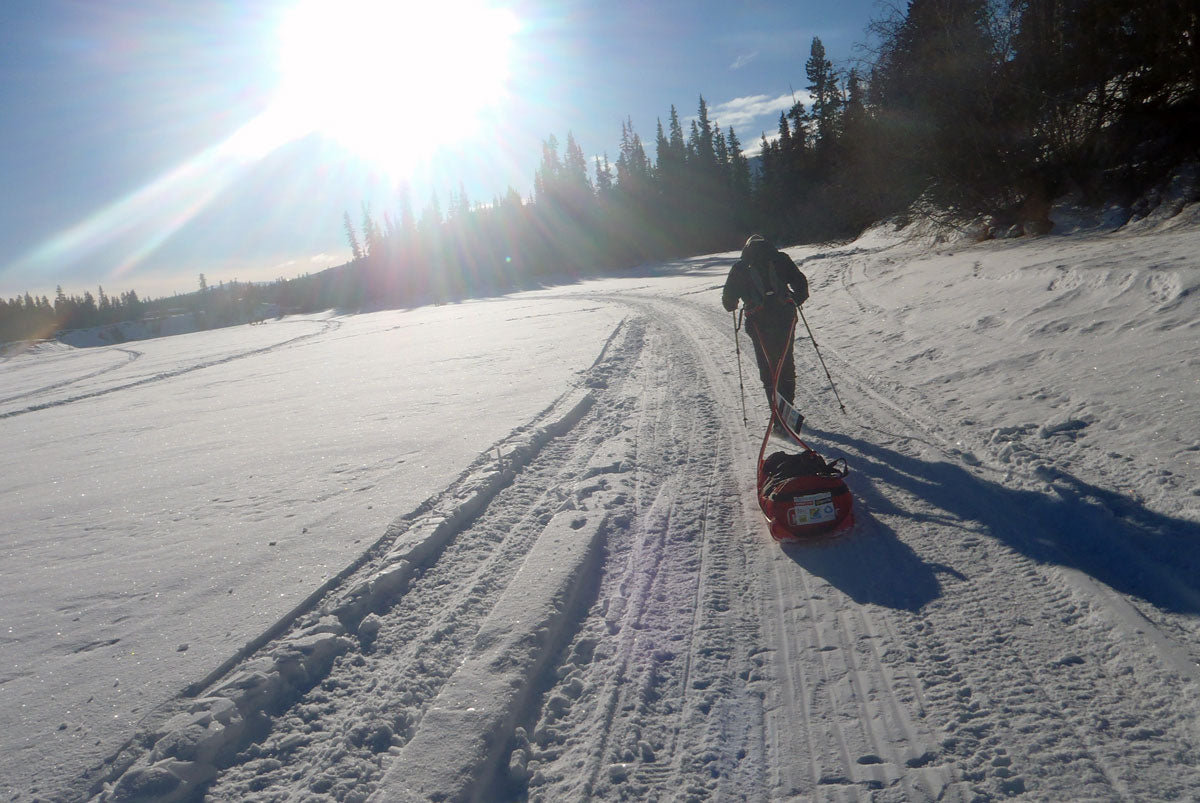 Arrowhead 135. Northern Minnesota USA. Deep Winter ultra-endurance, bike, ski or run. Paul Errington took it on by bike back in 2010, this year will see Lee Peyton heading out to run the 135 miles. We catch up with him with a week to go.
Right, I've been asked to engage my brain (where's the starting handle?) and put some pre-race thoughts down on paper.
Exactly a week before I fly out to take part in my longest ultra-event, the Arrowhead 135, I got my first chance of the year to train in snow. Compared to last year where there were a couple of feet of snow for about four to six weeks, today's couple of inches was slim-pickings but a delight as well.
The Arrowhead 135 follows Minnesota's Arrowhead trail 135 miles from International Falls in the north to Fortune Bay in the south. With monthly average temperatures of minus 20 C (and the record lows double that) this'll be a monster comparable with last year's Yukon Arctic Ultra. All competitors have to be entirely self-sufficient throughout the race, carrying or dragging all provisions, with the option of three separate disciplines to choose from (bike, ski and run). Once more, in the absence of any talent on skis or a bike, I've opted to grind out the distance on foot.
What are you most looking forward to?
I can't wait for some decent cold and snow. And finally getting started. As with a lot of these bigger races a huge amount of admin and training goes into getting ready.
What are you taking?
All racers have to be entirely self-sufficient. As the organisers say "don't count on your mommy rescuing you" so you carry (I'll be dragging mine in my pulk) all your own clothing, food, fuel and shelter. Again for the second year in a row I'll be taking a Hunka XL bivvy bag twinned with a sleeping bag rated to minus 40 C and a Thermarest Ridge Rest SOLite.
In addition to last year's kit I'm also taking Alpkit's Filo jacket.I've been seriously impressed by the look of it over the past couple of years so I'm looking forward to testing it out when it's proper brass monkeys. In an effort to reduce the weight in my pulk I'm taking the titanium MytiMug instead of a set of mess tins. I'll also be taking a SPOT Tracker so folk can follow my progress during the race.
I'm not a runner; I'm a plodder. I have developed the ability to run at snail's pace for hours. It's a dubious skill really; in my opinion, only suited to cold-weather racing. The organisers have stated that this year is the strongest field they've ever had including some of the world's best ultra-runners (and me). Seriously though, I think the cold, exposure and isolation are great levellers and can bring even the most vaunted field of athletes into a tighter group. We found last year that your progress and ultimately where you finish in the field, can be determined by how efficient you are with your admin when you're cold and tired and feeling a bit fragile at four in the morning at minus 30 C. I'll be looking to bring that experience from the Yukon Arctic Ultra to my racing this year.
Any nerves?
To an extent. I don't think my prep has been as good as for Yukon due to one thing or another. And this is the first time in ten year's that I haven't had my race-partner, Garry Mackay, alongside me. Psychologically I think that'll be the hardest part.