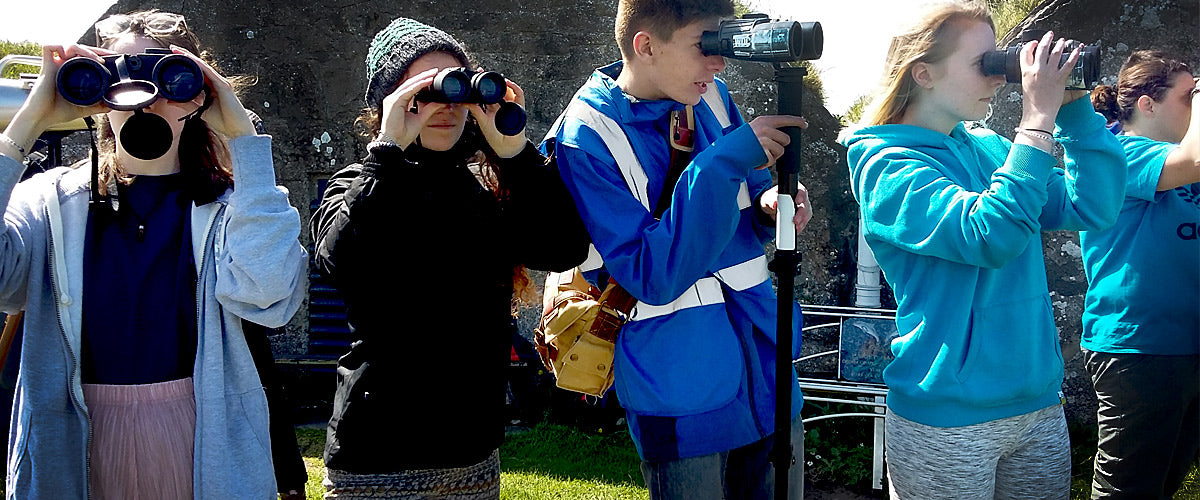 Blue Youth project ignites marine conservation passion among Scotland's youth
Engaging the entire community in science projects can bring numerous benefits, but there are often barriers that can restrict participation. In fact, Caithness Volunteer Action Group and Envision UK have highlighted that a lack of transport and/or funds to reach volunteer locations is a real barrier in volunteering for young and disadvantaged communities.

Whale and Dolphin Conservation (WDC) Shorewatch  is a long-standing citizen science project contributing crucial data on cetacean presence and absence in Scotland. Their Blue Youth project is targeted at those within the Highlands and Islands focussing on the Hebrides, North Coast and Moray Firth with the aim to create and enhance connections between young people (aged 18-25) and their blue spaces.

Freya Macintyre from the WDC applied to the Alpkit Foundation for support towards essential resources and transport for volunteers from remote and disadvantaged communities that would allow them to be able to access this volunteer opportunity with Shorewatch. Freya got back in touch recently and shared insights into how things have gone and it's amazing to hear about the successes of the project.

"Shorewatch has been collecting data for the last 15 years to help protect 18 species of whale, dolphin and porpoise and their habitats within the Scottish waters, however young people in Scotland face barriers to volunteering, the most significant identified as lack of transport and/or funds to reach volunteer locations. The Blue Youth project helps remove these barriers by providing specific training and transport options to recruit young people to learn transferable skills, contribute to a valuable data set and connect with their local marine wildlife."
Throughout the year, WDC provided both theory and practical training sessions, offering continuous mentoring and support to enable young people to learn about the scientific data collection methodology that Shorewatch uses. Targeting geographically isolated areas such as Torry Battery, Wick, Thurso, Greenock and Fraserburgh they were able to involve 26 young people in six training sessions by providing free transport.
It was also wonderful to hear that during the project the Scottish Government developed and launched a scheme for 16–23-year-olds to receive free bus transportation across Scotland, this enhanced accessibility to training sessions and events, further breaking down barriers for young participants.

"We set up three new Shorewatch sites. One site was at Clachtoll, Assynt which is closer to a larger village, Loch Inver. This site in the Highlands is supported by a local Ranger who will continue to support young adults' access to the site. Two were in areas of low income, one site at Greenock, in the Clyde, which is a good site for engaging young people and the other site is in Fraserburgh, Aberdeenshire, which was initiated by a local young adult calling out for a Shorewatch site near him. This project allowed us to respond to his ask and he has been key in promoting the site and the training session. These sites now have their own Shorewatch kits that can be easily accessed by young people and other volunteers"

It's fantastic to see the breadth of engagement and impact that the project has had. This included funding seven young people to take field trip experiences and visit other regions including Skye, Shetland and Orkney, giving them the opportunity to meet other Shorewatch volunteers and record sightings of cetaceans at a different site. They also took one young person to parliament for a ScotLink evening event where they supported the Shorewatch Officer in speaking to MSPs about the work we do and what cetaceans can be seen from our coastlines.


"All those who took part in the Blue Youth project contributed their collected data to the wider Shorewatch database using our new Shorewatch App. In total they collected 682 Shorewatch records and the data during this period also contributed towards six student university projects. We also created a Young Adult Network to bring young adults together and support them in having their voices heard, we have had 10 young adults sign up so far and even helped draft a letter to the environment minister highlighting their support towards Highly Protected Marine Areas. "

The team was also approached by an adult learning coordinator for Refugee's Highland as they were so impressed by the experience they had. Wanting to recreate the experience for the groups of Afghan and Syrian refugees, they managed to run 2 practical Shorewatch trainings in Inverness for 9 young refugees.


It's been a real success and Freya explained how they plan to take this forwards, emphasising the desire to maintain momentum and initiate a broader focus on youth recruitment throughout Scotland.
"We have ample scope to expand to existing sites where we can target young people in those areas not reached by this project. WDC is regularly adding new Shorewatch sites too, so we have potential to scale up and target young people in addition to regular recruitment. This in turn will provide all those positive long-term benefits to young and disadvantaged people in Scotland, whilst also continue to help expand our data set and better protect marine areas."

If you are interested in the great work that Whale and Dolphin Conservation are doing and want to get involved then check it out here. SHOREWATCH – CITIZEN SCIENCE IN SCOTLAND