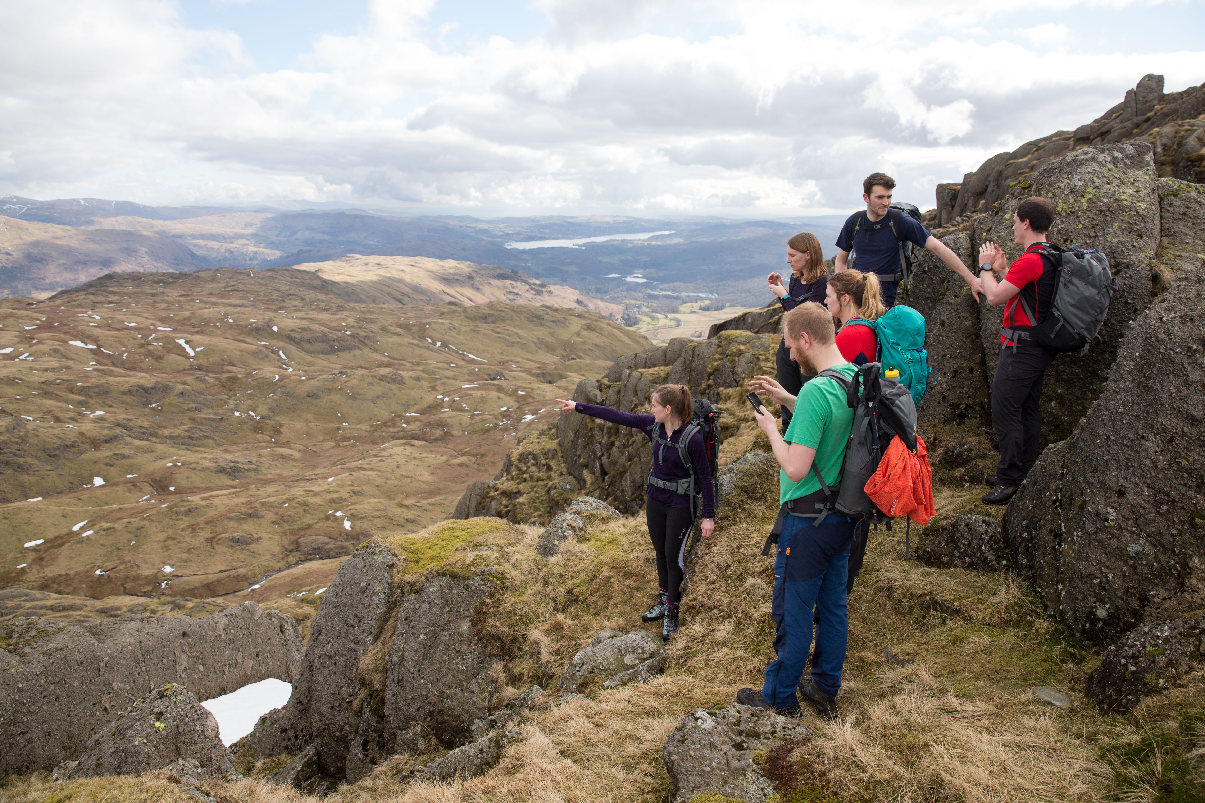 Testing kit, product tips and chilly dips
Customer Support Heroes, Connie and Rowan and Store Heroes, Billy, Joe, Georgia and Chris spent a few days in the Lakes on 'Adventure Training'. They tested out a wide range of AK kit out on the hill, under Design Manager, Ronnie's watchful eye. Plus, Suzanna Swims took them for a very chilly dip in Blea Tarn.
The Hathersage team arrived first (in time for the pub), with HQ turning up shortly afterwards. We established bunks in the Great Langdale Bunkhouse and settled in for the night.
Marky Mark cooked us some bacon butties whilst we planned the walk and divvied out kit. We had to think about the best kit to wear for the conditions. It was (surprisingly) sunny and pretty warm, but the weather on top was supposed to be chilly.
We followed Ronnie's lead and headed up Stickle Ghyll to Stickle Tarn. Getting a sweat on with the sun beating down we stripped off our midlayers. This gave Ronnie the opportunity to go through merino vs synthetic baselayers – their benefits and why synthetic was the choice for an unusually warm morning. Merino being a smarter choice if it's a bit chillier. Cotton, as Billy found out, feels nice against the skin but holds too much moisture to be an effective baselayer.
At Stickle tarn we took the opportunity to eat some Chimpanzee Bars, and talk through legwear, particularly the new softshell trousers. Billy decided it was time for a trouser change as he had started off in the new Kraft trousers: He reckons they are really comfy and stretchy but not breathable and quick drying enough for a big hike. Softshell trousers are much better suited!After our quick stop and a bit of chocolate, we headed up to Pavey Ark, negotiating a boggy patch with good use of the Colca gaiters and Shox walking poles. There were a few snowy patches and the temperature dropped, we were still heading up hill so we didn't really need any extra layers. Mostly, we were still in our baselayers.
Firepot meals and Extreme foods were boiled using a Kraku and a BruKit. Ever impatient, we end up eating half rehydrated, crunchy chilli con carne as we miscalculated how much water to carry up the hill! The Firepot meals were bigger and used more water but took longer to soften up! The Extreme food took a lot less time and water but the portions weren't as big. Perfect if you are on the move.
Top tip: if you are eating out of the packet, a long handled spoon, such as a Lhfoon, is very useful and means you don't get messy hands!
The wind brought a chill during lunch so we reached into the bag once more for our layers. There was a good mixture of fleeces and jackets. Fleeces were the first to go on; the Laika, Yakutian II, Griffon and Vizsler. Filos, Phantacs, Apogee and Filoments over the top, as well as hats and gloves. We were testing out Alpkit's soon-to-come glove range, there was lots of swapping and changing so we got the chance to wear them all.
Feeling full, we headed off to Harrison Stickle, after a short while we were peeling off our down layers and comparing the wind resistance of various fleeces. The Vizsler really shone here, just the right amount of cooling breeze but still nice and snuggly. We crossed to Pike O'Stickle before heading back down into the dale. During the steep descent we began to delayer whilst Ronnie asked us questions about customer feedback on products we'd been testing, comparing our experiences to those of customers.
We reached the AlpVan and got to work on pitching our accommodation for the night. Joe and Rowan expertly pitched the Heksa before the rest of the team had even found their poles. Soon we had a fleet of tents to choose from including a Viso, Heksa, Jaran and Kangri.
Happy with our beds for the night, we made our way to the pub for dinner and a few swiftys. We blended in at the bar with our Keeshonds, Kraft and Woodsmoke kit. After food, we headed upstairs to join the Stickle Barn's Adventure Film night (every Tuesday) - this week it was a showing of Everest. Following this, we wandered back to our tents, settled in for the night and slept until the smell of black pudding (and the sound of Aleks from Alpkit Ambleside) woke us. With another excellent breakfast from Marky Mark eaten, we packed the tents away, loaded into the cars, and tackled the treacherous road to Blea Tarn.