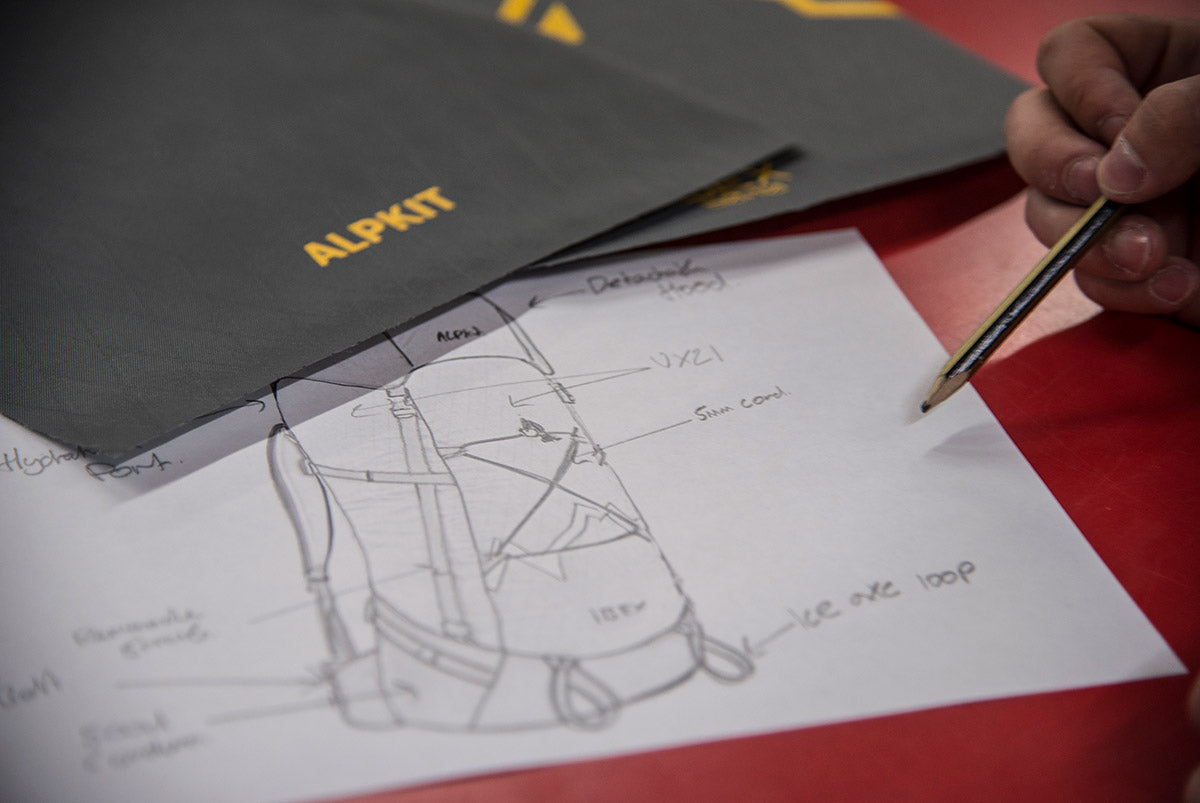 When you start looking for a new climbing pack, it doesn't take long to realise that there's a huge crevasse in the market where good quality, affordable climbing packs should be. There just happened a similar shaped crevasse in our range, and our upcoming move to a larger factory meant that we'd have the capacity to fill it.
A load of us at Alpkit are climbers and climbing packs had always been on the radar, the chance to create a pack for climbers, made by climbers being way too good to pass up. Making the packs in our Nottingham factory was a given as it would mean that we'd have full control over the design and product. Everyone was excited, and everyone was full to the brim with ideas…
There were some features of the pack that we all agreed on:
Tough seams: Climbing stuff can be heavy! Webbing would be bar-tacked and seams double stitched for toughness,

Quality, durable fabric: Climbing packs face all the harsh conditions that we do,

Lightweight: Just because climbing gear is heavy, it doesn't mean your pack should be.
The problem was that 'climber' encompasses a lot of different people with different ideas and requirements and, as a result, we ended up with the mammoth task of creating a pack that was ideal for anything from an evening boulder at Stanage to Scottish winter climbing. That was quite a lot to ask from one pack, so one pack became two packs: the Chamois and the Ibex.
The Chamois was to be the ultimate all-round crag bag; the only crag bag you'll ever need whether you're sea cliff tradding, bouldering at Stanage, sport climbing in the Alps, or just heading down to your local wall. A big point for discussion among the team was size. What's the perfect sized bag for taking your rock shoes and chalk down to the local wall and for lugging your rack to the crag? Hmmm… how long's a piece of string?
It turns out the piece of string is 45 litres long with webbing on the outside: big enough to fit you rack, rope, and a bagel, with room on the outside to attach your helmet and smelly shoes. Extra touches, like compression straps, would make it more compact for those streamlined days.