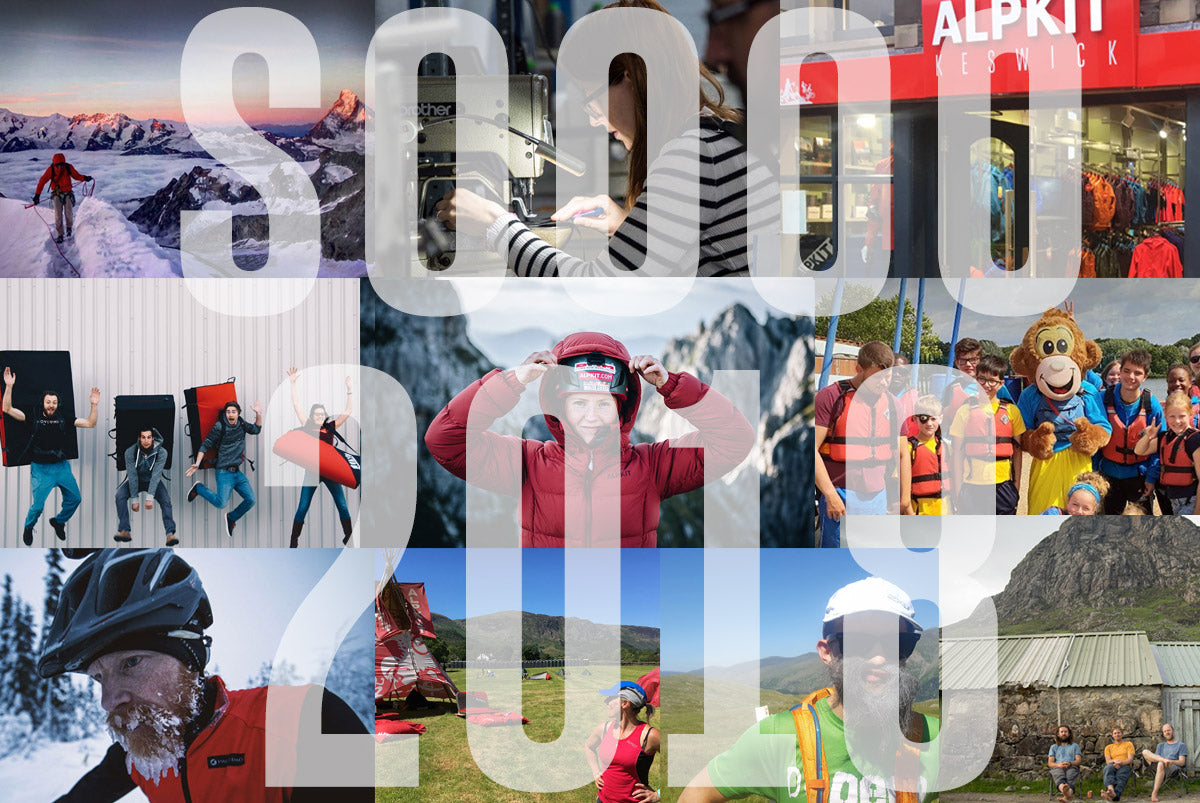 My, has the time flown. This year went quick, but a lot happened! Here's a look back at our 2018.
Daring Deeds
2018 has been yet another year for inspirational swashbuckling adventures. Whilst some of our Alpkiteers have been pushing the limits, it's certainly not all about that, but it is all about the experience, whatever the level. Everyone will have a Daring Deed in them.Here are a few that have stayed in our memories, let's see what 2019 brings. …
Remember that long spell of fine weather in the UK? A healthy bunch of Alpkit staff, from novices to experienced, headed to a blisteringly hot Lake District for the Saunders Lakeland Mountain Marathon
Johnny Parsons' life in Lima continued to challenge his sanity but his temporary escapes to the mountains help him "to rise above the car alarms, horns and general chaos building up like a pressure cooker below."
There's been no rest for Anna Wells who spent a whirlwind summer and autumn in the Alps juggling the . Her most recent challenge was soloing Aiguille de Moine – third time's a charm! (Here's some footage from the summit)
The original Sonder Cahoot tandem continues to see the world, now in the capable hands of Daisy and her dad, David, who took it for a 75 mile journey across the penines to Grandma June's house.
Finally,rounding off the year, Vedangi completed her round-the-world cycle in 159 days. A lot of unexpected knock-backs meant that she didn't claim the world-record in the end, but inspired us with her positivity despite facing obstacle after obstacle. (Although she did become (unofficially) the youngest woman to do this at the age of 19/20). We look forward to catching up with her in the new year and hearing all the stories and stats.

Film
We've been doing the tour of the film festivals, it was brilliant to be able to support the following films:
Amanda Bluglass capturedthe long distance swimming adventures of Kari Furre and Kate Rew amongst the jellyfish in the remote Loch Hourn in an atmospheric film of UK cold waterswimming.
A conversation between film-maker Dom Bush and alpinist Ian Almond inspires a honest, understated story about obsession, identity and self-reflection filmed in the stunning Torridon landscape.
Focus
Then back in February Paralympian Steve Bate switched velodrome track for snow, winning Rovaniemi 150. The race became a main feature in Focus, a documentary about his life since his 2011 diagnosis of Retinitis Pigmentosa (RP).

Awards
It meant a lot to pick up the Best Online Retailer of the Year award for the fifth time from the TGO magazine reader awards. We also found ourselves on the shortlist for Brand of the Year and Campaign of the Year for our Continuum Project, alongside lots of other excellent companies. Thank you for voting for us!
Alpkit Foundation
This year the Alpkit Foundation has donated over £40,000 to support over 180 projects. It's truly amazing to see the effect that even small steps can have in changing peoples lives as they get to experience the outdoors. Here are a few projects from this year...
Outdoor learning at Sylva Wood Centre
We also launched the Alpkit Foundation Research Grant. A £5000 grant for research projects that address one (or more) key challenges that face the outdoor industry. (We're still accepting applications!)
Continuum Project
It's been over a year since we launched the Continuum Project, and 2018 has seen us partner up with even more charities that can really make use of your not-needed-anymore gear. We've sent over 50 donation boxes to our charity partners this year...that'sroughly 1,500 garments donated by you, so thank you very much!
Continuum gear being put to good use
Big Shakeout
Another year, another Big Shakeout (the 9th!), another chaotic week leading up to the event that's always worth it when you festival goers start to arrive. The Big Shakeout is always a highlight for us as it's a chance for us to drop our normal tasks and put on our events planning hats for a few weeks. Well that and all the music, adventure, food, company, and dancing of course… As always, all the proceeds from the festival are donated to the Alpkit Foundation.
Stores
Just in the nick of time and with a burst of effort, we squeezed our third store into 2018. Alpkit Keswick opened just before Christmas, and we're excited to get 2019 underway and settle into the Keswick vibe as we look to bring you everything you've come to expect from the Alpkit store experience!
Products
A highlight has been our innovative Exo-rail, which was complemented by the launch of our expanded bikepacking luggage range. In fact it's been a busy year in our UK factory, with the new Oryx climbing pack, our 3 waxed cotton packs, the aforementioned bike luggage and our new bouldering pad range in October.
Elsewhere, we've made our first steps into the worlds of gaiters and gloves, delved further into the world of softshell, and continued reap the rewards of using natural fibres in our Kraft pants and Werk shorts.
Plus a load of stuff that we're working on for next year! We're so excited, watch this space!
Sonder
Bike Guru Neil got to build his dream bike earlier in the year with the Signal Ti hardtail mountain bike, and we've been busy preparing for the launch of the Sonder Santiago steel touring bike, which you can expect in early 2019.
That's our 2018 in a nutshell, thank you to everyone who has supported us - we couldn't do what we do without you! We'll see you in 2019!