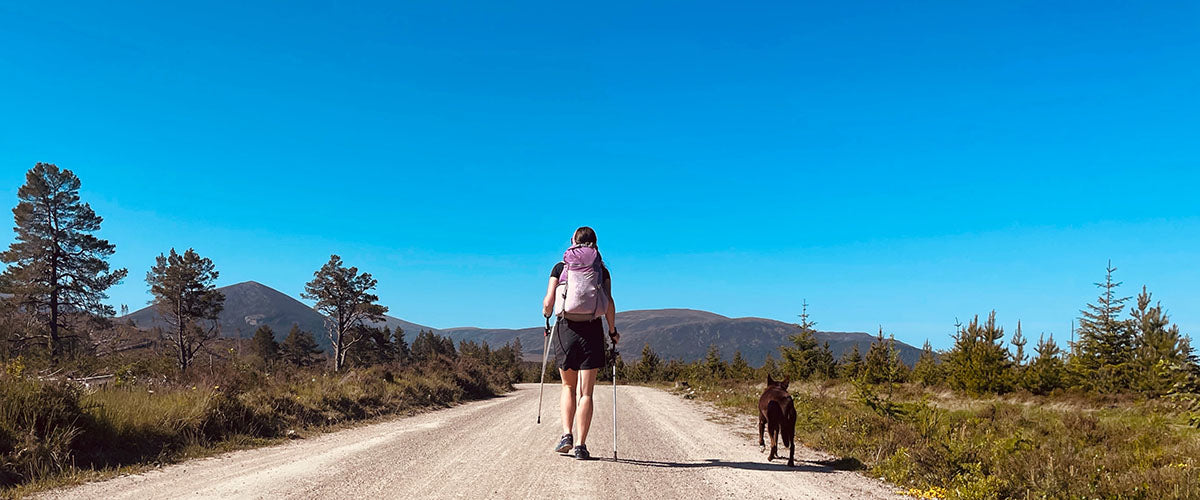 The Lairig Ghru is a 20-ish mile mountain pass linking the towns of Braemar and Aviemore in the Scottish Cairngorms.  I say 20-ish as there are various starting and finishing points.  For example, the annual Lairig Ghru running race stretches for 27 brutal miles, linking the two town's police stations.  Deciding that we were more interested in the pass itself than visiting the local constabulary, we set off from the Linn of Dee carpark at the Braemar end and finished the outward route just after the Rothiemurchas Lodge on the shores of Loch Morlich.
So why two Lairigs?  We had originally thought about making it a round trip, heading one way on the Lairig Ghru and returning via the nearby Lairig an Laoigh pass.  In the end, a combination of unexpected heat and the fact that this way was a fair bit longer, we did a there and back on the Lairig Ghru.  So, one Lairig but done twice…I think that counts as two?!
We knew both ends of the pass from mountain bike rides and had, at one point, thought of making this trip on two wheels.  Whilst the first few miles from both directions are easy gravel road which soon gives way to dreamy singletrack, the lengthy mid-section would, for many (me included) be a never-ending hike-a-bike and this did not appeal.  So we kept the bikes in the van, packed up our lightest camping kit and headed up to the National Trust car park at the Linn of Dee where you can leave your car overnight for £3 per day (just multiply by the number of nights you want to leave it and use the one ticket).
The trail weaves its way through ancient Caledonian pine forest before turning left to join the main pass.  It's worth noting that you are near water sources for most of the route so have ample opportunities to refill water bottles (and in our case, give the dog somewhere to cool off).  This end of the pass is a wide open plain with a river cutting through the valley and hills on either side.  We did this trip in an amazingly hot, sunny spell and it looked more like Montana than Scotland!  Whilst there's plenty of water, there's not much shade and I was very glad to be wearing the ultra-light Vayper running kit which is good for wicking and also very fast-drying if, like me, you need to dunk yourself in the river mid-way to cool down!
After a few miles, you come to Derry Lodge, a long-abandoned hunting retreat which is a great place to camp if you're doing the route from Aviemore to Braemar.  There are loads of flat, grassy places to pitch a tent or bivvy under the shade of trees and near the river.  After this point, the trail starts heading upwards and the going underfoot starts to get tougher.  By the time you're reaching the high point of the pass (at 835m), the non-stop boulders mean it's hard to tear your eyes away from where your feet are landing and any lapse in concentration usually ends in an annoying trip.  In all honesty, at this point I wasn't loving the Lairig Ghru.  Maybe it was the heat combined with the heavy pack, but it was feeling a bit oppressive.  I think the fact that you are never up on the tops but always sandwiched between the towering mountains on either side adds to this feeling.  It had also taken us longer than expected and we knew we weren't even half-way by this point.  It was going to take some gumption to solider on but I'm extremely stubborn and really didn't want to turn back.  Another thing to note is that there are no get outs or short cuts.  You either make it to the other end or turn back and retrace your steps.
Everything started to feel better after passing the central section.  A few bigger boulder fields to cross and the beautiful Pools of Dee broke the monotony of the upwards slog and as soon as we'd crossed the high point, we could see Aviemore.  Admittedly, it was a long, long way away but seeing your 'finish line' certainly helps with the motivation when you're struggling.  We were at last descending but the bouldery, awkward terrain kept the pace super slow so when we passed an idyllic-looking flat, grassy spot on the other side of the river, we decided to finish early and make this our camp for the night.  It would mean a slightly longer day the next day but we decided it was worth it.
I had thought that because we weren't up on the summits, we would enjoy a warmer night under canvas but we were still pretty high up and as soon as the sun had dropped, it got properly cold.  I ended up needing all my warm layers and actually slept in my Filoment down coat.
Of course, the next morning, I wished we'd made it all the way to Loch Morlich as we had to quickly drop down and then retrace our steps.  However, it was a much cooler day and we were walking at a much faster pace.  I think the previous day had been a combination of tiredness after a busy spell at work and a blast of heat that we weren't yet used to.  Despite the fact that it felt tough, a day of being outdoors with no work worries or stresses obviously recharged our batteries and the return to the Linn of Dee felt completely different.  We reached the van tired but happy and very glad that we'd done our two Lairigs.