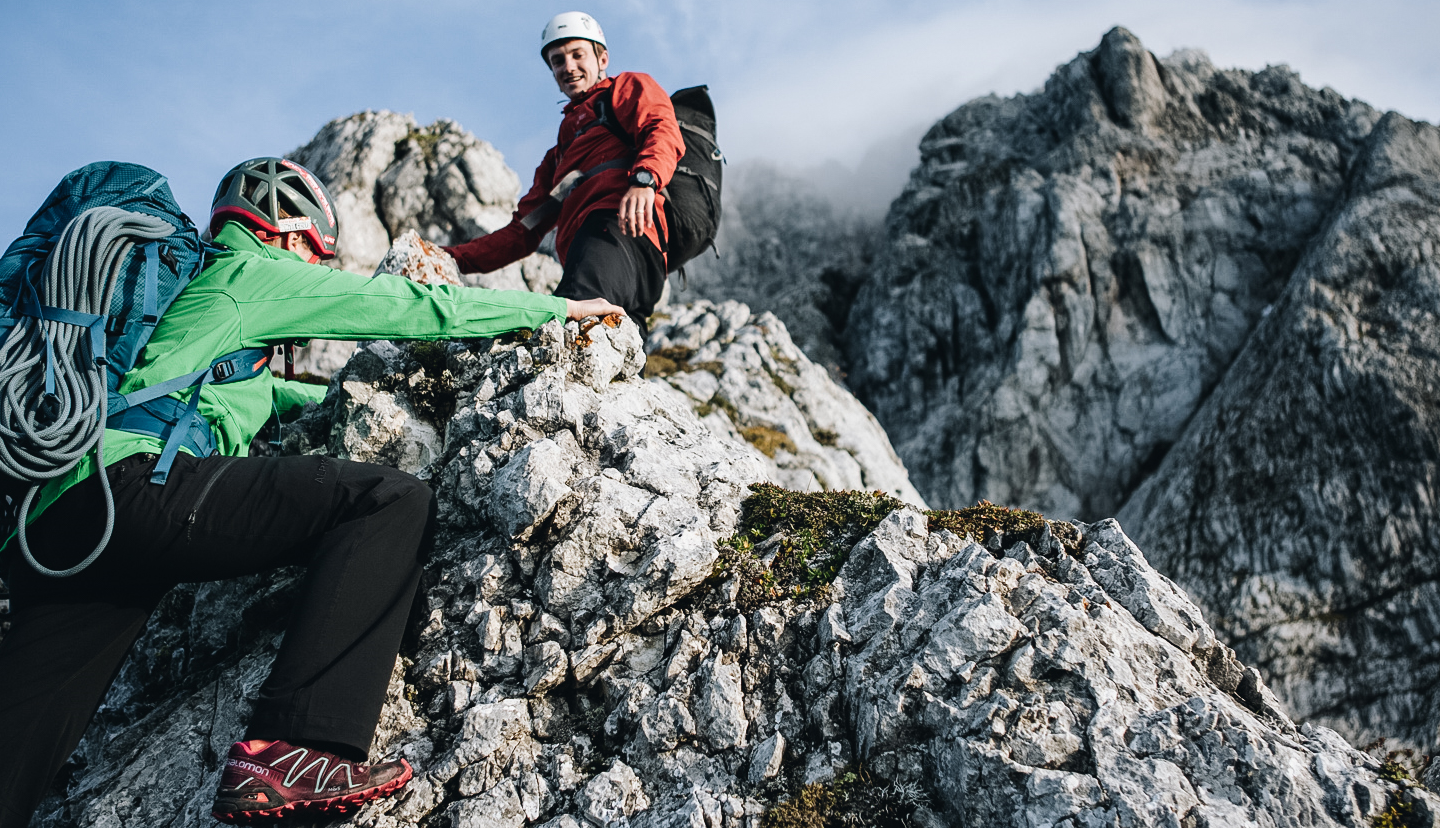 How to Choose Between Alpkit Trousers
Seriously tough legwear for serious fun. Our range of shorts and trousers covers walking, climbing, running and riding, for both men and women.
A Brief Overview
Waterproof Trousers - Get ready for winter
While it might seem like just another item to pack, carrying waterproof trousers in winter can greatly enhance your comfort, safety, and overall outdoor experience. They offer versatile protection from the elements, ensuring you're prepared for whatever winter throws your way.
New for 2023: Cloudburst lightweight waterproof over trousers
Lightweight and packable 2.5-layer waterproof trousers. Ideal for wet weather hikes or as a just-in-case layer on multi day hikes in changeable conditions. Made with 100% recycled nylon fabric with a PFC-free DWR. Cloudburst is available in mens and womens sizes.
Parallax lightweight waterproof over trousers
Our premium lightweight, breathable waterproof trousers made with a 2.5 layer construction. They're comfortable, stretchy and active with an articulated fit. They're quiet when you walk and they pack away in your rucksack – weighing about the same as your average sandwich. Parallax is available in mens and womens sizes.
New for 2023: Equinox insulated waterproof trousers
Waterproof walking trousers with a soft insulating drop liner. Wear for all-day winter hillwalking in changeable weather conditions. Complete with a PFC-free water repellent treatment and incredibly soft-to-the-touch. Equinox is available in mens and womens sizes.
Nautilus mountaineering waterproof trousers
The Nautilus are 3-layer waterproof overtrousers ready for the wettest of walks. They're reinforced and tailored for serious mountain use. The Nautilus are made with an exceptionally tough 70D nylon 6,6 outer fabric that's designed to keep going. And going. The Nautilus are constructed with a PFC-free DWR. Nautilus is available in mens and womens sizes.
Walking Trousers
For the UK's hills and summits, the Alpine glaciers and snowy peaks, our performance legwear withstand the rigours of an active outdoor life. No matter whether you're munro bagging, planning a multiday backpacking trip or regular walk around your local woods, we prove that performance outdoor clothing doesn't have to cost the earth. Ethical. Technical. Sustainable.
| | | | | |
| --- | --- | --- | --- | --- |
| Product Name | What are they good for? | Material | Fit | Weight (men's m / women's 12) |
| Teleki Trousers | Warm weather walking | 96% Nylon, 4% Spandex, 75D, 135gsm | Regular | 250 / 220 |
| Teleki Shorts | Hot weather walking | 96% Nylon, 4% Spandex, 75D, 135gsm | Regular | 170 / 140 |
| Teleki Zip-Offs | Warm, changeable weather walking | 96% Nylon, 4% Spandex, 75D, 135gsm | Regular | 290 / 260 |
| Arnison | Year-round hiking | 97% Nylon, 3% Spandex, 219gsm | Regular | 405 / 367 |
| Skarven | Hiking and scrambling off the beaten track | 94% nylon, 6% spandex, 288gsm | Relaxed | 530 / 485 |
| Hauler short | Hidden tech for an active mountain lifestyle | 94% polyester, 6% Spandex | Regular | 315 |
| Wind River | Hybrid swim-hike shorts for hot weather activities | 100% polyester | Regular | 130 / 125 |
| Faro Shorts | A range of active pursuits | 88% nylon, 12% spandex double weave, 166gsm | Regular | 230 / 221 |
Skarven
The Skarven are rugged outdoor trousers. They're tough for off-track, off-path scrambling, hiking and heather bashing. They're tough as nails - our hardest wearing trouser for outdoor use and abuse. The Skarven are made from a quick-drying canvas fabric that dries quicker than cotton equivalents - perfect for passing showers.
Arnison
Arnison are tough. They're hardwearing, highly wind-resistant hiking trousers for year-round hiking. They're designed for full freedom of movement, with inbuilt stretch, a diamond-shape gusseted crotch and articulated knees for striding, scrambling and clambering. And they're treated with a PFC-free DWR to withstand light showers.
Teleki
Teleki is our range of lightweight legwear for walking. They pack down small for stuffing in rucksacks on multi-day hikes. They're available as trousers and shorts. And if you can't decide between the two, the zip-off trousers are the best of both worlds for indecisive hikers in in-between weather. The Teleki are designed for warm weather walking and backpacking. They're lightweight, packable and tailored for freedom of movement.
Escapade
Leggings? Trousers? Treggings? The Escapade are our women's specific, slim fit softshell trousers. They feel like leggings but are as tough as trousers. More durable than leggings, more mobile than trousers. They're the best of both worlds. You have the freedom of movement of leggings, with the weather resistance, durability and pockets(!) of trousers.
Hauler short
Technical cargo shorts with special superpowers. They're high-wicking, quick-drying, odour-resistant and temperature regulating. Like cotton, but better. Tough, technical, faster drying and better moisture management.
Faro
Stretchy, semi-slim softshell shorts (quite the tongue-twister!) designed for multi-activity use. The Faro shorts are just as suited to climbing as they are to biking and hiking. They have a high UPF fabric for warm days, while still being moisture wicking.
Wind River
Hybrid swim-bike shorts designed for those hot hikes where you can't resist a dip. Lightweight, quick-drying. We're thinking deep water soloing, hot weather hiking, and working hard in the summer. They've got a drawcord to keep up while swimming. Amphibious and adventure-ready.
Softshell Trousers for mountaineering
Chillkoot
Chillkoot trousers are our lightweight softshell walking trousers, suitable for year-round use. The lightweight Chillkoots are highly wind resistant and they have a PFC-free DWR. But the lightweight, double weave construction is moisture-wicking, preventing a serious case of overheating in the summer. Chilkoot is available in mens and womens sizes.
Ardent high performance mountaineering trousers
Our performance softshell trousers for winter walking, scrambling and mountaineering. Tough, stretchy and highly wind resistant with reinforced panels. The Ardent trousers come into their own for winter walking, climbing and alpinism, with considered features and a tough, warm and comfortable softshell fabric and are available in mens and womens sizes.
Natural Technology
Product Name

What are they good for?

Material

Fit

Weight (men's m, women's 12)

Bloc trousers

Freedom of movement when climbing

98% Organic cotton, 2% spandex (200gsm)

Slim

352 / 329(10)

Bloc shorts

Freedom of movement when warm-weather climbing

98% Organic cotton, 2% spandex (200gsm)

Slim

197 / 179 (10)

Kraft

Durability, comfort and mobility for outdoor living and climbing

97% organic cotton, 3% spandex, 260 gsm

Slim

560 / 470

Werk

Durability, comfort and mobility for warm outdoor living and climbing

97% organic cotton, 3% spandex, 260 gsm

Regular

/ 280

Sequence and Jeanius

Durable and stretchy jeans suitable for casualwear and climbing

57% Better Cotton Initiative-certified cotton, 12% Cordura® Nylon 6,6, 9% Thermolite® Core polyester, 9% Coolmax® All Season polyester, 12% T400 Polyester, 1% lycra

Sequence: Regular

 

Jeanius: Slim

Sequence:

690 / 615

 

Jeanius:

667 / 553
Bloc
The Bloc shorts and trousers are soft, stretchy and made from organic cotton. Forget-they're-there freedom for climbing – or just working in the office, if you're Alpkit Photographer Joe. The Bloc are tough. But they're tailored for movement, with stretch, a gusseted crotch and a low-profile elastic waistband that fits neatly under harnesses.
Kraft and Werk
Durable. Comfortable. Wear anywhere. Canvas climbing trousers and shorts with technical features for walking, climbing and outdoor living. Designed for outdoor living, the Kraft trousers and Werk shorts are made with a stretchy fabric that's soft to wear but tough against boulder-induced abrasion.
Sequence and Jeanius
Sequence and Jeanius look like jeans. But unlike most jeans, they're made with a Cordura blend fabric that's tough, stretchy, moisture-wicking and temperature regulating. The Sequence are regular fit and the Jeanius are our slim fit option. From bouldering to beers, the Sequence go from casual to the climbing wall without a hitch. They're secretly technical jeans that are more stretchy, tough, quick-drying and hard-wearing than high-street jeans.
Cycling Legwear
| | | | | |
| --- | --- | --- | --- | --- |
| Product Name | What are they good for? | Material | Fit | Weight (men's m / women's 12) |
| Floe Shorts | Summer mountain biking | 88% nylon, 12% spandex, 166gsm | Relaxed | 275 / 260 |
| Floe Trousers | Wintry mountain biking | 91% nylon, 9% spandex, double weave | Slim | 348 / 294 (10) |
| Strada Shorts | Bikepacking and cycle touring | single weave 95% nylon, 5% spandex | Regular | 200 / 180 |
Nimbus waterproof mountain biking shorts
Waterproof mountain biking shorts for inclement winter riding. Hardwearing 3-layer fabric and a reinforced seat for all-weather protection. Nimbus are waterproof and breathable over-the-knee bike shorts to keep you dry and altogether more comfortable.
Floe mountain biking trousers and shorts
Floe trousers and shorts are designed for mountain biking. They're durable, comfortable and they both come with a PFC-free DWR coating to provide protection against light drizzle and splashy puddles. They're super durable, moisture wicking and windproof. The shorts are seam-free in high wear areas for maximum comfort and there's room for pads in both.
Strada quick drying shorts for gravel riding
Strada are bikepacking and touring cycling shorts, designed for extended adventures. They can be worn alone or over undershorts. The Strada are quick-drying, comfortable, light and breathable – the perfect recipe for a long cycling adventure. They've got room for knee pads and undershorts but they can also just be worn alone.
Running Legwear
Koulin
What are they?
The Koulin range is designed for trail running: medium-length shorts, ¾ length tights and full-length tights. And they all come with pockets!
What are they good for?
They're all moisture-wicking, breathable and treated with Polygiene™ odour resistant technology. A Koulin for every season – even those awkward in-between ones.
Mello
What are they?
Active shorts and tights designed for women. For climbing, hiking and running.
What are they good for?
The Mello have 4-way stretch and are made from a hard-wearing, yet sweat-wicking material ready for warm weather bouldering.
Aiguille

The Aiguille's a skort - the best of both worlds. Designed for fastpacking, hiking and trail running. It's a skort designed for movement - with a mesh inner and a split cut outer. Keeps your modesty but keeps you cool.
Vayper

The Vayper shorts are our range of the teeniest, tiniest, lightest weight shorts for running and racing. Available in 3 and 5 inches for women, and 4 and 6 for men. The beauty of the Vayper shorts is in their simplicity. A small rear pocket with a drawcord and subtle stretch keep the weight down.