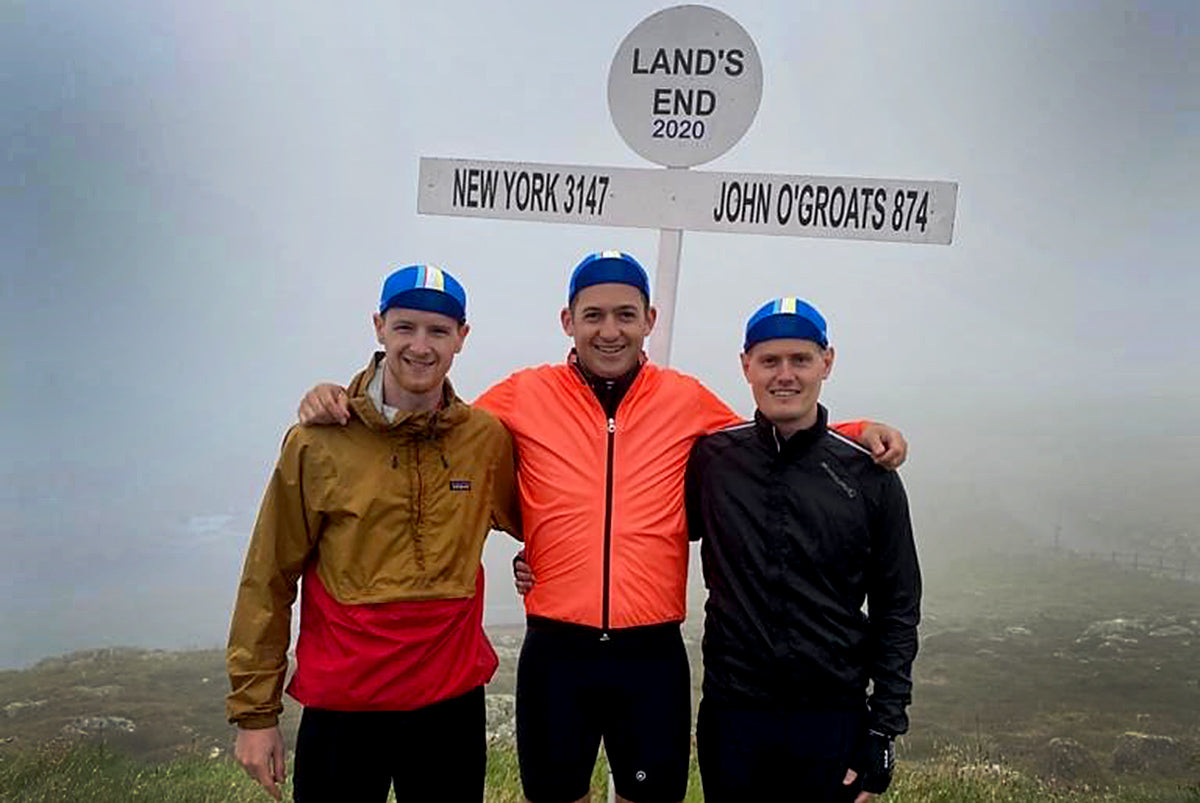 Trio's LeJog hits over £4000 for the Alpkit Foundation
It's always great to hear from people relishing being outdoors and how much they get from it, but when they also share common views as the Alpkit Foundation and want to give something back then it makes it even more special. Then when you look back and see they have raised well over £4000 (smashing their initial 2K target!) for the Alpkit Foundation then it leaves you pretty darn humbled.
So we obviously want to congratulate Hugh, Ollie and Matt on completing the big personal challenge they set themselves to ride Lands End to John 'O' Groats. We also want to say a massive thank you to the trio for thinking of us and all those supporters who gave so generously. This support will go towards making a massive difference to so many people.
Here's a few words from Hugh on why they decided to choose the Alpkit Foundation to support, followed by a summary of their big ride. So read on...
"Being outside in wild places is something all three of us love and we certainly realise how lucky and privileged we were to be able to take on a challenge such as this. There is no doubt that getting outdoors is good for a healthy body and a healthy mind so we really are very grateful to those who supported our chosen cause which strives to make these opportunities more accessible to those who are not as privileged as us."
As we sat in a pub on 24th July in Penzance, silently sipping a pint with nervous anticipation, we couldn't really believe that the trip was going ahead. The to and fro of Covid restrictions, and then an injury to one of the riders 6 weeks before, had left us only really committing to the adventure a couple of weeks in advance. The rain was pouring down and we could barely make out St Michael's Mount from the Penzance harbour, which made us wonder whether we were properly prepared for what lay ahead. As very much fair weather riders, our experience of rain consisted of a wet commute back from work and the thought of 186km over the steep Cornish hills in the wet was more than daunting. But as we set off at 6am the next day, unable to see the sea from the iconic Land's End signpost, the worries quickly disappeared and there was real buzz of excitement from the group. Nothing could stop us and this was going to be a breeze…. 186km later in Okehampton, drenched, covered in mud, 2 minor accidents and mentally drained from controlling the bikes down wet roads, the scale of the challenge hit home. This was going to be tough.
Thankfully after a good night's sleep and big feed, we starting ticking off the miles on Day 2, boosted on by various visits from friends and family along the way. The climb up and over the Quantocks, and the ascent to the Mendips were the most gruelling so far and we were pleased to arrive into Bristol and be staying with family so we could rinse down our bikes and get a wash done.
The rain came again on Day 3 and high winds made for a hairy crossing of the River Severn, but thankfully the weather brightened up after Ross on Wye and we arrived into Ludlow with enough time to try our hand at some DIY mechanics on one of our bikes that had begun to lose valuable gears from its range.
The DIY didn't work and after 30k on Day 4 and some more DIY mechanics, we had a bike with no gears… before clawing back 3 in the hardest chain ring. Deflated and way behind schedule, we took a detour over the Shropshire Hills to Telford where Plush Hill Cycles came to the rescue and did a complete overhaul on Matt's bike. Unfortunately, they couldn't repair the damage that the 25k on 3 gears had done to Matt's limbs, and we crawled along the flat farmlands to Boothstown in Manchester, stopping regularly so Matt could use the 'magic massage ball' on his limbs and pop a gel or 2.
As it turns out though, there is nothing a good welcome, feed and bed can't sort out, and we embarked on Day 5, our longest day at 208km, with seemingly little drama compared to the day before. The weather was kind and we pedalled up and over the Kirkstone Pass in the Lake District and on to Rockcliffe just north of Carlisle, 13 and a half hours after setting off. An epic day we will never forget.
By contrast, Day 6 has been blocked out of all our memory! A bleak road along the M74 in persistent rain and wind, with only a brief spell of dry and brighter weather which did little to dry us out, had us questioning if we would make it. We arrived in Dalgety Bay just north of Edinburgh wet and cold, but boosted somewhat by the fact we had made it to Scotland, and realising quite how far we had pedalled already.
With the sun shining, we set off into the Cairngorms and topped out at close to 700m at the top of the Cairnwell Pass by Glenshee Ski Resort. Stunning views eased the pain in our legs and the descent from there to Braemar was truly memorable and a must for any cyclist looking for a thrill! The climbing was far from over at that point however, and we continued up over the hills to near Strathdon at the foot of the Lecht Ski Resort. After a poor man's 'ice bath' in the River Don on arrival, we geared ourselves up for a 24% gradient straight out of the blocks the following day.
Despite a quiet and nervous breakfast, we made it up and over The Lecht in one piece and we kept trudging along to Inverness for lunch. A headwind and the feeling we were so close but so far made Day 8 arguably the hardest day mentally for us all and we arrived into Bonar Bridge late. Drained as much emotionally as physically. But, we had 1 more day to go and we picked ourselves up by looking at our GPS location on GoogleMaps to see just how far north we had come.
The last day was glorious. The weather was good, the scenery spectacular and the riding a treat. We had mixed emotions as we sped along the north coast and clocked up the fastest average speed on the whole trip. Joy that we were going to complete the challenge and be able to post an impressive Strava update to the followers, but sad that it was coming to an end and what we had been looking forward to for so long was soon-to-be over. Greeted by the support team Steph and Binsey (who must have a shout out here as this would not have been possible without them) we got the necessary photos by the John O'Groats sign, this time able to see miles out to the Orkneys and beyond, and relaxed.
So after 68 hours in the saddle, 1510km and 17823m of climbing we were done. Tired, sad and glad that it was over! A huge thanks must go to everyone who supported us along the route, but most importantly those who donated and helped raise money and awareness for a cause that means a lot to all of us. If the money raised can help a handful of people experience just a fraction of what we were lucky enough to experience over the trip, it will have made it all worth it.