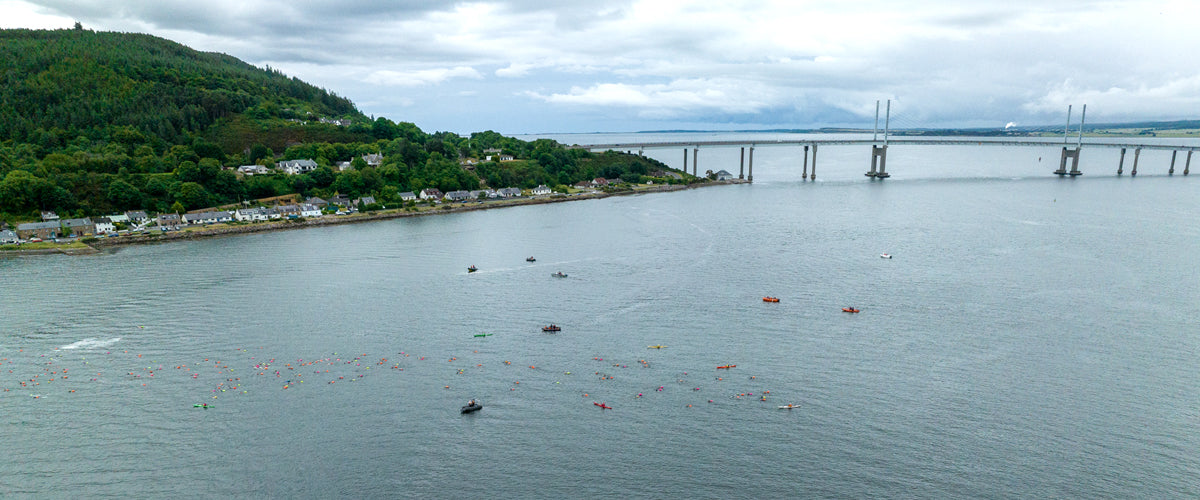 Taking local youngsters on a journey from indoor pool to the 1200m Kessock Ferry Swim
The annual Kessock Ferry Swim was a highly anticipated event in Inverness, where brave swimmers took on the cold and exposed stretch of tidal waters separating North and South Kessock. The competition tackling the old ferry route, attracted participants of all ages, with the youngest being just 7 years old.
Despite experiencing a decline in the late 1960s, the swim had been a popular tradition since 1946. However, the outdoor education charity Àban revived the event last year. Founder Johannes Petersen explained the reasons behind the revival, and it was met with great enthusiasm from the local community.

"It was evident that a lot of people in the community fondly remembered the swim. It has provided a rich local history and it was just part of healthy outdoor activities that locals used to do growing up here. Merkinch & South Kessock is a historic maritime community so we saw this as an opportunity to bring something back that could help enrich these local communities once more"
Photos thanks to : Àban / Paul Campbell Photography.
Johannes got in touch with the Alpkit Foundation as the next step for them was to give local youngsters the chance to take part, so went about setting up their Kessock Ferry Swim Academy.

"We wanted to work with local teenagers, to take them through from the indoor pool to an attempt on the 1200m tidal crossing of the Kessock Ferry Swim. Just as importantly though, it is the learning around the swimming: healthy lifestyle, good friendships and enjoying the outdoors responsibly.

This was the first year of the Kessock Ferry Swim Academy, with 6 young people aged 14 - 17 from Inverness High School, which serves Merkinch & South Kessock. This is the most deprived area of the Highlands, and the 8th most deprived in the whole of Scotland, so being able to offer these kinds of opportunities here is really important. We'll be looking to run this year after year, with a similar number of participants from the same pathway."
The Alpkit Foundation were delighted to get on board and support the academy with wetsuits and swim accessories, as well as lending further support through our Continuum. Through the weeks leading up to the swim, the youngsters underwent a number of training sessions in the local area, learning important open water techniques as well as acclimatising to the cold waters. It was wonderful to follow their journey, hear how the equipment proved invaluable and to see them finally step into the open water with 300 swimmers and complete the challenge they had set themselves.
The work of Àban and schemes like their swim academy are a real joy to see, embedding right into the community to bring change and break down barriers that might exist. To really build on the positives of these experiences outdoors.

Kate O'Brien is a trustee at Àban and she summarised why this work is so positive.
"I grew up in Inverness and there wasn't lots of outdoor learning opportunities available if you didn't do it through your family. There wasn't ways of meeting other young people. So it's really exciting to be able to create these opportunities for kids from all different backgrounds to get into the outdoors, and get into the outdoors locally. To see that it's not something you have to spend loads of money, or travel really far to do."