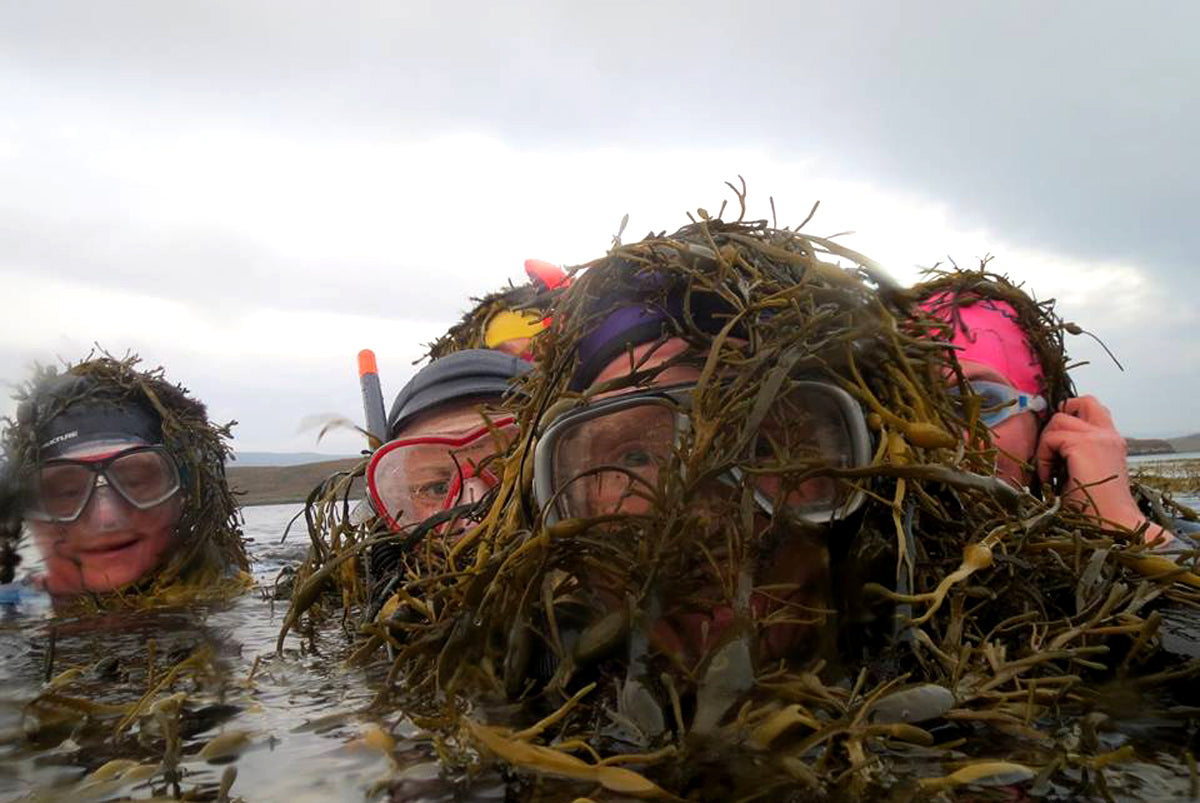 Lampay Island Circumnavigation
25 swimmers of mixed abilty, but of equal adventureousness, made a journey to the Isle of Skye for one of the first in a new series of swims in the Outdoor Swimming Society Adventure Series, giving their members the chance to gain some new wild swimming experiences. This swim was organised by Gill Williams, who kindly send through a write up of the day and what great weather they got!
Lampay Island CircumnavigationCoral Beach, Isle of Skye - Sunday 21st September.
Excitement and trepidation, would everyone turn up? Would the weather hold out? How calm would the sea be? Would everyone finish safely? All these questions going through my mind but I need not have worried - it was perfect. A slightly grey morning but still and calm and the sea like glass....... and everyone turned up who said they would. It was so wonderful to meet other like minded crazy people from all over the UK who had made an extra long journey to the north west corner of Skye for our Adventure Series Swim around Lampay Island off Coral Beach.
Sunday morning, we all met up in the car park for the mile walk down to the beach where introductions were made. A quick safety briefing on the beach though kept very short as every one was chomping at the bit to get into the turquoise water. Team Skye photo shoot on the white sand - 25 swimmers entered the water to swim anti clockwise around Lampay Island. A mixture of abilities, swimming styles and reasons for coming ensured that we were spread out across the bay towards the end of the island. The first swimmers around the point disturbed a huge flock of cormorants (what is the official term for a flock of cormorants?) that launched themselves off over our heads. All through this were the sounds of laughing, wows and general yeehaas to be heard. Visitors to Coral Beach must thought we were some strange gaggle of creatures creating chaos - not far wrong!

Around to the back of the island where we were joined by a couple of seals, one was extremely large, very inquisitive and quite bold, at one point one of the swimmers had the seal actually pacing him as he swam. On the far side of the island the colours and life beneath the water were phenomenal and most people stopped swimming and began snorkelling just to enjoy the views below - incredible and breathtaking.
We had to make sure that we all were warm enough at this stage as attention to the cold had to take a back seat to the fish, urchins, star fish and plant life beneath us.
Slowly we swam back to the shore though no one really wanted to get out - by this time the spring tide was almost out and so walking was the order of the day from the island side of the bay.
Back on shore Maxine and Mike had cooked up bacon butties, veggie butties and tea and coffee - we pretty much cleared the lot. And then a slow walk back up to our vehicles where we said our goodbyes - departing as friends with a common interest - swimming in the beautiful waters this island of ours has to offer.
On behalf of the NWSSS swimming group I would like to say how much we appreciated the efforts made by our guests today, the distances they had travelled to come to this remote but stunningly beautiful corner of the British Isles. It was an absolute pleasure to meet you all, find out where you swam and the types of water you swam in.
Every one present thought that this event was a great success blessed by perfect conditions. Contacts have now been made and will be used for future gatherings no doubt. Thank you also to the OSS for bringing us all together and giving NWSSS (North West Skye Sunday Splash Group)a chance to share their swimming pool with others. For anyone thinking of organising something like this, just keep it simple, make it interesting, be lucky enough to have a great group to make it work and demand good weather! Thank you again to the 25 swimmers who made this such a special day.
Gill made sure post swim conditions were optimal by keeping warm with a Filo down jacket, while keeping stuff dry with a Gourdon rucksack. Alpkit are pleased to be supporting this new series of adventure swims and for more information check out the Outdoor Swimming Society website.