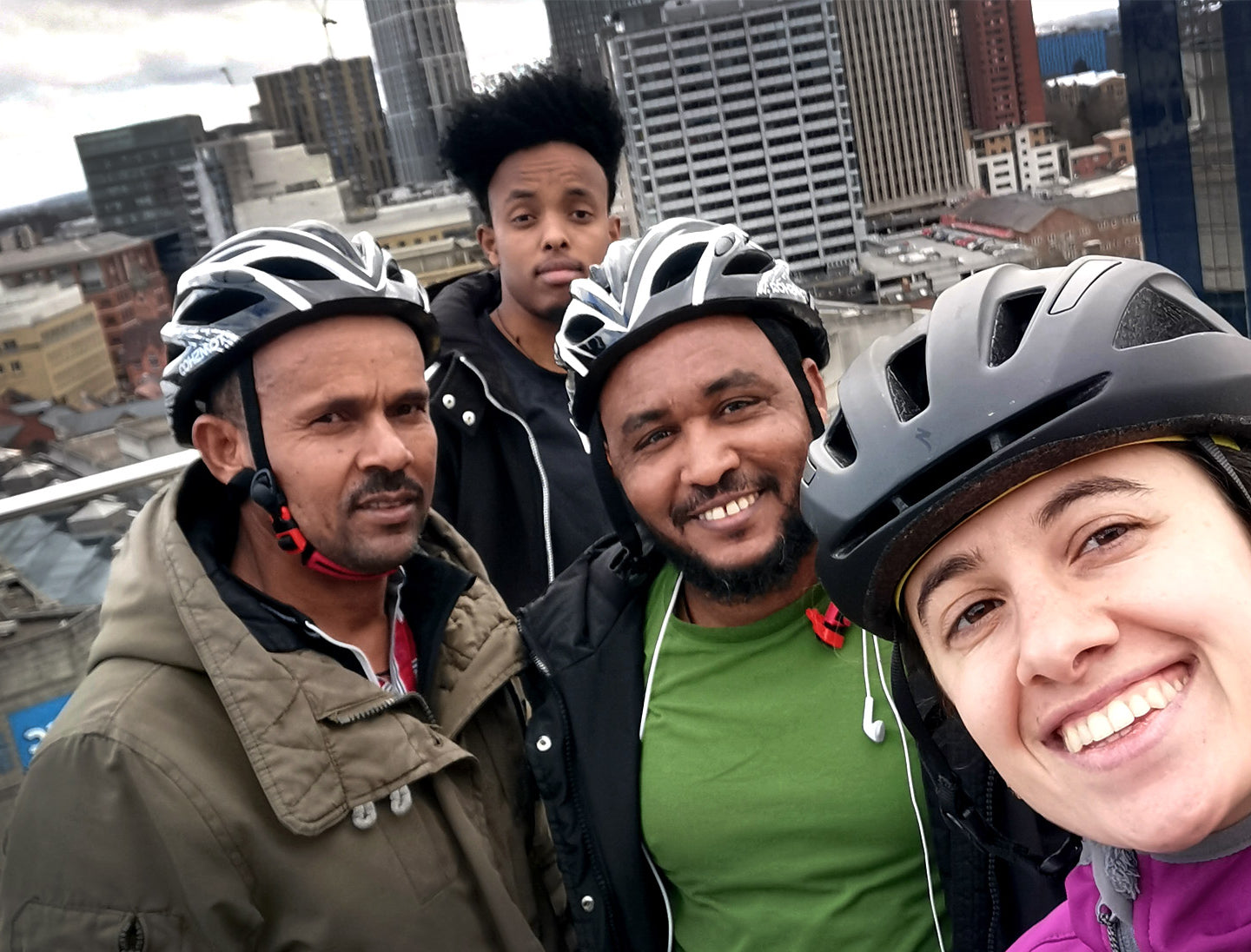 For those seeking asylum it can be incredibly challenging, gruelling and isolating. Simple things normally taken for granted, such as getting out to green spaces, or accessing support centres and other resources add further challenges and can lead to further feelings of isolation. This is where the amazing bicycle can make such a huge difference. Even life saving.
Sophia organises the Travellers Tree, a CIC group that brings together art, cycling and nature for asylum seekers in Birmingham. She explained a bit about what she was hoping to achieve with support from the Alpkit Foundation.

"Previously we have run walking and cycling sessions for groups of refugees and the impact has been huge in combating extreme depression, simply by introducing them to their surroundings. Showing them the cities green spaces and allowing them to socialise among themselves gives them a safe space to express themselves, let go, destress and leave the hostel.
However, we have never managed to allow them to keep bikes for themselves. In this project we want to give them this superpower! We wanted to gift 8 bikes to 8 refugees who live in refugee hostels in Birmingham. We realised from our past project that the refugees housed in the hostels in Birmingham city centre were relatively privileged by their location, having many charities in their surroundings meant they had more help compared to a hostel that is in the outskirts of the city. So to be able to have access to a bicycle can have an even bigger impact on their lives."
Working with Migrant Help who represent refugees who are currently housed in hostels, the project looked to fix up old, discarded bikes. The bikes were on the brink of being scrapped and with support from Alpkit Foundation, they were able to fix them up to a good and safe working condition. By sourcing replacement tyres, pedals and brakes as well as conducting the bike checks and mechanical fixes with the additional support of independent bicycle workshop BiclasB12, they got them back in working order. To add even more impact they then arranged 3 cycle rides around the city for the refugees to acquaint themselves with their new surrounding and showing them all the amazing places their new bike can take them.

"Having a bike gives an amazing sense of freedom, helps with their mental health, allows them to socialise and take part in more activities across the city! We took them places they have never been and we passed and stopped at vital landmarks that could be useful to them, such as the central library, galleries, parks and the canal ways that allows them to cycle off the road and enjoy the green spaces."
By donating these bikes, it means after their bike rides they will be empowered to repeat this any time they wish, it also means they will be able to reach parts of the city they are otherwise cut off due to the cost of public transport. What's wonderful to hear is that they managed to include another 4 bikes on top of the funded 8, meaning they could donate a bike to 12 refugees instead of 8.

"The project has been really successful, bikes that would have otherwise gone to the tip or discarded for metal were fixed up and donated to those who need it most. Many of the asylum seekers we donated to have serious mental health issues caused by their past traumas and by the very difficult living conditions they are facing.
Every asylum seeker has been in a hotel room for over 6 months with no access to facilities such as English courses or free transport. The bike means they can go out and reach parts of the city that offer free activities, gyms that give free passes to asylum seekers, join cycle rides with nearby clubs and cycle to lawyer appointments.
The group who came on the rides had never been to the city centre, didn't know galleries were free and had never been in the library. The bikes and the rides make sure they are now connected to parts of the city that offer them these things."