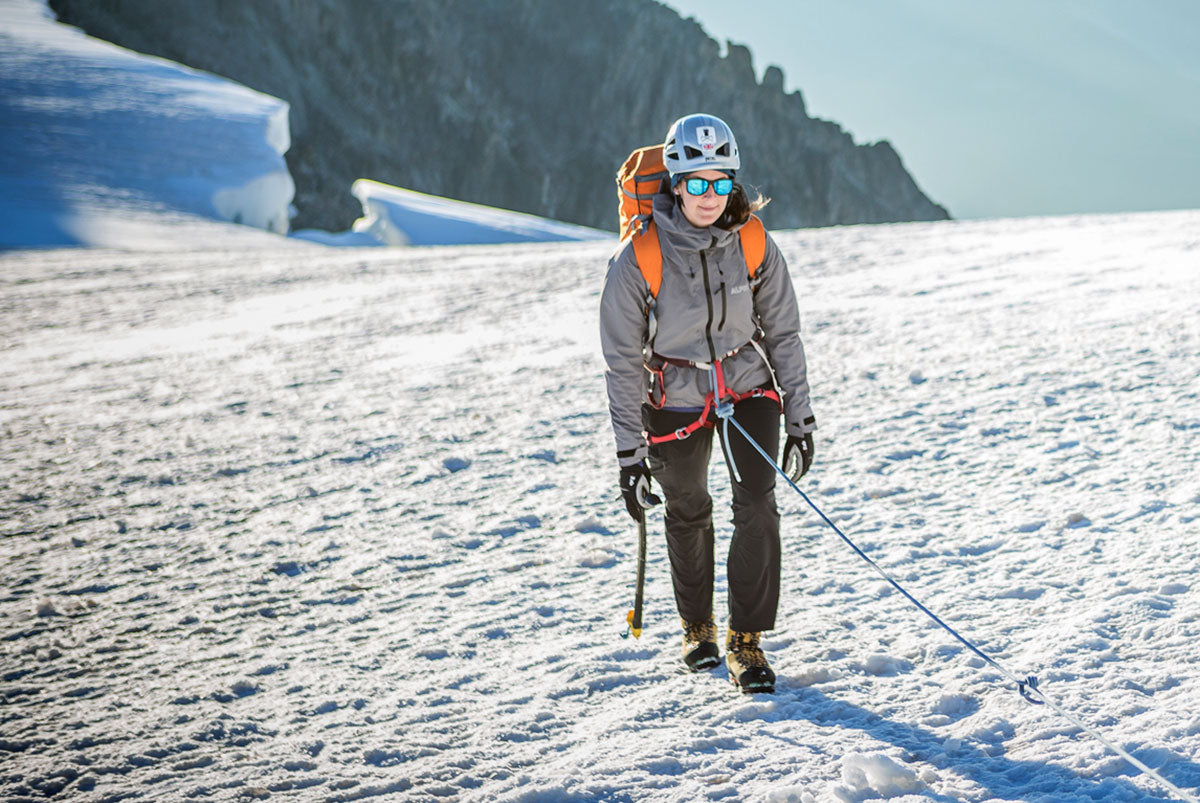 12 years in the making: the Definition waterproof Jacket
The Definition is our top of the range waterproof that can handle whatever you want to throw at it. It feels reassuringly protective, and its features are designed to be unobtrusive, effective and easy to use. Prototypes have been worn in the Hong Kong monsoon (which is a harsh test of any fabric's breathability!), downhill skiing, out on the bike and for regular hill walking, amongst other things. We wanted the Definition to be tough and protective, but without feeling like you are hauling a tank around on your back. So although this is our heaviest waterproof jacket, it still only tips the scales at 528g for a M's Large, or 465g for a W's size 12.

Some of the key features which we focussed on in the design are the result of years of dissatisfaction with our own waterproofs over the years. Since Alpkit started 12 years ago we've always had a top end waterproof on our minds, but have never felt the times been right. Now through recent developments in our clothing rangeand the lessons learnt along the way, wefelt it was time.It really has been 12 years in the making… so to speak.

Fabric
The fabric and membrane technology we have selected for the Definition combines the best of both worlds: high breathability with durable performance, encased in a tried and tested nylon fabric sandwich. It does not require too frequent washing and re-proofing to maintain a minimal level of performance, nor will it degrade significantly over time. However, like anything, the better you look after it the better it will work and the longer it will serve you. So treat it to a wash and re-proof when it needs it; depending how often you use it, this might be once a year.
Pockets
On the Definition we've opted for two large map sized hand pockets which sit above the harness or waist belt, and two smaller chest pockets: one internal and one external. These are on opposite sides of the jacket, so if you are using both you don't end up with too much bulk on one side of your body (never a good look in photos!). A word to the wise: if you are carrying your precious electronics in your pockets, it's always worth keeping them in a dry bag or case, as the moisture given off by your body will condense on them and could cause a malfunction.
Vents
The Definition has venting zips positioned on the side of the body for extra cooling when the going gets tough. Why not traditional pit zips you may ask? Consider the down sides: depending on your size and shape, pit zips can be stiff and uncomfortable under the armpit, leading to irritating chafing: not cool, and over extended periods of time, very painful. Pit zips are also difficult to use when wearing a rucksack, as the straps pass directly over the zip – even if it can be opened from either end. Operating pit zips one handed can be tricky too. The Definition's vents are positioned so that they are always accessible, even if you are wearing a pack. The zips are inverted so that they are easy to close one handed (when the weather turns and you need to batten down the hatches quickly). Their position means you can ventilate the part of your body that is creating the most heat i.e. your core. You can even use them to access the hand pockets on the layers you are wearing underneath without needing to open your jacket to the elements (handy for that snack you stashed away before putting on your waterproof).

Cuffs
A common problem with cuffs that are designed to fit over gloves is the huge volume of excess fabric that gathers around the lower arm. This is often subject to more wear and tear as it is prone to catch on things, gets dirtier and generally gets in the way. The Definition's cuffs have a gusset which allows them to expand to fit over winter gloves (or taper neatly to fit under, in case you are climbing a dripping waterfall and don't want water running up your sleeves!), but keeps things neat and streamlined at the forearm. The fastening uses a specially selected anti-snag hook and loop, which minimises wear and tear on your other clothing, is easier to use and will last longer.