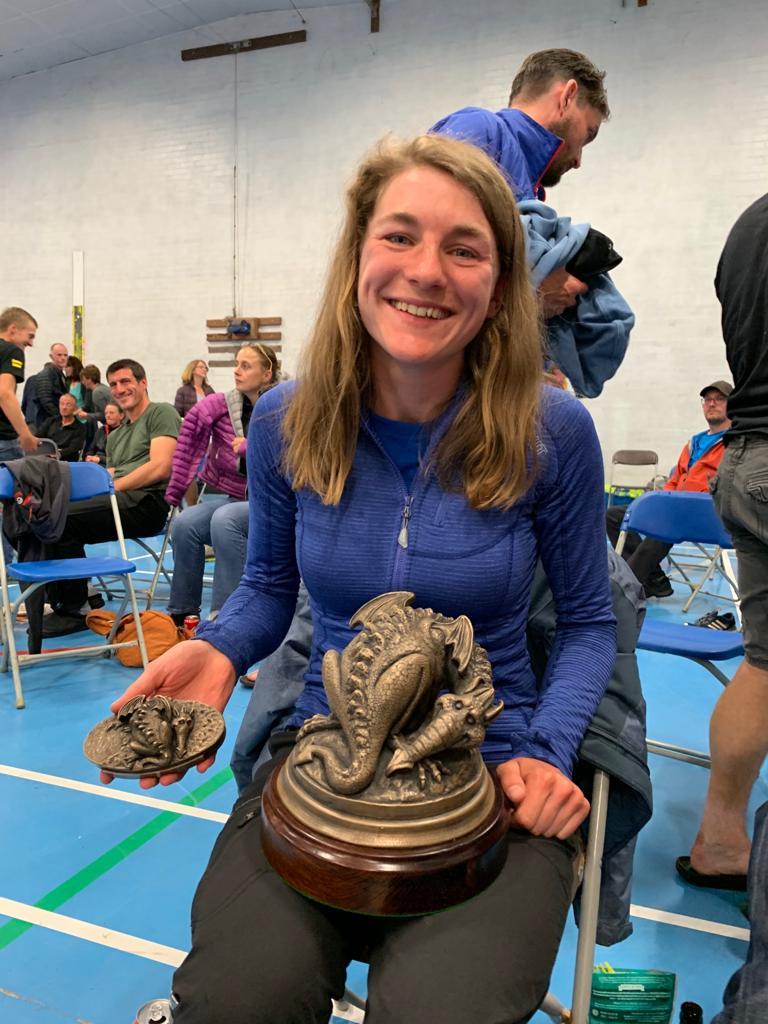 POST RACE INTERVIEW – SLAYING THE DRAGON
Fellow Bog BeautyLibbycaught up with Lisa freshfrom runningthe length of Wales and climbing the equivalent of Mount Everest… twice… from sea level we caught up with Bog BeautyLisa to hear their reflections on the 2019 Berghaus Dragon's Back Race.
Lisa moved up through the rankings as the week unfolded and, after a nail biting racing start on Day 5 which started with just 73 seconds between her and 2nd place Sabrina Verjee she finished FIRST LADY with a cumulative time of 44 hours, 33 minutes and 23 seconds, the 3rd ever fastest female time. What a week!
Libby: Can you sum up the race in 5 words?
Lisa:Indescribably awesome and incredible experience!
Libby: Which stage did you enjoy most?
Lisa:I loved day 3. Whilst intimidatingly long its much more runnable than the earlier rocky stages and I stopped holding back on the descents (I love running downhill but had previously been trying to save my quads). I made really good progress across the first half. I felt a bit ill running through Machynlleth but a quick pit stop in the Co-op and at the support point to grab & eat some snacks sorted me out. I then ran most of the second half with Andrew Jones (222). It was awesome to have some company and we pushed each other to run quickly, the miles flew by.
Stage 3 also has beautiful scenery and cool mountains but is strangely less well visited than Snowdonia. The terrain is much more like the Peak District where I've done most of my training. The heathery tussocks suit me and I'm able to move fast over them. It was also the day when I realised I was really in with a chance of a podium finish.
Libby: Which part of the race did you find the hardest?
Lisa:I found the second half of day 2 really hard. I love the Rhinogydd but they are tough! I had been running with friends all morning which was really fun but I left them at the support point (I really liked to be quick though the support points and not stop too much so my legs stayed awake!). In the afternoon the climbs felt hard and food didn't seem to be helping much. The views were still stunning I was hoping to catch someone up to chat away the miles but I did spend a big portion of this section on my own. Eventually Dan Murdoch caught me and we ran off Diffwys together. Seeing Libby and Hetty once more lifted me up too. I couldn't keep up for the torturous 8km road section at the end though. It took a lot of will power to push it though that. The thought of a shower at the campsite and cheers from Lucy at the toll Bridge spurred me on!
Libby: What kit did you most appreciate having with you?
Lisa:Poles! And a cap and suncream. Having a lightweight waterproof (I used the Alpkit Gravitas) was great too. Fortunately it was a really dry week and I spent most of it in a T-shirt & shorts but it was reassuring to have a waterproof with me that I could trust to keep out the wind and rain when I needed it to and it packed down so small that barely noticed it in my pack the rest of the time.
Libby: Luxury items! Lisa you weregoing to squeeze a large jar of nutella into yourovernight bag. Did you appreciate theluxury items?
Lisa:Sadly I didn't touch it. I just couldn't eat sweet stuff in the evening.
Libby: How did your stomachhold up over the week? You werepacking a lot of day food. Did you manage to eat well?
Lisa:my stomach generally behaved itself. I managed to eat well when on the move opting to eat my 'lunch' (a pasty for the first 3days) on the move rather than stop at the support point. I did wish I could have eaten a bit more in the evenings but it didn't seem to go too badly.
Photo Credit - No Limits Photography
Libby:Lisa, you ran a phenomenal race and finished first female. Starting steady you picked up the pace throughout the week and rose up through the results table each day. You finished day 4 with a 73 second lead over 2nd place Sabrina Verjee and were faced with a racing start on day 5. Tell us what was going through your head throughout the week and especially on Thursday evening.
Lisa:It was always my plan to try and take it a bit easy on day 1 and 2 then pick up the pace later on. I knew I was running well over the first few days but as I've never done anything this challenging before I really had no idea that I was on form for such a high placed finish, this really took me by surprise. My aim each day was just to run as best I could, enjoy myself as much as possible and get to the end still smiling. On days 3 and 4 I was aware I was gaining time on Sabrina [leading lady until day 4] but as I generally started before her each morning (mostly out of fear that the wheels would come off or I'd make a nav error) I didn't see her much and it didn't really feel like a race, just a personal challenge to run as well as I could. I was aware I would probably have to do a chasing start on day 5 but didn't know the details until Carol Morgan [female winner of the 2017 Dragon's Back] came and found me to tell me the gap was only a minute and that I had to start first – there was no way to avoid the competitive atmosphere then! I get really bad race nerves so this made me feel pretty sick. I struggled that evening and the next morning to want to eat much, I was hoping to find Sabrina to chat to her about it all but couldn't find her at camp. Sabrina is an amazing experienced athlete and it felt so weird to be racing her so directly! In the end I had some lovely chats with my tent mates and other friends at the event who reminded me that I should just do what I had been doing all along, enjoy myself and try my best… So I did my best to put my nerves to bed and set off with that in mind! I am a very competitive person so the adrenaline of the chasing start almost certainly sped me up considerably and as we were in the final day I felt there was no point leaving anything in the tank so I pushed hard all day, I love running fast and the Black Mountain is really one of my favourite parts of the route. Once I got going and past the initial less interesting section of route I forgot all about the competition (and the pain), got into my stride and loved it!
Libby: How did you find the weather? To an observer the conditions looked pretty perfect – sunny, patchy cloud, no rain, low wind and only one or two patches of hill fog.
Lisa:Perfect!
Libby:And the often dreaded question; what's next?!
Lisa:I couldn't really imagine life post dragons back and I had no idea how I was going to feel so I have very little in the calendar. I suppose the first thing is to try and get my head around this crazy experience and enjoy it for a little while while my legs recover. I definitely feel like I want to enter some more events and I feel like stage races really suit me as I'm able to recover really well overnight. I dedicated a year to training for the Dragon's Back so I think I will need to find something that inspires me on the same level to have the same amazing of experience I just had. So I need to do some searching. I'm also keen to do some other ultras as day 3 (71km) is currently the furthest I've ever run but I'm sure I can start pushing that distance now. I'm also interested to see how I fare at a non-stop race but so far the idea of tactical sleeping/not-sleeping terrifies me. I'm also starting to dream up some personal challenges to have a go at, but I'm not going to commit to anything just yet so… watch this space.