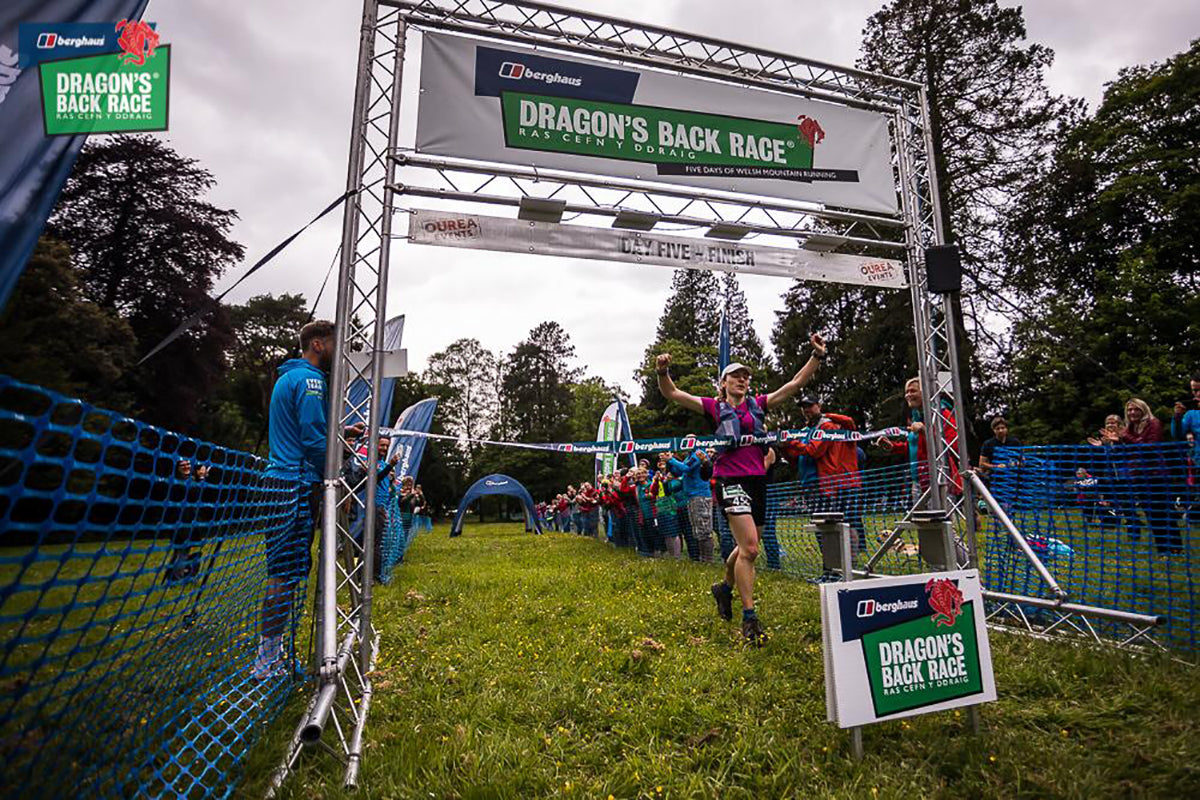 Race Report: 2019 Dragon's Back Race
I felt a lump rising in my throat as the choir began singing in Conwy castle. I'm not an outwardly emotional person so this took me by surprise but the poignancy of the moment sent shivers down my spine; that and it was a little cold even huddling with the 400 or so other hopefuls who had been about to test themselves against the dragon. A year or more worth of training led to this moment, and in 5 days it would all be over. It had been an odd weekend, strange but nice to be in Wales amongst the mountains but no running to do… yet! The relief came on Sunday evening when we could finally drop our kit bags and be done with them, packing had really been the most stressful part.
My body was feeling good, training had gone well and I just knew I just had to focus on pacing, self-care and most importantly having as much fun as possible. It savored the first non-timed section along the castle walls, running close to my buddy Bo, who I had done most of my training with. We are quite different paces so I knew I wouldn't see her much for most of the week. We hugged on the ascent up to CP1 on Conwy mountain as I passed her on the ascent, it was all beginning to sink in that it had begun! Bo and I had started at the front of the pack, partly because she was worried about cutoffs and partly that is was so crammed in there it was hard to move further back. This meant the initial section for me was quite spread out and atmospheric in the cool clag that hung over the Carneddau. I fell in step with Oliver Lutte and enjoyed his enthusiastic chat for a long stretch of this section. I had recced this section recently but still managed to take a terrible line through some gorse bushes and was picking out thorns for the rest of the week!
Alyssa Clark overtook me on the way down Pen yr Ole Wen, my competitive side wanted to chase after her and but I remembered my plan of taking it easy on these first few downhills. This was only day 1 and I needed my quads for the rest of the week! Tryfan and the Glyderau were tough but enjoyable and I was with Sabrina Verjee for a section of this. It was great to chat with her, we have some mutual friends and both races at the High Peak Marathon earlier this year, it was fun to compare experiences. I had hoped to get to know her better, but for the rest of the week we set off at quite different times so I didn't see much of each other at all. I was quite nervous about Crib Goch, on a recce earlier this year we went up in terrible conditions and I was so gripped I bum shuffled along most of the ridge. In the cool, clear and dry weather, it was a breeze and I made it across before my brain realized what was happening. The views of the Snowdon horseshoe were stunning and really enjoyable. I was amazed to make it back to camp as 3rd lady and 26th overall.
On day 2 I started feeling surprisingly good even after the crazy amount of ascent and I ran the first section with two friends, James and Martyn. I knew day 2 would be tough so had recced extensively, it really helped to know exactly where I was going without having to think. The afternoon proved much harder, I had left Martyn and James behind at the support point, it was hot and the soles of my feet were sore from all the rocky ground. Despite lots of recceing, I didn't find the best line down off Rhinog Fawr. To avoid more rocks I chose some more grassy lines on route to Diffwys. After a long stretch by myself thankfully Dan Murdoch caught me up, we chatted the descent away and I also saw a couple of friends cheering on the hill. I couldn't keep up with Dan for the final road descent but some Mars bars and the thought of the showers at camp kept me going.
Stages three and four were really the highlight of the race for me. My feet had been getting sore on the rocky ground but that was all behind us with grassy, heathery terrain for much of the rest of the course. This is much more like the ground I'm used to training on and my off-piste peak district running really paid off. By the second half of day 3, I began to relax more on the downhills and let myself fly, I really LOVE running downhill! I had also found some good company in Andrew Jones for sections of these stages. I couldn't quite keep up with him, particularly on the uphills but chasing him down gave me something to focus on and kept me running. Save for a couple of blips I enjoyed the majority of these stages and my training has taught me ways to deal with the inevitable low points. Usually, I am just hungry so eating helps. After that, if I can't find anyone to run with and chat to I start to focus on my surroundings and remember all the reasons I am here and be grateful for the opportunity to run. I did occasionally have to crack out a Disney tune or two, this usually sorts me out!
Photo credit: No Limits Photography
By the end of day 4, I had risen through the table and was now in the lead by 73 seconds. As I had not seen Sabrina since day 1 it had not felt like a race at all, more a personal challenge to run as well as I could. But with a chasing starts on day 5 there was no way to avoid the competitive atmosphere now. Sabrina is an amazing, experienced athlete and it felt so weird to be racing her so directly. I get bad race nerves and struggled to eat much that morning but adrenaline almost certainly sped me up considerably and as we were in the final day I felt there was no point leaving anything in the tank so I pushed hard all day. The Black Mountain is really one of my favorite parts of the route, so I drunk in the views, got into my stride, forgot all about the competition (and the pain in my quads) and loved it! It felt incredible to arrive in Llandeilo as 1st in the female category, 9th overall in 44:33:23. What an incredible week.