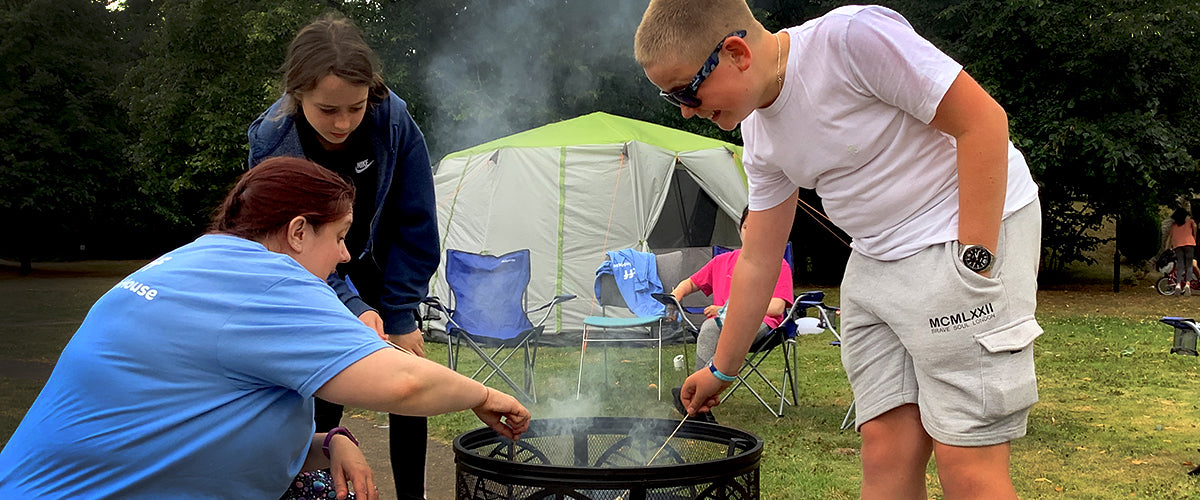 Time 4 Us is a support group for children who have a sibling living with a life-limiting condition, organised by the care team at Martin House in Boston Spa, Wetherby. The group organises fun activities that let the children get to know one another, finding common ground in their shared situations promotes supportive friendships.

Earlier this year they applied to the Alpkit Foundation for support to help them plan an overnight camp in the hospice gardens for the group. The idea being to increase the children's chances to bond by giving time to talk, laugh and find solace in nature and the company of peers who understand, all the while enjoying the wellbeing that comes with spending time outdoors.
Matin House provide family-led hospice care free of charge for children and young people with life-limiting illnesses and it was lovely to hear from Emma, who explained a little more about the importance of Time4Us as part of what they offer.

"Martin House extends care to the whole family, including all children within the family unit. Being the sibling of a child with life-limiting conditions can have a significant affect and a childhood as we know it is replaced by responsibilities and worry. The Time4Us group at Martin House has been set up to give these siblings the opportunity to make friends with children in a similar situation to their own, to join in activities and to just have fun. The group is a source of support for brothers and sisters aged 5-13 and it allows them some space and time to just be. It is a time for childhood, a time that they usually wouldn't get because of their poorly sibling."

It's very much a family focused Hospice and the children often require lengthy stays at the hospice or in hospital, so the Time4Us group was set up to give the siblings of these children the opportunity to make friends with children in a similar situation to their own. To experience activities and fun that they wouldn't usually get to do because of their poorly sibling. An opportunity to simply be children, time that is rare, precious and fleeting for many of the siblings of Martin House children. 
Something hugely beneficial at such an important time in their lives.
So the Alpkit Foundation were delighted to award £250 to help towards the purchase of equipment for a much needed camping trip for the siblings of the children in their care. An overnight camp in the hospice gardens for the Time4Us group was completed and it was fantastic to hear that the staff and children involved had a fantastic time.

"The equipment that was purchased as a result of your generous award facilitated an experience which had many benefits, it encouraged outdoor activity, physical and mental wellbeing through participation and the siblings spent time together in the outdoors completing important friendship building activities. The equipment purchased not only allowed for a successful siblings camp to be completed, it has provided us with the means to run a sustainable project from which many children and young people will benefit."

It really is wonderful to hear the impact that being able to offer these experiences can have and they are now hoping that this sibling event along with many more outdoor activities becomes a regular within their calendar, with plans to make it even bigger and better for the children and siblings at Martin House.

"The Time4Us project was extremely successful and the siblings who joined us for the camp out had a wonderful time. As a member of our care team who joined the overnight camp out stated "we gave our siblings the opportunity to make friends with children in a similar situation, and experience activities and fun that they don't normally get to do because unfortunately they have a poorly sibling at home. The camp gave them a chance to bond with other children who are going through similar things and they had lots of fun along the way too". It is hoped that the equipment we have purchased will also support other outdoor events in the future and support many more Martin House families, children and siblings to create long lasting memories."

Find out more about the amazing work of Martin House.