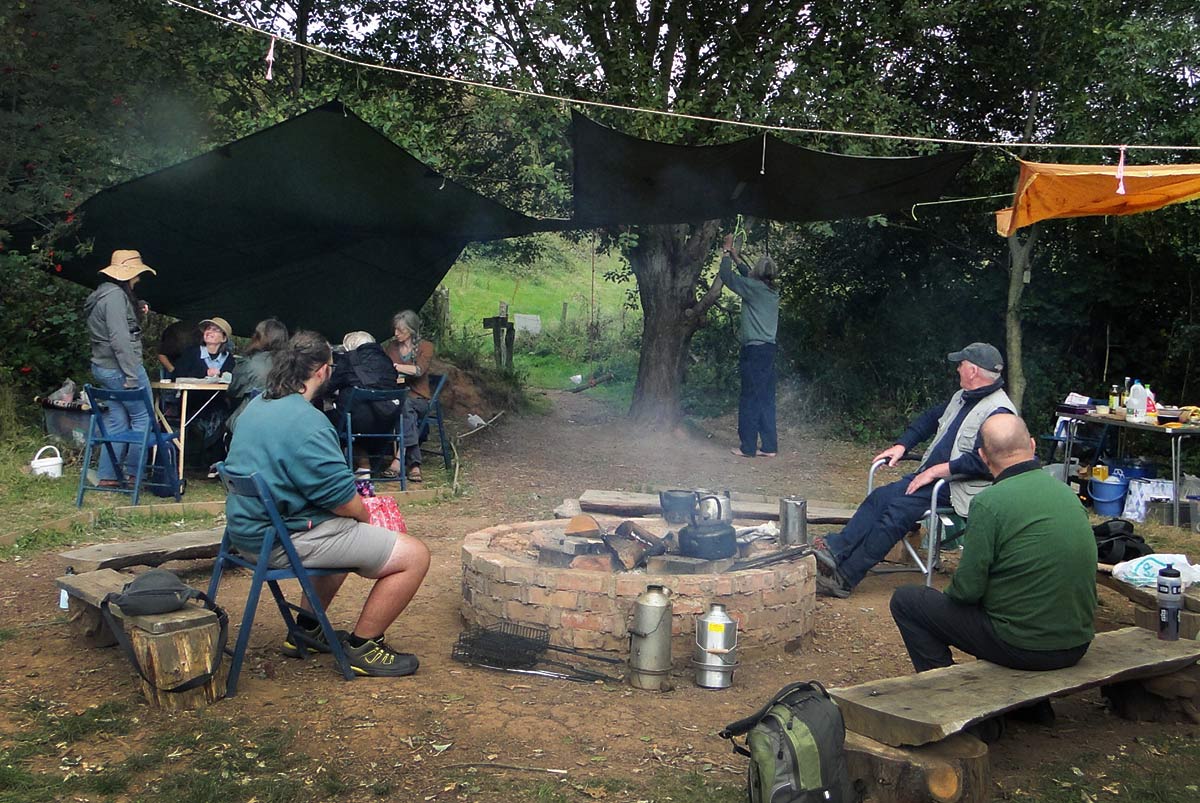 The Greenwood Project is part of the Bridge Collective, a peer support community working in the area of mental health based in Exeter. Building a community of support by developing and taking part in activities together, helping people to understand mental health issues, talks, discussions, making friends and learning skills. The Bridge is open to all – people with personal experience of mental health, family, friends and supporters. The Greenwood project brings people together to experience the benefits of being outside.
Christine from the Bridge Collectiveexplained why this can be so important.
"Experiencing mental health challenges can increase the likelihood of loneliness, difficulties in finding friendships and relationships, as well as financial difficulties due to challenges in finding and maintaining jobs. Stigma and discrimination, a lack of understanding of their experiences all make access to and participation in activities more difficult."
Meeting regularly in a local woodland site the project encourages participants to walk, cook communally, do craft activities using wood and other natural materials, observe nature, talk, play music, the project also meet for walks in other places: moorlands, riversides and wildlife reserves. They also hold yearly weekend campsand earlier this year they needed help to run their 2019 camp.
Support from the Alpkit Foundation helped them cover costs of the campsite and towards food and equipment for the camp.
Christine got back in touch to feedback how everyone got on. "11 people who are participants in the Bridge Collective camped and 4 more attended as day visitors, which enabled them to have the experience of sleeping, cooking and eating in the outdoors and peaceful countryside" She sent through some great feedback from those who went on what their favourite bits were, a summary of how these types ofexperinces can have a real immediate effect on peoples lives.
"My favourite part of the camp was chatting round the fire, using clay, felt making and the smell of sweet peas"
"So much blue sky"
"Dawn sunlight through the clouds"
"Circle of stars above the trees"
"Awesome sing along last night"
"At 81 years old, I decided to go camping, for the first time, with the Greenwood group, because they would provide everything except my sleeping bag, mat and pillow… It was a new experience sleeping under canvas by moonlight. I saw the silhouette of a fox walk by my tent. An owl hooted. Saturday morning I got up early as usual and found a couple of gentlemen had renewed the fire, and had cups of tea on the go. We were up before the cockerel! After breakfast some of us went for a walk and I watched the farm hens for a while. After dinner Rob played the guitar and we sang songs round the campfire. That night I slept well and woke to hear rain pelting down on my tent. That was a novelty! I was the first up on Sunday and the fire was out, so no hot water for drinks. I had brought squash with me, so I drank that. After ten minutes someone joined me and another later. I was pleased when Andrew appeared because he got a fire going despite the rain. Then we could cook some breakfast. Fortunately the rain eased off long enough for us to take down our tents. Nicola gave me a lift back to Exeter and it was dry for my walk back home. It was wonderful to spend all day out in the countryside enjoying nature. I will treasure the memory."