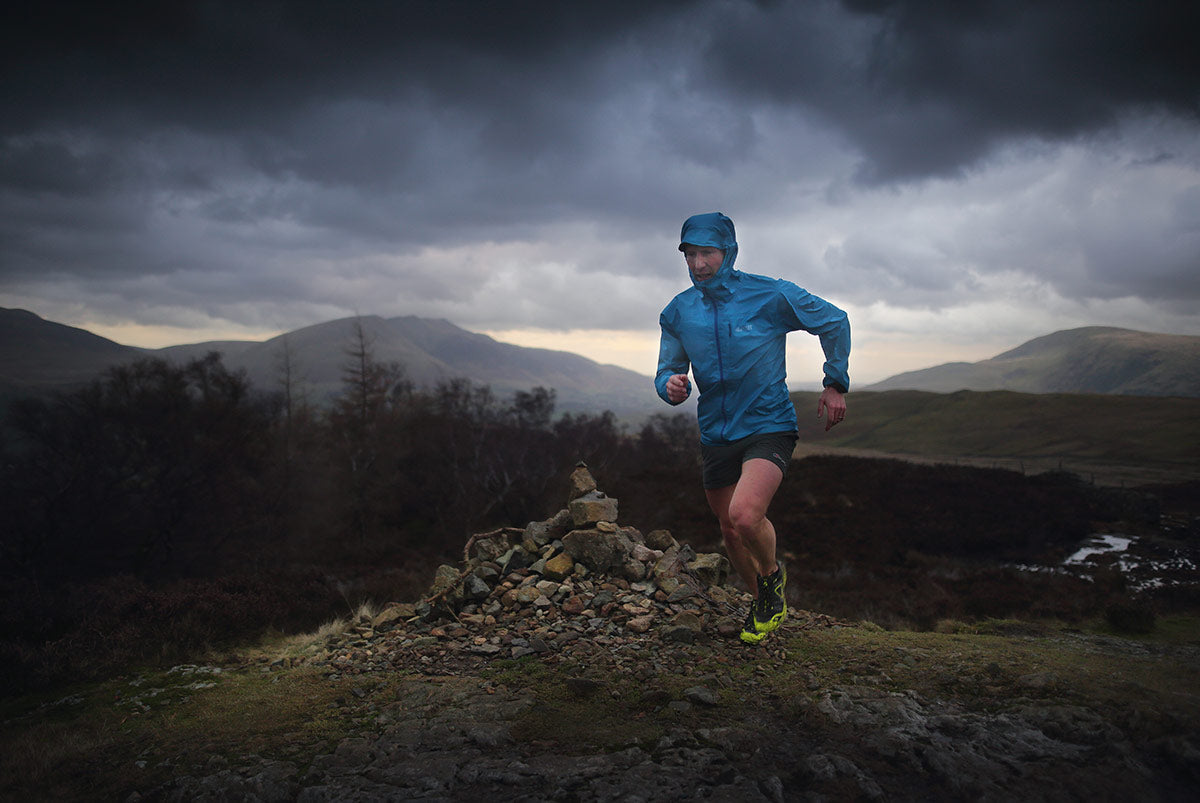 Gravitas waterproof jacket faces the Lake District winter
We like to give our products some thorough testing and the Gravitas we state as a tough but super lightweight waterproof ideal for running and adventure racing. Well one's taken a hammering as Aleks Kashefi ran the length of Europe, Nicky Spinks put one through its paces on the Mont Blanc Ultra. So next stop one went up to Rupert Bonnington for some serious testing in the Lake District winter. Here's how it faired.
"I've been wearing my Alpkit Gravitas for around 6 weeks now and in that time it's taken a fair bit of punishment around my local Lake District. I've ran several of the Lake District Bob Graham legs in snow, gale force winds and rain, I've also had a wintry run/scramble around the Helvellyn ridges in a wind chill of around -16. I definitely think I have the measure of this jacket now!
So what's great about this jacket?
It's a great fit, also light at only 170g and not "rustley" (is that even a word?) so not annoyingly noisy while running. The sleeve length is good as are the cuffs, it doesn't have the usual thumb hole that you find in many running jackets but as the length is good you can simply tuck your hands up and hold the cuff in your palm when the wind chill starts to bite.
There is one chest pocket but I think this was designed by Dr Who cause it's a big one! You can fit a full size folded map so ideal for a long run out in the hills.
When it comes to hoods, I feel like they can make or break a jacket; often they seem ok in light rain but increase the wind speed and before you know it's flapping around like a grounded fish! However, the Gravitas hood fits really well. It has a simple draw cord at the back and a stiff hood that meant it stood up to 50-60mph gusts on top of Skiddaw and Blencathra on the first leg of the Bob Graham. Safe to say it's definitely passed the annoying hood test.
In heavy rain, high wind and cold temperatures this jacket provides that much needed protection from the elements. It really is only a protective outer layer but it provides great flexibility when combined with different layers undernearth depending on your activity/effort.
When would I use this jacket?
This is a 3 layer fabric so it's highly waterproof and windproof. On a cold day, on a windy day, on a wet or snowy day I would without doubt be wearing this jacket for my run. I did find that when temperatures were a bit warmer 9_+I did get a bit warm and had to take it off so there is a balance to water/wind proofing and temperature. However if I was just out for a steady day, mainly walking it would be great in these temperatures.
All-in-all for the price this is a fantastic jacket and given how well it packs down and it's weight it's hard to find a jacket you can compare it to. Would I recommend this jacket? I already have, so I suppose that says it all.">
So who is this Rupert that's been using our Gravitas?
Rupert is an outrageously active fell runner and business owner based in Keswick in the beautiful Lake District. His local fells not only provided the perfect testing ground for our Gravitas but also the inspiration behind Rupert's sports nutrition business Mountain Fuel which provides a balanced and, most importantly, DELICIOUS solution to fuelling all kinds of outdoor adventures. Thanks also to James Appleton photography for the images and putting together a little video edit. Check them out.