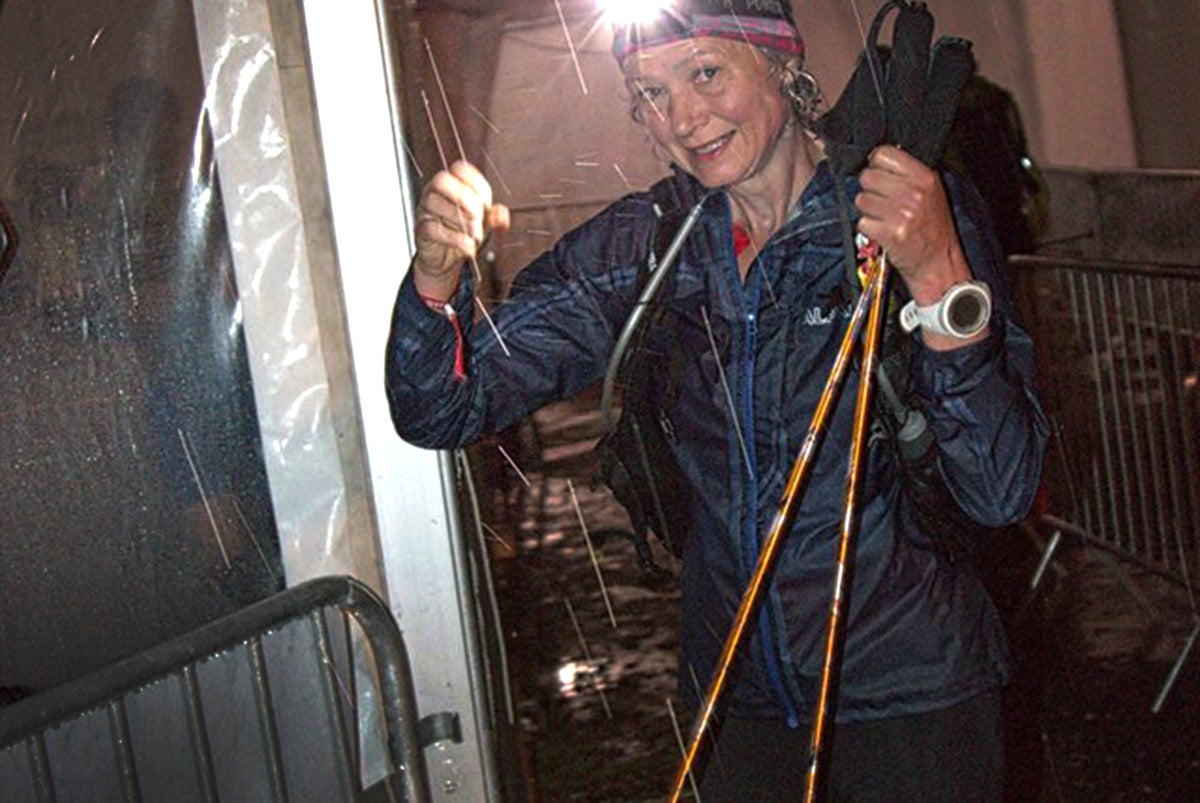 Gravitas and Laika at the Ultra Tour du Mont Blanc
Gravitas
I got a Gravitas jacket for the Ultra Tour Mont Blanc in 2016. It was the lightest jacket I could find at 148g for size 10 but as importantly it felt like it would keep the rain out. A lot of lightweight jackets don't feel like they would cope with the elements.
It passed the rigorous kit check easily with its taped seams and hood.
So for 24 hours and 75 miles it stayed in my bag as the weather was hot and dry. But then when the threatening thunderstorms broke I got it out and wore it throughout the rest of the race; for 25 miles and 6 hours. We were running at 2000m and the temperature dropped like a stone. The rain became hail and a cold wind got up. Even though it was the first time I had worn the jacket in earnest I soon managed to tighten the hood and the stiff peak was a godsend keeping the hail out of my eyes. A lot of the European runners were feeling the cold but I wasn't especially with the nice long back which kept the rain off my bottom.
I was impressed that even where my elbows were bent at right angles due to me walking with poles and water collected there that the jacket kept in out. My hands got cold holding the poles so I pulled them up into the sleeves. This is maybe where a size 12 would have been better for me. I had chose a size 10 because I was only wearing light clothes underneath but in future if I was going to be wearing say the Laika underneath then a larger size would be better. This is normal for me in many jackets.
The jacket only has one pocket on the right breast and this was enough for my gloves, a bit of food and schedule as it's a lot bigger than it looks. I was also pleased that the zips have pull cords on them and are easy to open and close with cold hands. The larger sized front zip is also easy to locate both sides and start the closure. Some jackets seem to have very small fiddly zips which can be a nightmare with cold hands and in the dark.
I have worn the jacket a few times now but it still looks as good as new. It will be getting a lot more abuse in 2017 !!
Laika
I've owned this garment since August although once I tried it on I realised it was far too warm for summer wearing and so I've been eagerly awaiting the arrival of colder climates in which to try it. Since winter has arrived it is never out of that wash / dry / wear / repeat cycle although saying that it doesn't look or smell awful even after prolonged multi day use. So why do I like it so much? The soft fleecy feel to the inside is lovely to wear next to the skin. Its close weave outershell keeps the wind out. The arms are a great length and the thumb loops large enough for me to locate them easily and quickly, then wearing the thumb loops doesn't either pull on my thumbs or make the sleeves pull on my shoulders.