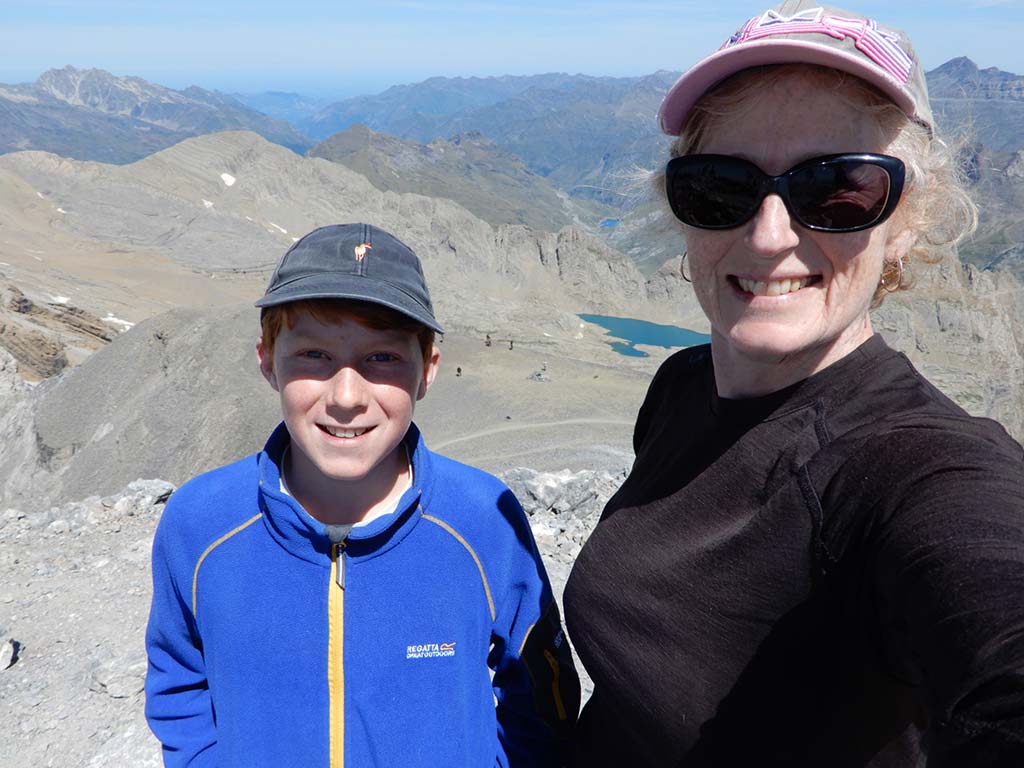 A big thanks to Liz for sharing this with us!
"I'm very lucky - I wake up in the morning, sit up in bed and look at the Pyrenees, covered in snow in winter, white peaks jutting up into an inky blue sky, there's plenty of ski resorts to choose from, both on the Spanish and French sides, or to get away from the crowds we go snow shoeing.
In summer they're dark, austere, forbidding, but I'm drawn to their natural beauty, the sparkling lakes, 3000m summits, marmots, lizards, chamois, the hope of catching a glimpse of a bear or a wolf and our special adventures - via ferrata for an adrenalin rush, or multi-day walks bivvying in special, secret spots when we watch the milky way, a spectacular nighttime show, just for us, me and my son aged 12.
My problem is that I'm a dairy farmer and I manage to get away not as often as I'd like, as when I'm away in the mountains, my other half has to do my work. When I do manage to get away, it's after the evening milking, so around 8pm. I pack my mini camper van with everything we need in the afternoon, and set off as soon as the work is finished.
Fun radio is playing and we play games on the way, how many yellow cars we're going to see, or what the temperature will be at the border! We spend a lot of time in Spain; apart from always having better weather, it's dry and rocky, compared to the lush green French side. After having stopped at our favourite pizzeria on the way, we end up parking up at around midnight. I'm always first to wake up, and after we're dressed I drive us to the car park of this particular walk, in the Ordesa Canyon, Spain's very own Grand Canyon. As I park up, we notice all the cars that have been there overnight are covered in ice. It's going to be a cold start! We munch cereal bars and drink juice and hot chocolate before setting off with headtorches, gloves and hats, as it's still not quite light, in fact the stars are awesome!
The walk we are going to do is off the main tourist trail, it's a combination of 3 narrow paths faja in Spanish, on one side of the canyon, then another faja on the other side for the return, in all about 25kms and about 800m of ascent. The faja cling to the vertical walls of the canyon, high above the valley below where many Spanish families spend Sunday afternoons with their kids running around playing in the fallen leaves. We start climbing before our legs or lungs have really woken up, it's only 600m of ascent to reach the first faja, passing by a wooden shelter, for use in emergencies only. My boy takes a break, and upon taking his time, he sees two red squirrels scurry over the autumn leaves and hears an owl hooting nearby. We arrive at the Faja Racón, where the stunning views over the canyon begin. A few noisy trail runners catch us up and head up towards the Tozal del Mallo (2254m) a well know rock climbing venue.
The path we take is narrow and winds around cliffs and pine trees and it's wise to stop before looking at the stupendous views of snow-covered summits. The sunlight shines through the leaves the colours ranging from green, yellow, orange, red to brown. It's magical! We take our time, let the runners run past and we admire the beauty that surrounds us. We continue along the Faja Petazals and on along the Faja Canadellos, under cliffs, steep drops to our right and being careful we traverse the narrow, impossible path all the way down through the beech woods, where we join the main path and lots of other people, all enjoying the spectacular autumn display.
We pass the Gradas de Soaso, (a series of waterfalls) and head on up towards the Cola de Caballo (the grey mare's tail waterfall) at the end of the valley. The valley has become wide and gives views of the Monte Perdido 3355m, the third highest summit in the Pyrenees. We were there just a few weeks earlier, and the views from the top are amazing! We eat our lunch of country bread and duck breast, french cheese and more cereal bars. To return to the car park we take the hunters path, Faja Pelay, another quiet path high above the valley floor. We stop to take pictures and to try to see the path where we were earlier. We can see the Faja de las Flores, another narrow path high above this morning's route, which is perhaps the most beautiful Faja of all. Our path takes us along the side of the canyon and is almost level, so that when we get alongisde the car park, we have a descent of 600m straight down, it's steep, but quick to descend!
The viewpoint before we descend juts out into the canyon, a beautiful place to take a panoramic photograph! A few more snacks to lighten our rucksacks and off we go! We're down in no time at all and back along the length of the car park to my mini camper, where after taking off my boots, I lie down and fall asleep for an hour, to be woken by my boy, Mummy, it's time to go home! and when we do get back home all my my work has been done for me. What an adventure and what a beautiful place!
Kit list... I always use my MytiPot 900with titanium spoons in my van. Then always use our Carbonlite Ultra poles, we each have a pair as my boy really appreciates them and they're so useful when on very steep stuff. Love my Kepler briefs!When we're out overnight on the mountain my boy has a Numo, Hunka and SkyeHigh 500, but this time we were only out for the day. In our rucksacks we keep the usual first aid kit, emergency survival blanket, lots of cereal bars, french bread and duck breast, platypus, water filter, hat, gloves, fleece, waterproof jacket, phone, head torch and identity cards, money and camera. Absolutely loving all our Alpkit!"
We loved the vivid imagery in this tale of adventure - as close as we could get to being there! Thank you, Liz. Keep us updated on your family adventures!