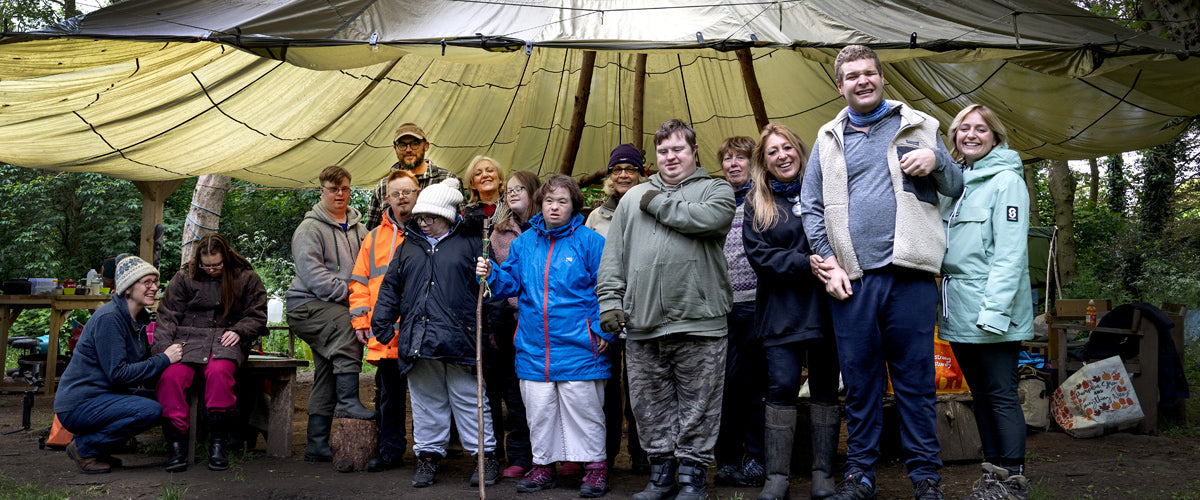 Rowan Rangers is a forest school project used to back up the work carried out at Rowan Humberstone, who support adults with learning disability in Cambridge.
Alpkit Foundation first supported them back in 2020, following their pilot programme which really highlighted how many of Rowans students had very little contact with the countryside and nature, and especially not in such a hands on way. Many were initially fearful of getting wet / dirty and reluctant to touch or taste anything which was not manufactured and had little or no knowledge of the natural world around them. However 100% of participants in that pilot wanted to take part in forest school again and would recommend it to friends. 90% rated the experience as FANTASTIC
Hetti King is Marketing and Communications Manager at Rowan Humberstone and she explained a bit about why they felt it was important to offer this opportunity as part of Rowan's support towards people with disability and breaking down prejudices and barriers around access, participation and inclusion.
"By incorporating these sessions we really look to improve education and understanding of the countryside whilst developing skills and potential. At Rowan we put our students at the heart of everything we do and Rowan Rangers is ultimately FUN!  As adults it is easy to overlook the importance of play and how vital it is for our learning and development. These sessions provide a safe play space in nature, enabling those involved to blossom and grow within a nurturing social community. Through the activities and spending time together it really can boost self-confidence, self-esteem, independence and risk awareness. Reducing loneliness and social isolation which all help to increase happiness, health and wellbeing. Alongside this it also provides a respite to families."
Last year they approached us again when their parachute canopy had become damaged and urgently needed replacing. The shelter is a crucial central area for the Rowan Rangers to meet, share ideas and experiences together. We were delighted to be able to put £250 towards getting the problem fixed and it was wonderful to pop along to one of their recent sessions to see how they were getting on.
With just these 4 hours a week it provides an invaluable space and calm to switch off from the sensory barrage during their everyday lives. Allows freedom and gives the opportunity to bring decision making and personal development into what is normally a fairly structured and ordered day to day.
Russell Cuthbert and Lorraine Whybrow are the Forest School Leaders for Rowan and see the many positives to be had, week on week. As they explained. 
"The forest school provides a different environment for individuals that struggle with sensory regulation within indoor settings and confined spaces – generally from a sensory perspective, natural spaces are regarded as being calming to the nervous system because they rarely over-stimulate an individual as the sensory input is well balanced. A good example is Turi, who finds the intensity of being inside with lots of people too much. At Rowan Rangers he has space to self-regulate, but also interact with others when he chooses.
Rowan Rangers also supports our participants to develop holistically. That is socially by creating an inclusive community space built on shared values; physically by walking/exploring the wooded environment. Intellectually learning about the nature surrounding them and with direct contact with nature. Creatively using direct contact with nature to inspire and emotionally by working through problems together and experiencing joy of the natural world."
It's a community space for them to be with friends and they have been working this year particularly around the 5 Ways of wellbeing – being active, giving, taking notice, keep learning, connecting. The impact was clear to see.
A wonderfully peaceful and friendly setting where the Rangers could gain positive experiences, which demonstrated clear changes in the individuals during their time there. I was also reliably informed that they were sure to be out in all weathers too!
"Just these few hours can really improve their self–confidence, for example Amy enjoys going on solo walks around the woodland. Feedback from Amy's mum recently was that she would be extremely reluctant for her to stop Rowan Rangers because of the evident benefits to her health and wellbeing.
By coming along to the sessions they can develop personally by learning to cope with the challenges and positive risk taking of being outdoors, using tools, making fires – looking after own basic needs – learning fire lighting/shelter building – even down to walking over difficult terrain and coping with harsh weather, all building resilience and perseverance. There have really been some noticeable changes over the years"
This can really be seen by how it filters through to their lives. It was great to hear about the positives that are taken away, whether that's Julia using forest school for the basis of her illustrations/artwork back at Rowan Arts Centre, or Anna using her nature ident skills with her friends and the bird box she made being well used by a pair of Blue Tits back in her garden. Whilst Ash has gained real independence and now arrives on his own by bus.
It's such a strengthening experience that they are hoping to start a second group sometime in 2023, subject to securing funding for staff costs. It is a real benefit for the community, giving greater choice and opportunities which are often limited for people with learning disabilities. What's more, other forest school groups who also use the woodland space will continue to benefit as they have access to the parachute shelter when there.
Here's more about the work of Rowan Humberstone.