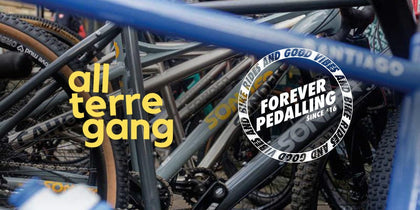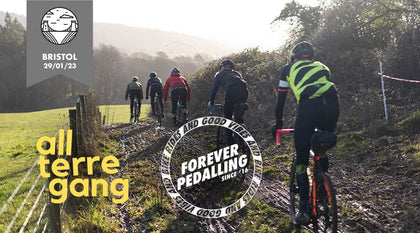 Self-supported gravel bike ride for all abilities
Join us at Alpkit Bristol on January 29th, 10am for a self-supported gravel bike ride on one of our favourite gravel routes in the area. Suitable for riders of all abilities. In collaboration with all terre gang and Forever Pedalling.
During the winter months, even the most hardy and adventurous off-road riders can sometimes need a little extra encouragement to get out and pedal. We've got you covered with our Sonder Winter Gravel Series.
Route 7 will start from Alpkit Bristol and will be a self-supported ride leaving the store at 10am, lasting roughly 2-4 hours depending on your speed.

A GPX file of the route will be sent out to all participants who have confirmed their booking through Eventbrite, on the Thursday before the event. The route can be completed at your own pace. Come and have a go whatever your ability.
Please come equipped with everything you would bring on a solo ride (including a helmet) and be aware that being self-supported means you are your own mechanic for this ride, so, although we all hope it won't happen, be prepared to fix a puncture by the side of the trail or handle anything else that may occur en route!

The weather can be changeable at this time of year, so please dress accordingly to ensure you stay warm and comfortable for the duration of the event. We also recommend bringing a spare set of clothes for travelling home as you may get wet and muddy.
Back at Alpkit there will be cakes and weather-specific refreshments (the soup went down a treat last year) and plenty of time to chat bikes, routes and all things adventure with staff and fellow riders.
Tickets will be £10 and all proceeds will be donated to the Alpkit Foundation. For more information, or to enquire about the possibility of demo-ing a Sonder for the event, give your local store a call (for Bristol, call 0117 214 1707). See you there!
Tickets are available through the Eventbrite checkout below