Phase 550
550 lumen rechargeable bike light
Light up your mid-week evening rides or flick it on when the night is drawing in quickly: a 550 lumen rechargeable bike light with 5 lighting modes and a +200m beam distance.
The Phase 550 is our lightweight, yet durable, rechargeable bike light for a midweek evening blast on the bike.
5 lighting modes and a 200m beam distance
Versatile: can be attached to handlebar, helmet or cockpit mount
Rechargeable Li-ion battery, with USB-C cable
Say hello to our sleek, new bike light range: they're light, durable and rechargeable (and they say hi back). At just 123g, the Phase 550 is the final tool you need to make the most of evening rides. With 550 lumens and >200m beam distance, a Phase bike light will keep you company and confident on your dusk rides.
The Phase 550 has been made with the roadie in mind: whether you're on a family ride, a mid-week spin or your daily commute to work, you're going to need an all-round bike light for the incoming dark evenings. But don't worry if you end up on a canal path or a gravel track, this rechargeable light will suit you just fine for a short jaunt off-road.
Flick between 5 lighting modes: high, mid, low, SOS and strobe. The Phase 550 has a maximum battery life of 8 hours in low mode, so in the case of a surprise night-time emergency, you're sorted. The 80-degree beam angle ensures you can see and be seen.
We've added in some nifty features, including memory lighting. The light will remember the most recently used mode and default to it the next time you head out on your bike. The Phase 550 is compatible with a handlebar mount (included), a cockpit mount and a helmet mount. It also conveniently charges with a versatile USB-C cable.
Features

Product overview

5 lighting modes, to suit every ride
>200m beam distance and 80-degree angle, so you can see and be seen
Memory lighting – default to your last-used mode
Rechargeable Li-ion battery with USB-C cable included
Versatile: attach to handlebar, helmet or cockpit mount
Light, yet durable at just 123g
Hardwearing, durable shell
3 year Alpine Bond

Technical details

Dimensions

97 x 34 x 28mm

Weight

123g

Materials

Alloy 6063; IPX6 waterproof

Beam distance

>200m

Battery

2500mAh 3.7V Li-ion rechargeable

Bulb

CREE LED XPL2

Modes

High: 550 lumens, 2hr30m;
Mid: 200 lumens, 4hr30m;
Low: 100 lumens, 8hrs,
Pulse: 100 - 50 lumens; 18hrs,
Strobe: 550 lumens, 4hr30m
Sustainability and Product Care

Product care information

Lithium-ion batteries do drain over time so make sure your light is charged before use. Avoid using fast charge power supply as this may cause overcharging. The Phase charges best with a 5V/2.0A micro USB input. Wipe clean after use and store fully charged in a cool, dry place. Don't machine wash, that would be daft.

Repairs
We have dedicated Repair Stations in our stores and we're fully equipped to breathe new life into your old kit. This includes spare parts, patches, new zips and wash and reproofing of your down and waterproofs. Pop into any store or contact us online for more info.

Alpine Bond
If one of our products does not meet your expectations upon delivery, or if during its lifetime does not live up to the demands placed upon it, please return it to us for repair, replacement or refund. If the problem is our fault then we will do this to your satisfaction. If it's your fault then we will help out the best we can. Find out more about our Alpine Bond here.

Sustainability

This bike light is built to last with a hardwearing case and a non-disposable battery, reducing waste and meaning you can love your product for longer!
Standard delivery to UK addresses is free over £50.
Next Day deliveries will be shipped same day if you place your order before 2pm Monday - Friday.
If you are not happy or have changed your mind, you can return your unused product within 123 days of placing the order for a refund.
Simply return it to us, free of charge, with all the original packaging.
Add a little something else
close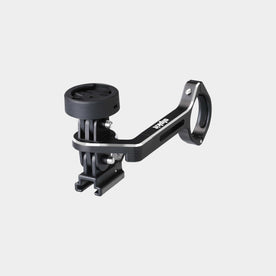 Garmin Outfront Mount
From £19.99