Hadron
1800 lumen rechargeable bike light
Ultimate visibility on the trail or road at night: a 1800 lumen rechargeable bike light with 6 lighting modes, a wide beam and remote control. It can also be used as a power bank if you're running low on battery.
At a whopping 1,800 lumens, the Hadron shines like two twin suns on the front of your bars, allowing you to ride at daytime speeds long after the light fails.

Max power of 1,800 lumens with a wide beam angle
6 different lighting modes to tailor to your riding
Remote control for swapping between modes at speed
The Hadron uses twin Cree LEDs to provide a wide, bright beam that stretches well over 200m. This provides a ridiculous amount of night-time visibility so you can tackle tight and twisty singletrack at speed. It also comes with an optional remote control, allowing you to easily swap between lighting modes without needing to take your hands off the brake levers.

With 6 different lighting modes, the Hadron's brightness can be effectively tailored to your ride length, terrain and light levels. The lowest brightness Pulse mode runs for a massive 50 hours If you need to save battery on the roads or smoother sections. Plus, the twin bulbs are much more energy efficient than single bulb set-ups.

The Hadron is housed in a durable 6063 alloy casing to protect your light from crash damage and an IPX6 rating is sufficiently waterproof for all-weather riding. An output jack on the Hadron means you can also use its large 6,700mAh lithium ion battery to charge your GPS or phone if you find yourself out of juice on mid-trip.
Features

Key Features

Max power of 1800 lumens riding off the beaten track at speed
6 different light modes to tailor to your journey length or trail conditions
Remote control for swapping between lighting modes quickly
Durable aluminium casing with an IPX6 for all-weather riding
Twin bulbs are more battery efficient and provide a wider beam pattern
Memory lighting remembers which lighting mode you used last
Output USB allows you to charge your GPS or phone from it in an emergency
Handlebar mount included
Compatible with the Cockpit Mount and Helmet Mount

Vital stats

Lighting Modes

Boost: 1800 lumens – 2 hrs
High: 900 lumens – 4 hrs 30 mins
Mid: 500 lumens – 6 hrs 25 mins
Low: 200 lumens – 12 hrs 30 mins
Pulse: 100 lumens – 50hrs
Strobe: 1800 lumens – 2 hrs 45 mins

Performance

Beam Distance: >200 meter's

Construction

Battery: 6700mAh 3.7V Li-ion rechargeable Bulb: 2x CREE LED XPL2 Body: 6063 Alloy, IPX6 rated Outputs: USB 5V/2A

Dimensions

118mm x 52mm x 32mm (length x width x height)

Weight

Light: 206g Handlebar Mount: 8g Remote: 8g

Origin: China
Sustainability and Product Care

Product Care Information

Lithium-ion batteries do drain over time so make sure your light is charged before use. Avoid using fast charge power supply as this may cause overcharging. The Hadron charges best with a 5V/2.0A micro USB input. Wipe clean after use and store fully charged in a cool, dry place. Don't shine the Hadron into your eyes if you value your retinas!

Repairs
We have dedicated Repair Stations in our stores and we're fully equipped to breathe new life into your old kit. This includes spare parts, patches, new zips and wash and reproofing of your down and waterproofs. Pop into any store or contact us online for more info.

Alpine Bond
If one of our products does not meet your expectations upon delivery, or if during its lifetime does not live up to the demands placed upon it, please return it to us for repair, replacement or refund. If the problem is our fault then we will do this to your satisfaction. If it's your fault then we will help out the best we can. Find out more about our Alpine Bond here.
Standard delivery to UK addresses is free over £50.
Next Day deliveries will be shipped same day if you place your order before 2pm Monday - Friday.
If you are not happy or have changed your mind, you can return your unused product within 123 days of placing the order for a refund.
Simply return it to us, free of charge, with all the original packaging.
Add a little something else
close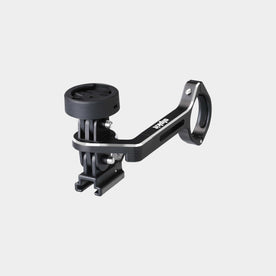 Garmin Outfront Mount
From £19.99